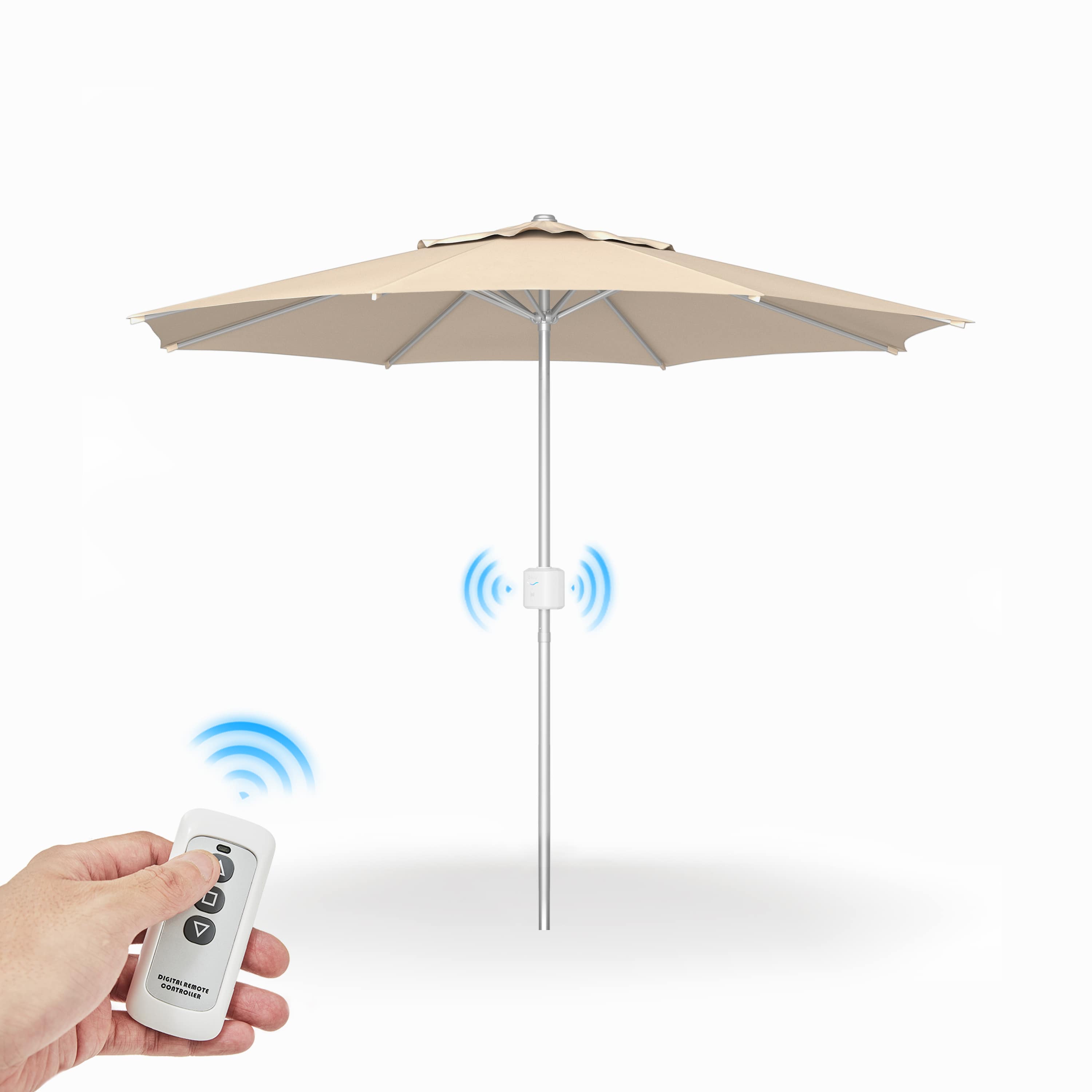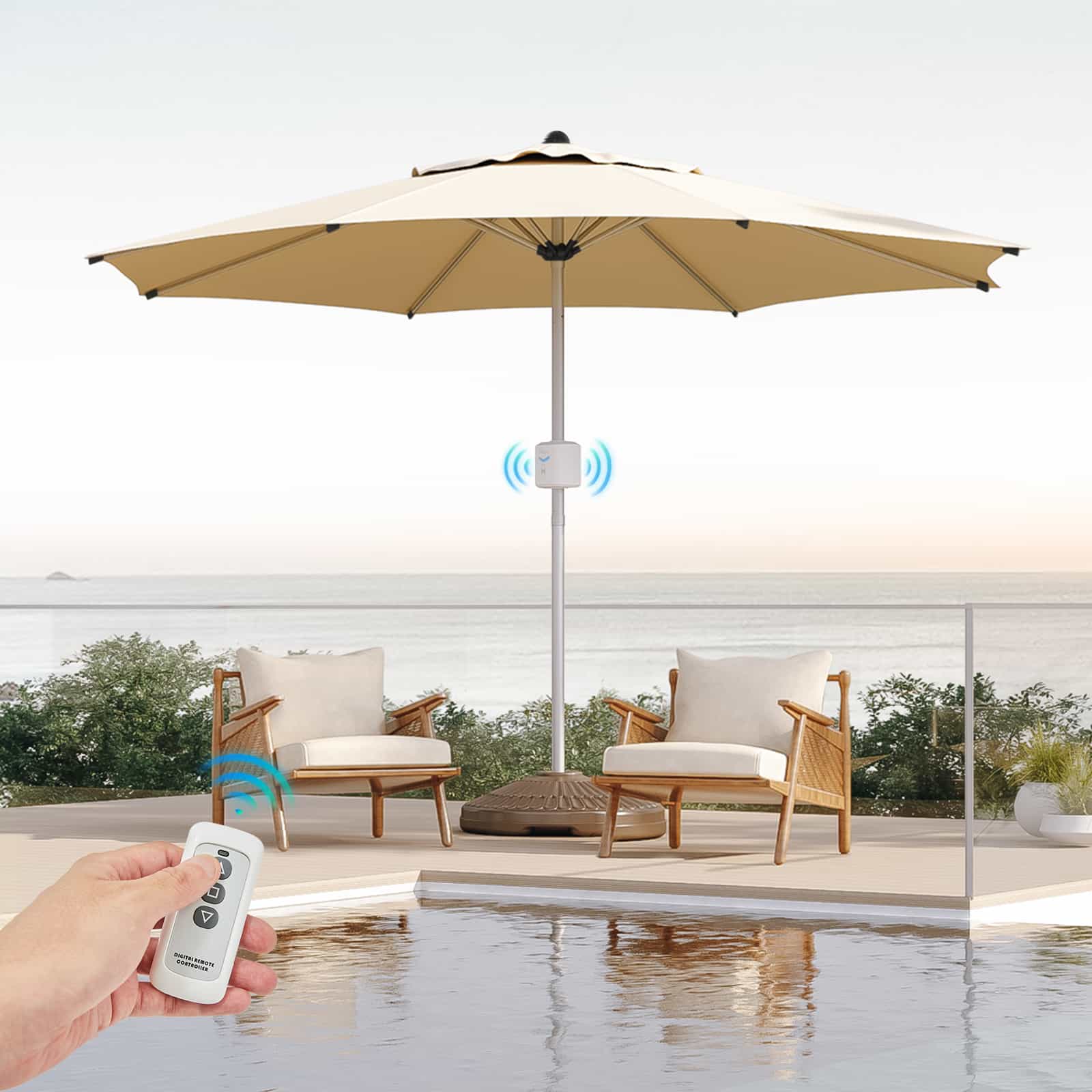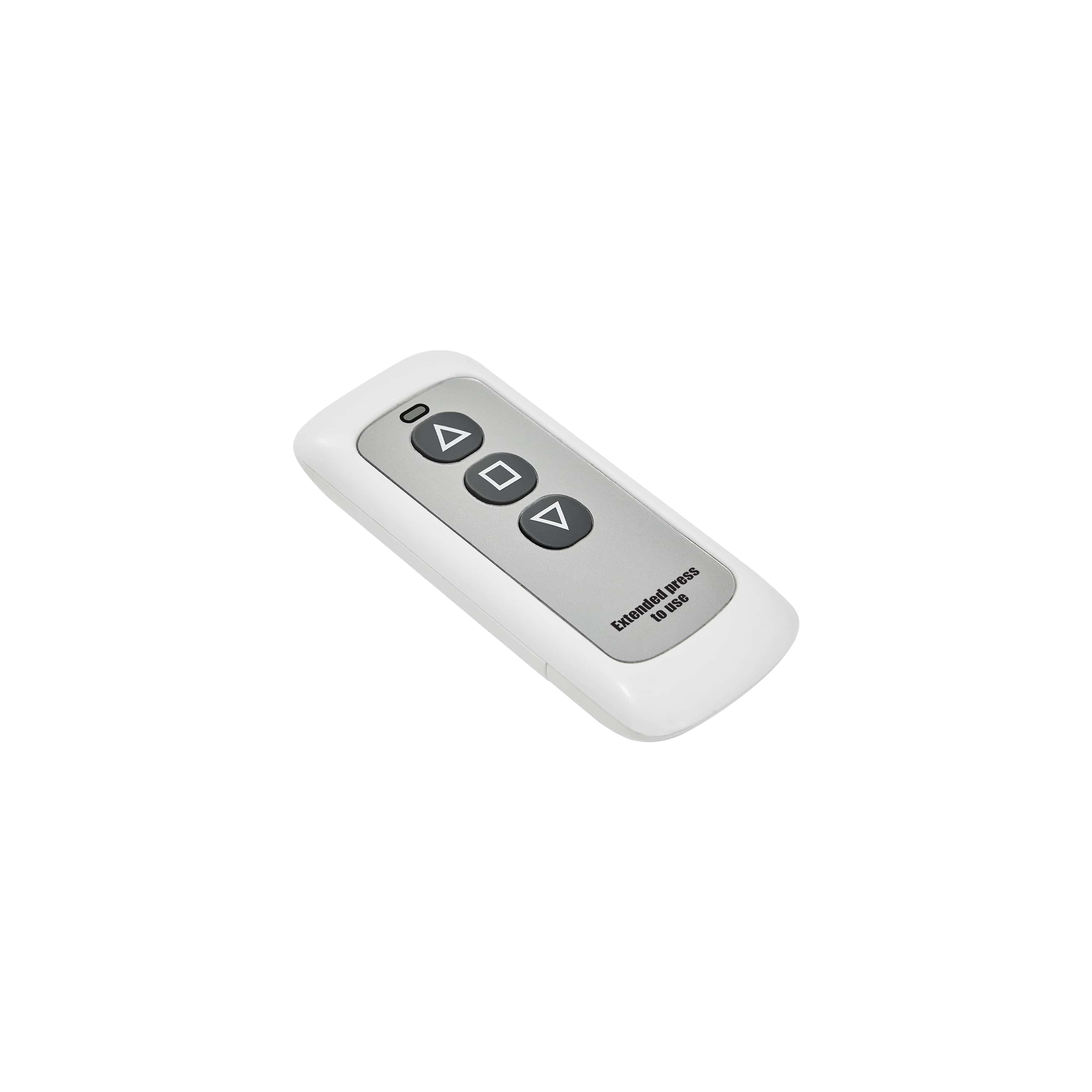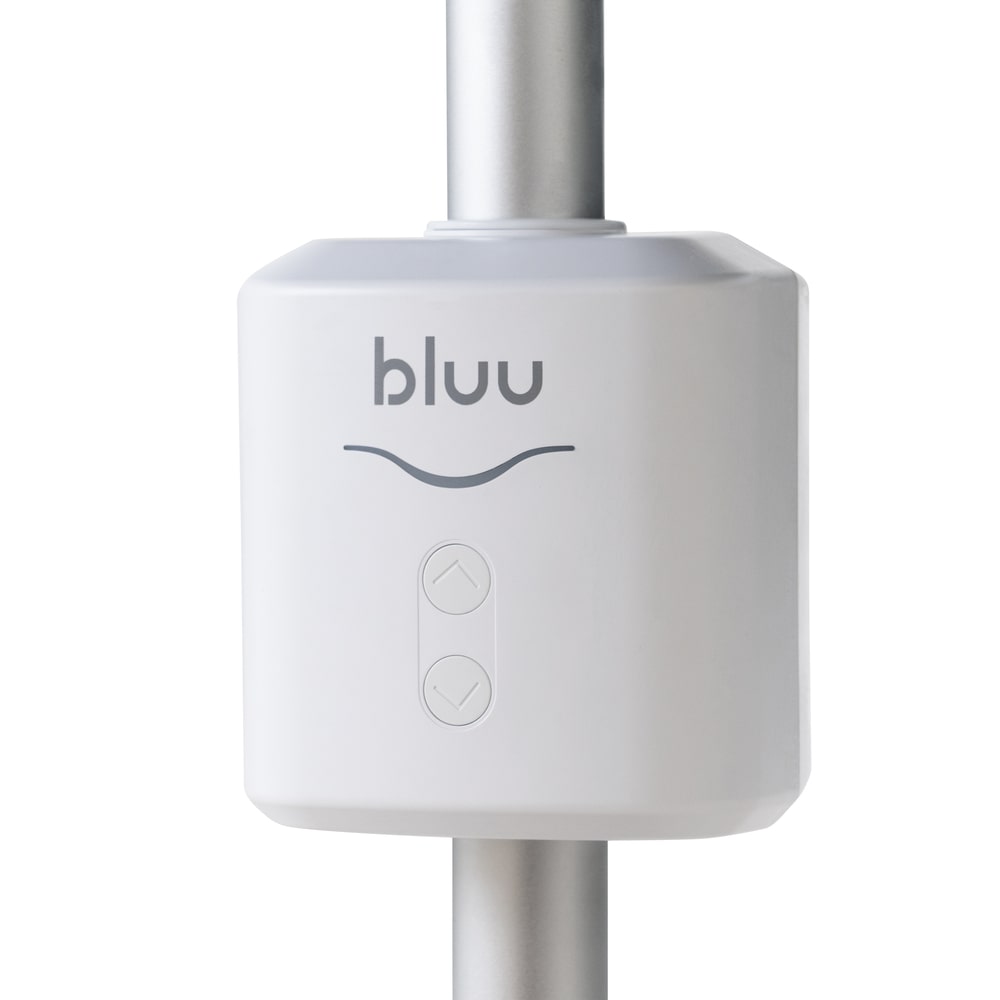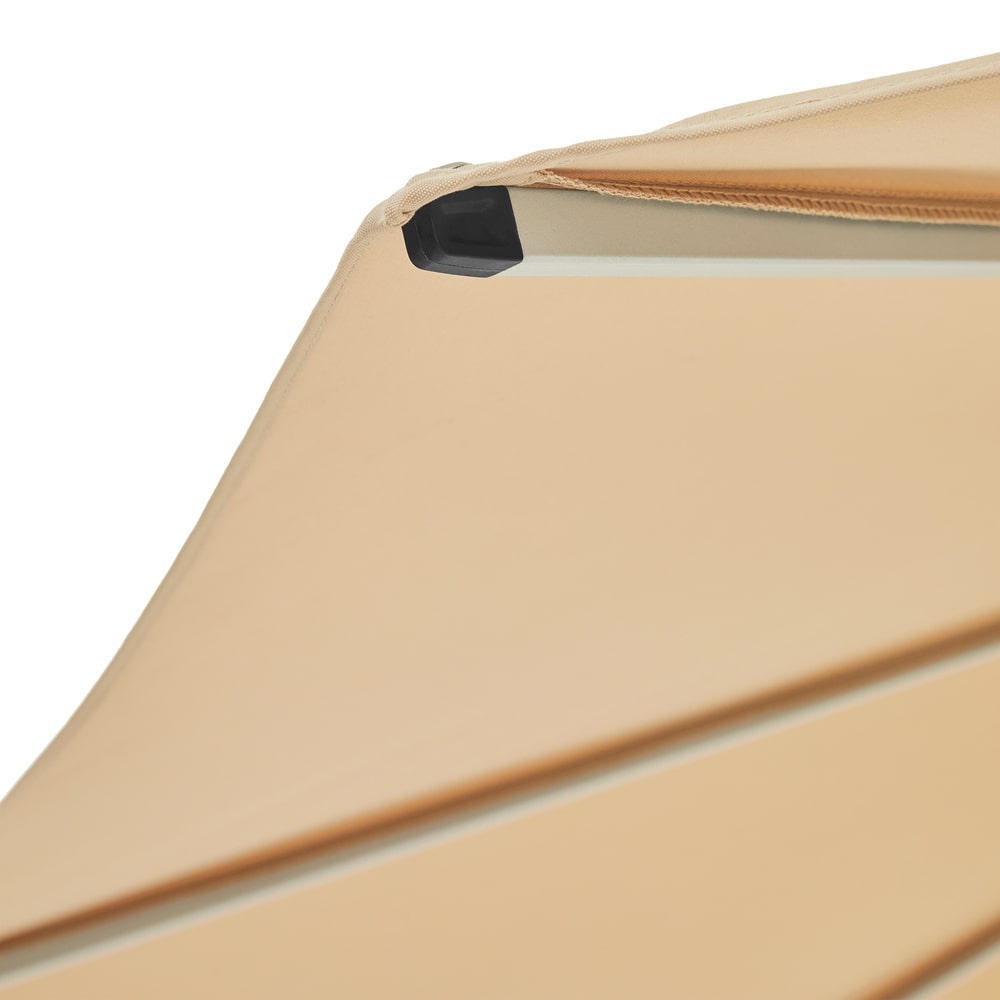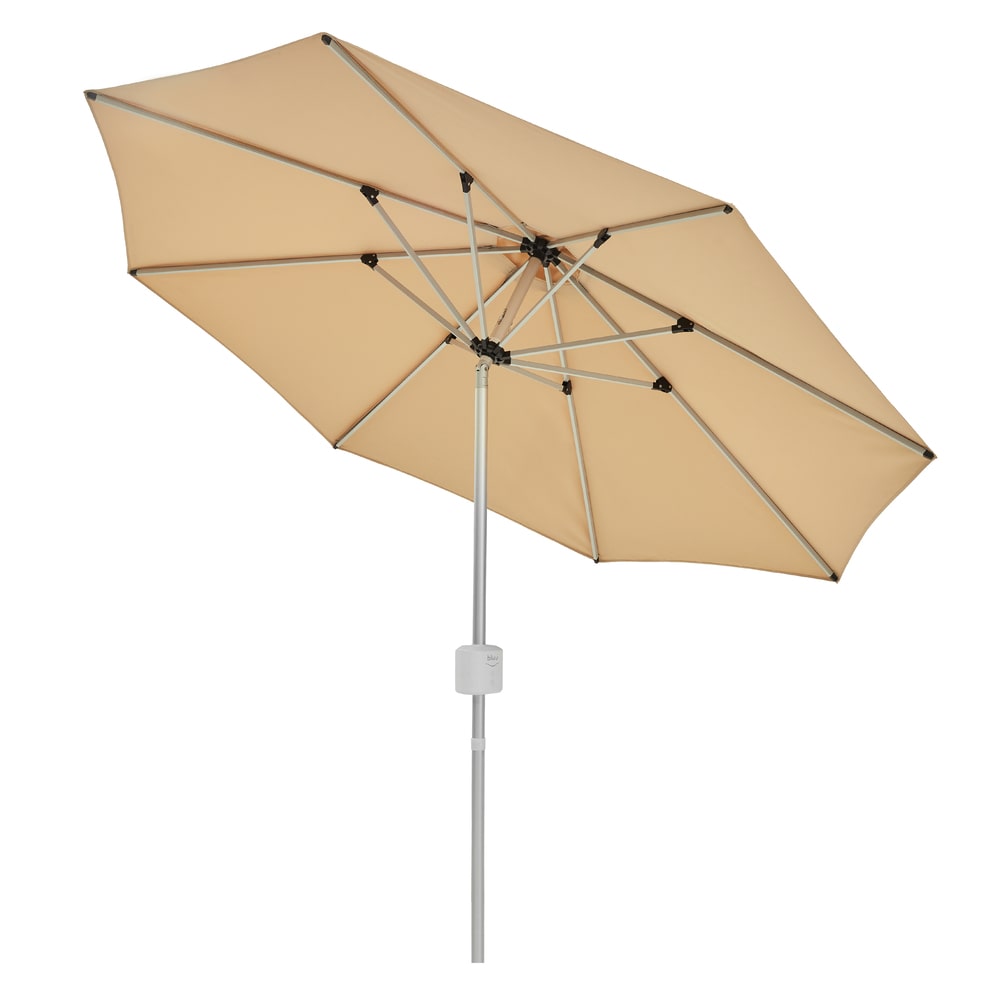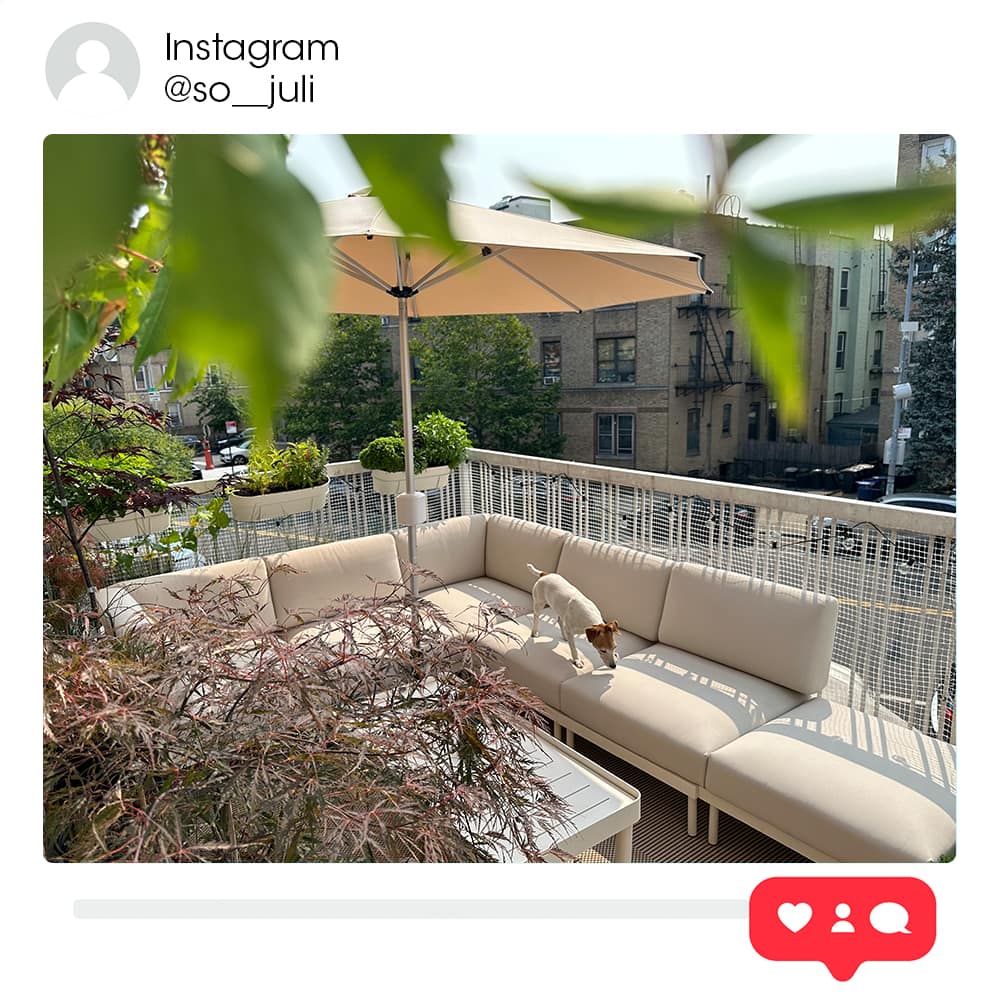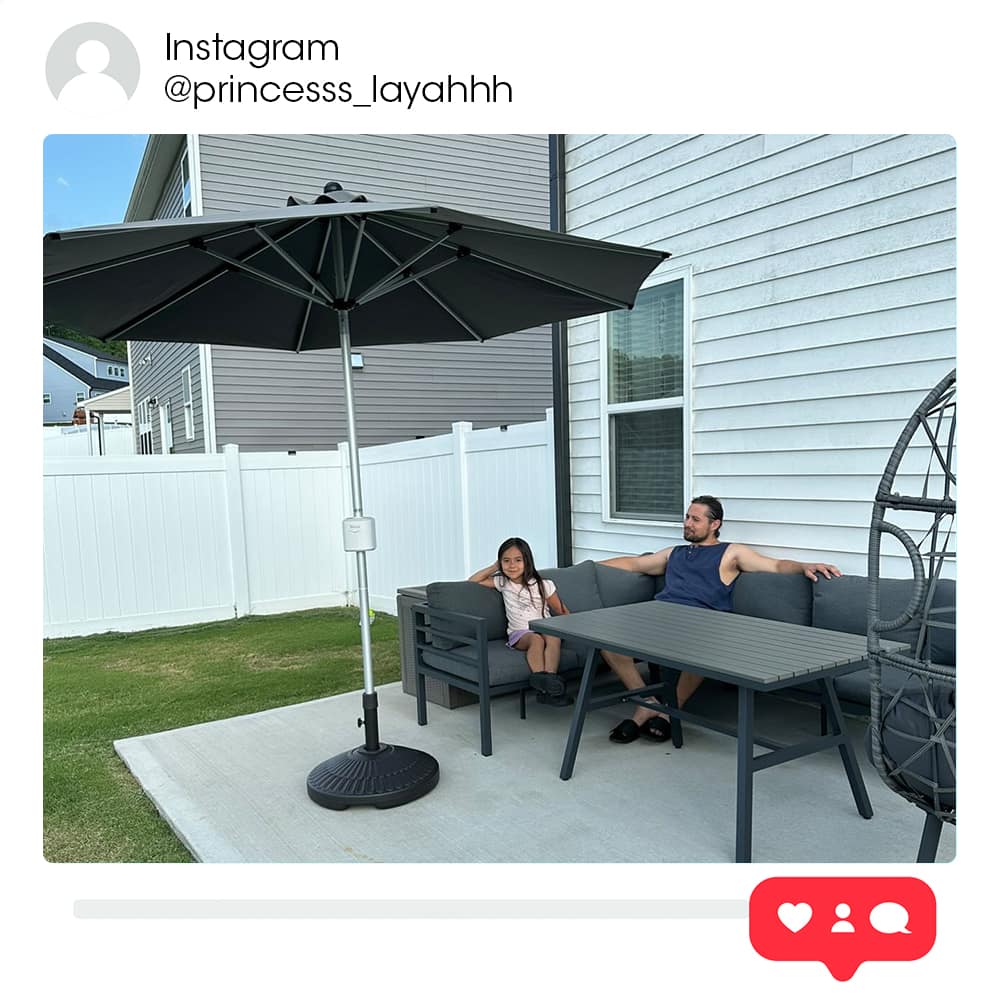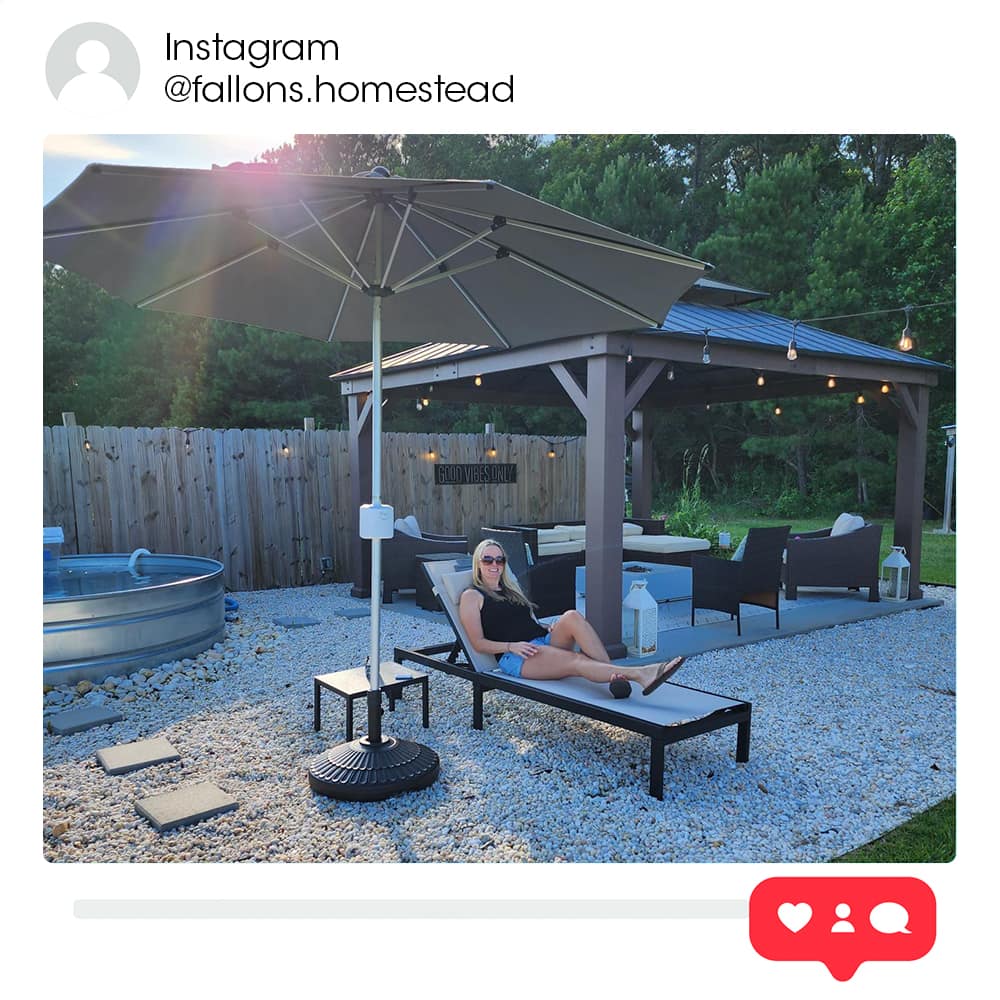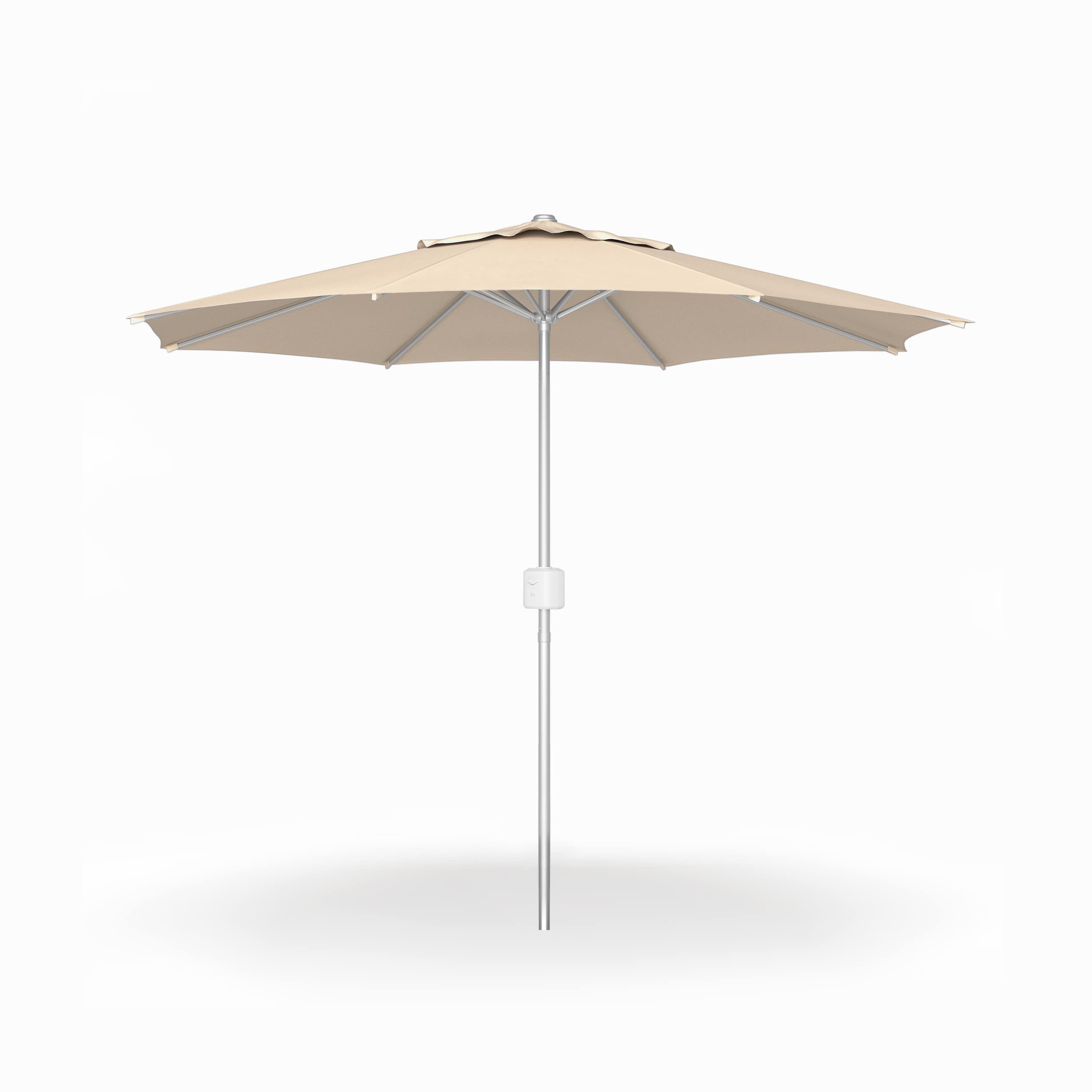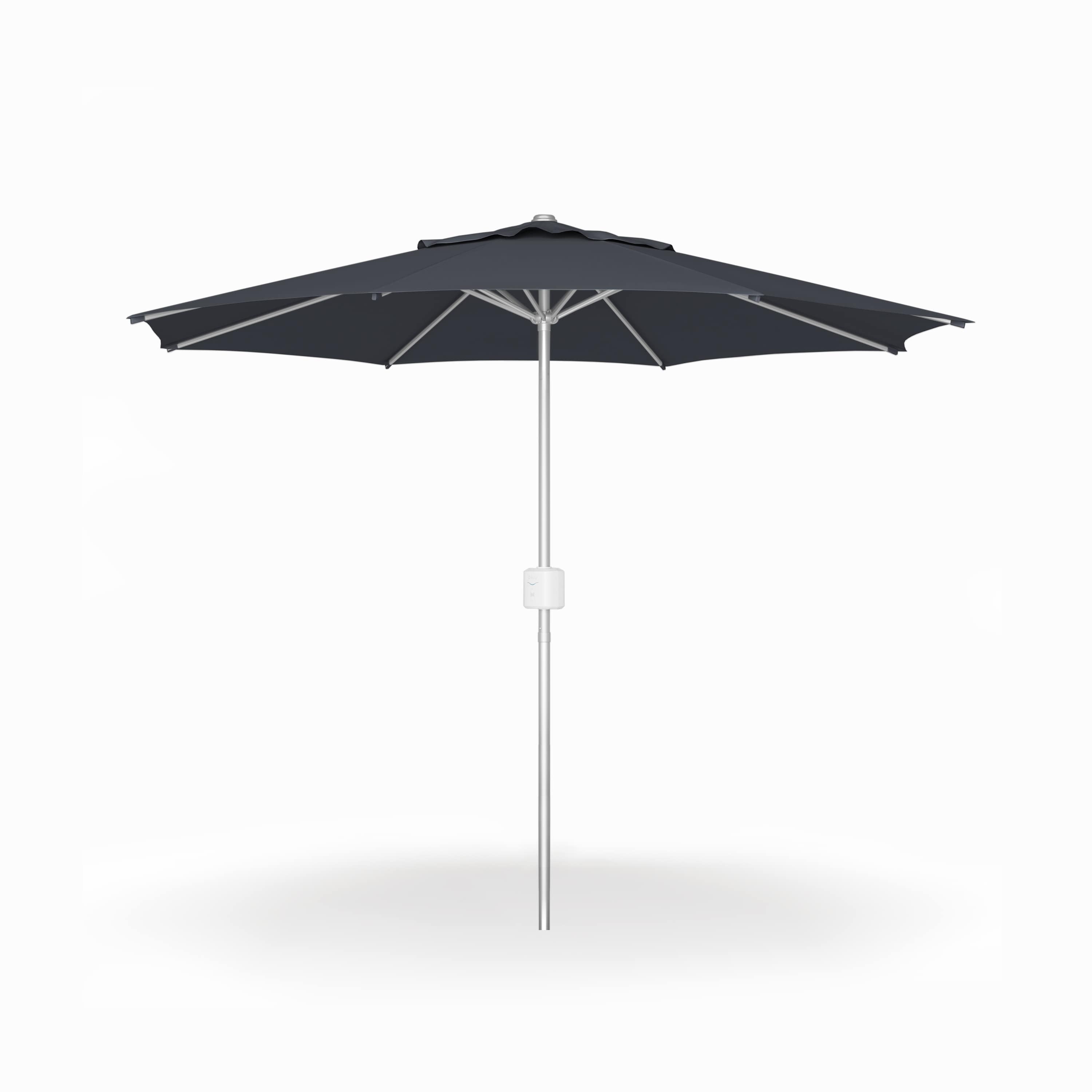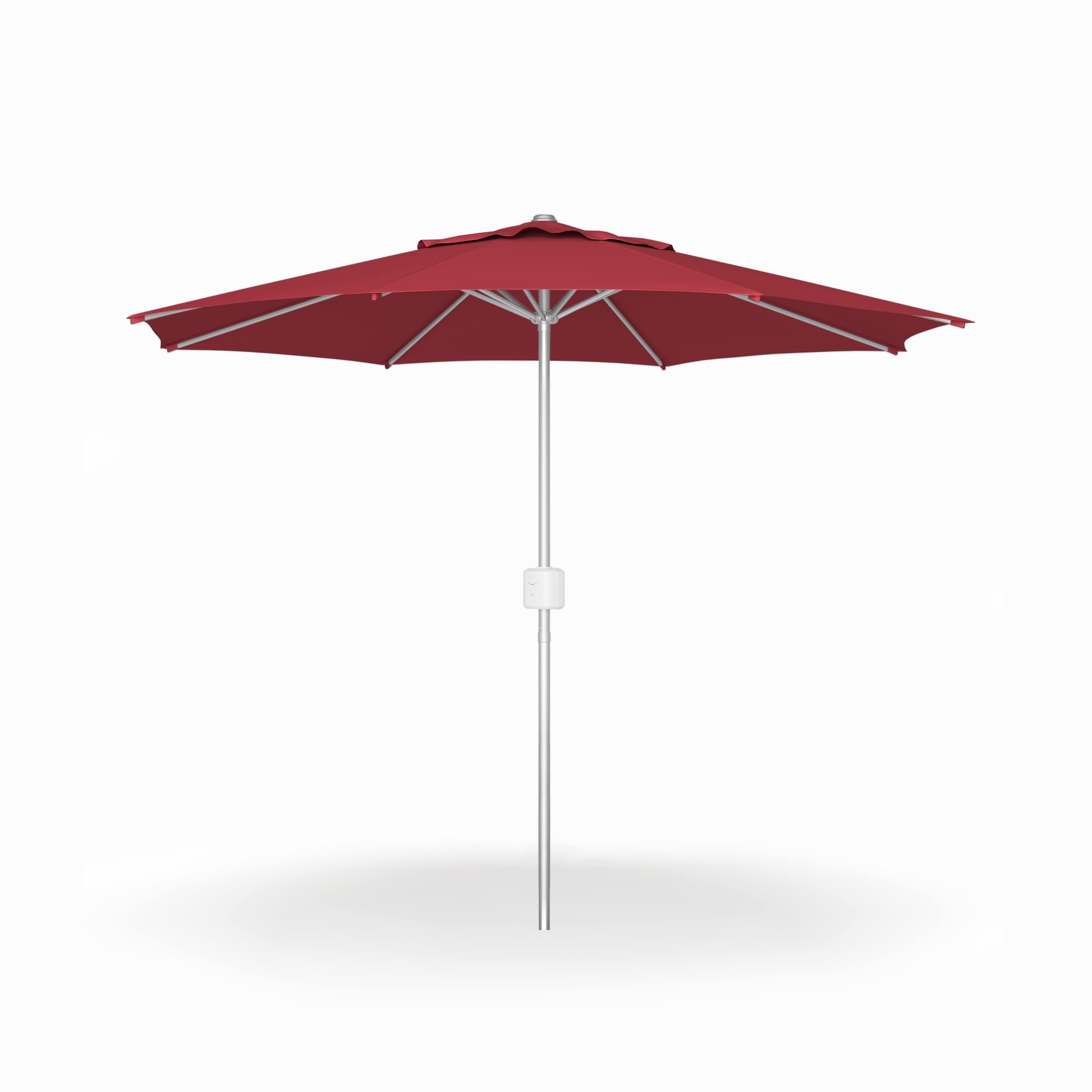 Bluu Automatic Market Umbrella
Monthly payments with
.
Learn more
Looking for a way to stay cool on your patio? Our motorized umbrella control with remote has got you covered! With just the press of a button, you can enjoy effortless shade and stay comfortable in even the hottest weather. For more information, please check our market umbrellas guide.
Canopy Size: 108"
Umbrella Height: 96.85"
Pole Diameter: 1.50"
Frame: Powder-coated aluminum
Fabric: UPF 50+ Outtra™
5-year limited warranty on the fabric
2-year limited warranty on the whole umbrella
30-Day Money Back
Free Shipping&Return
Delivery times takes between 2-6 bussiness days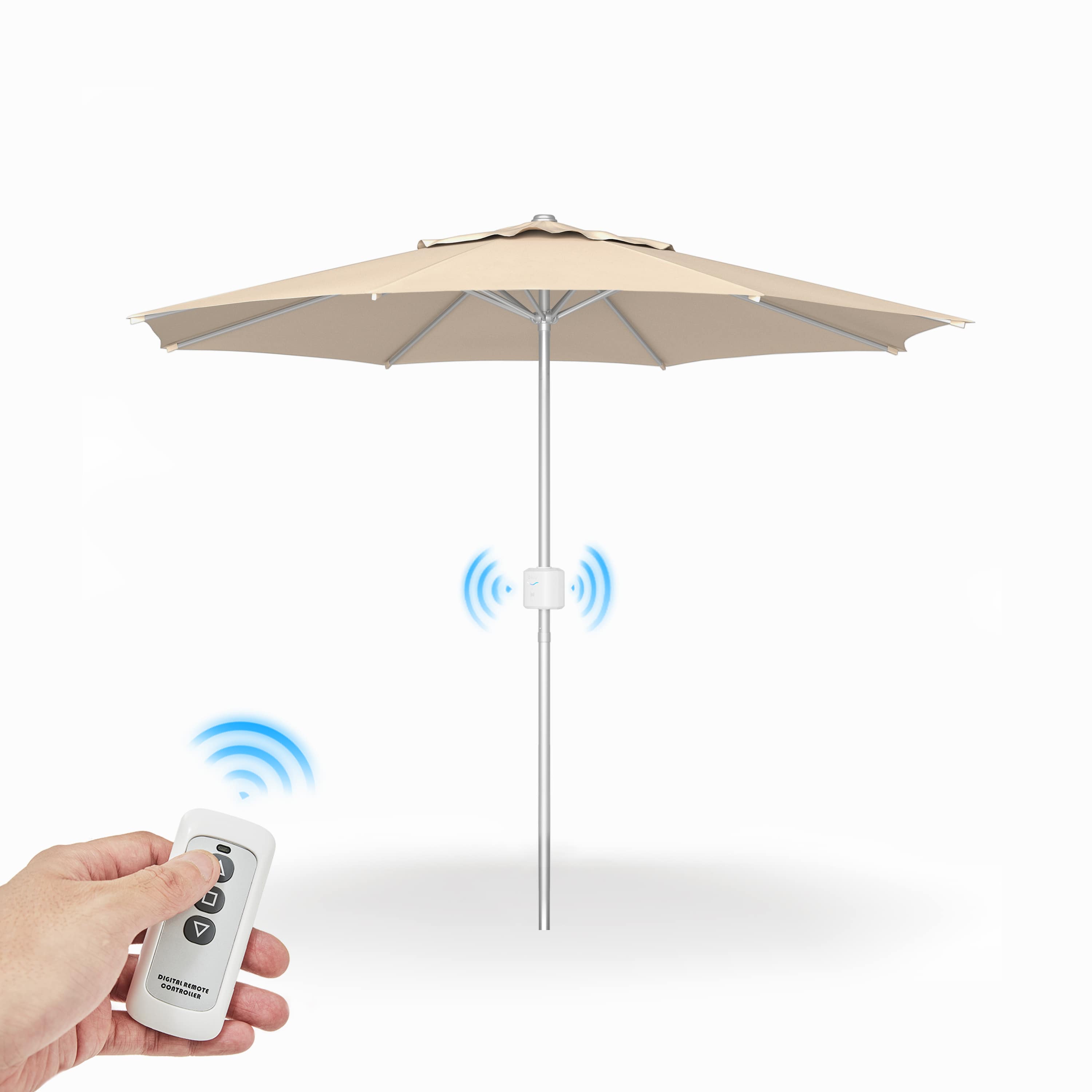 One-click experience unbeatable sun protection with your family.
Easy one-button control with multiple ways to use.
The umbrella can be controlled through buttons on the control box on the umbrella handle, and the battery usage status can be monitored through the battery pack. It is easy to use and suitable for all ages. Alternatively, it can be controlled through a smart remote design, allowing for one-touch opening and closing with the remote. Users can relax and enjoy their time under the umbrella without needing to hold it.
Multiple usage options suitable for all ages
Our battery pack is designed to meet the diverse charging needs of different groups. With the capacity to not only power the umbrella, but also additional devices, whether you're gaming and your phone battery is low, or you're working from home and your laptop needs a quick charge, our battery pack can supply power to additional devices while also keeping the umbrella functioning. Plus, our two-way fast charging ensures quick and convenient charging, so you can stay powered up on-the-go.
Longevity and Sustainable Use
Our umbrella is equipped with a rechargeable and replaceable battery, providing up to 400 use cycles on a single charge and ensuring three months of continuous use. The long-lasting batteries are engineered with built-in safeguards such as overcharge, overheat, over-discharge, and overvoltage protection, making them highly sustainable for prolonged use.
We prioritize safety above all else.
This E-umbrella is state-of-the-art that equipped with obstacle detection. Say goodbye to safety concerns, as our umbrella automatically stops or closes when an obstacle is detected during operation. No more struggling with manual umbrella poles, automatic opening and closing function ensures a hassle-free experience. Don't let rainy weather stop you - our control box is IP64 waterproof rated and features extra layers of protection for guaranteed usage in any condition.
One-button control for multiple umbrellas design
Effortlessly control multiple umbrellas simultaneously with a range of over 15m, providing a wider shaded area while minimizing storage time. Perfect for outdoor gatherings, BBQs, and leisure activities with family and friends, experience the ultimate convenience with this innovative technology upgrade.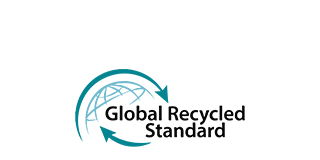 Recycled Certified
Our products use recycled post-consumer polyester. 
Colorfastness Certified
They feature US Standard AATCC16 Grade 5 colorfastness.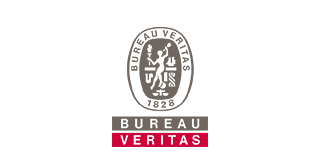 UV Resistance Certified
They are made to block at least 99.95% harmful UV rays.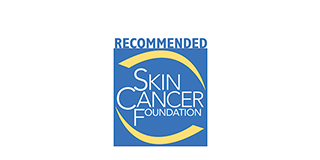 Sun-safe Certified
Recommended by SCF as effective UV protectant.
Protection and Style with Outtra™ Recycled Fabric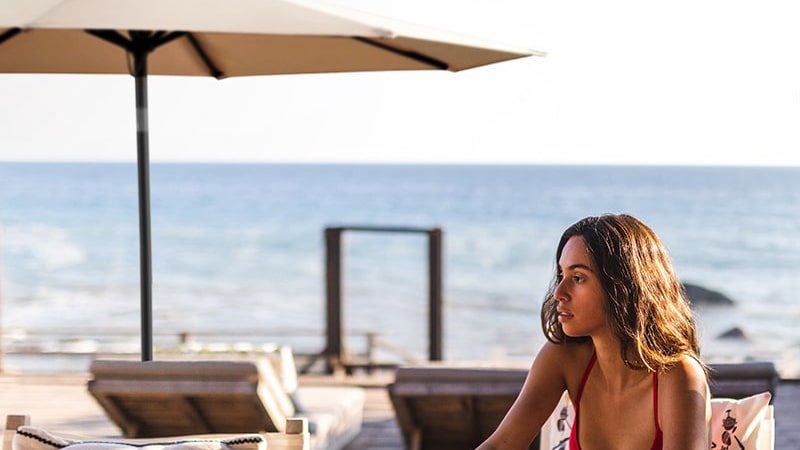 UV Protection for Healthy, Beautiful Skin
Made from soft air-textured yarn, the Outtra™ Fabric we use is extra thick and durable, thus has stronger ability for UV-Resistance. It delivers UPF50+ protection, blocking more than 99.9% of UV rays to keep you and your family safe and comfortable.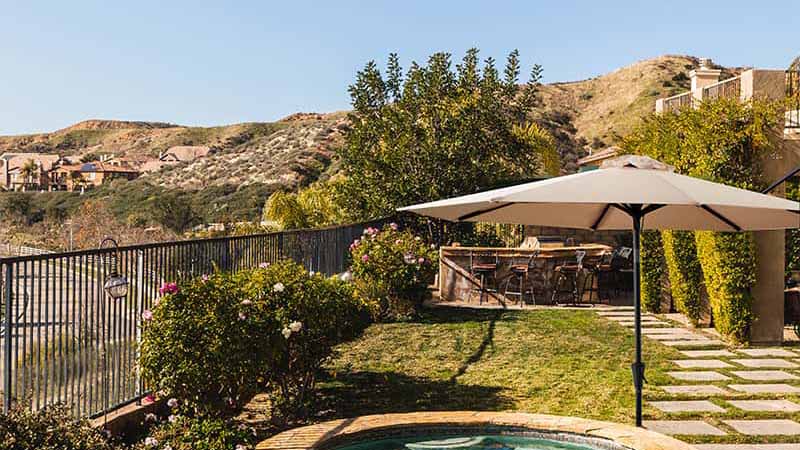 Live a Sustainable Lifestyle
Outtra™ Fabric is an environment friendly choice for your sustainable lifestyle, for it's made from recycled materials such as polyester textiles, PET packaging, PET films, etc. It's our responsibility to recycle waste to protect the Earth for future generations, as well as the creatures we share the planet with.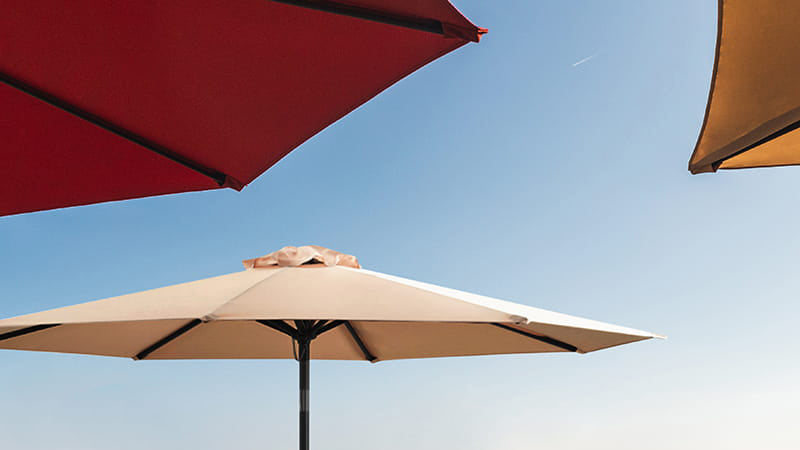 Vibrant Colors, Guaranteed
We manufacture our umbrellas in a wide array of colors to guarantee the perfect accents for any outdoor space. All our patio umbrellas feature US Standard AATCC16 Grade 5 colorfastness, which means it will remain bright and beautiful for years to come. Backed with our 5-year fade-resistant warranty, you don't have to worry any more.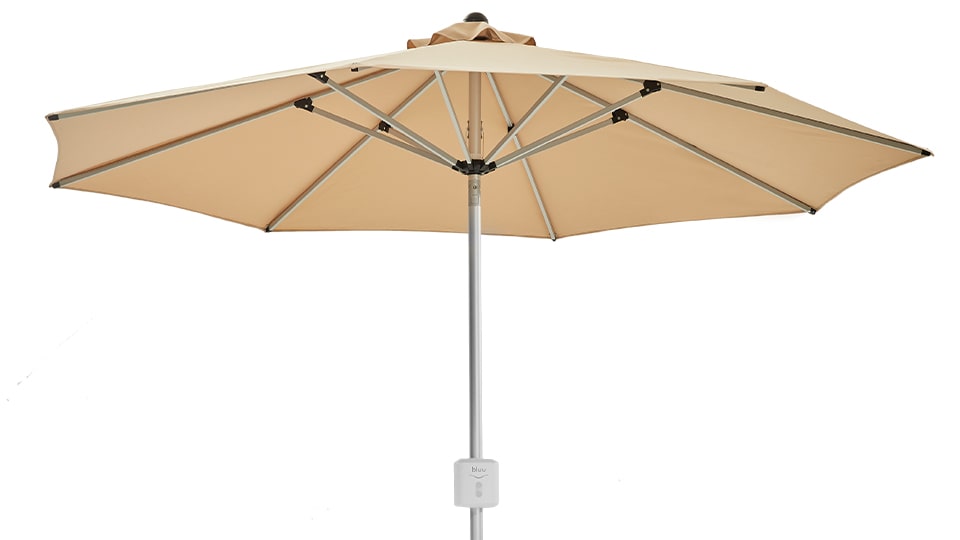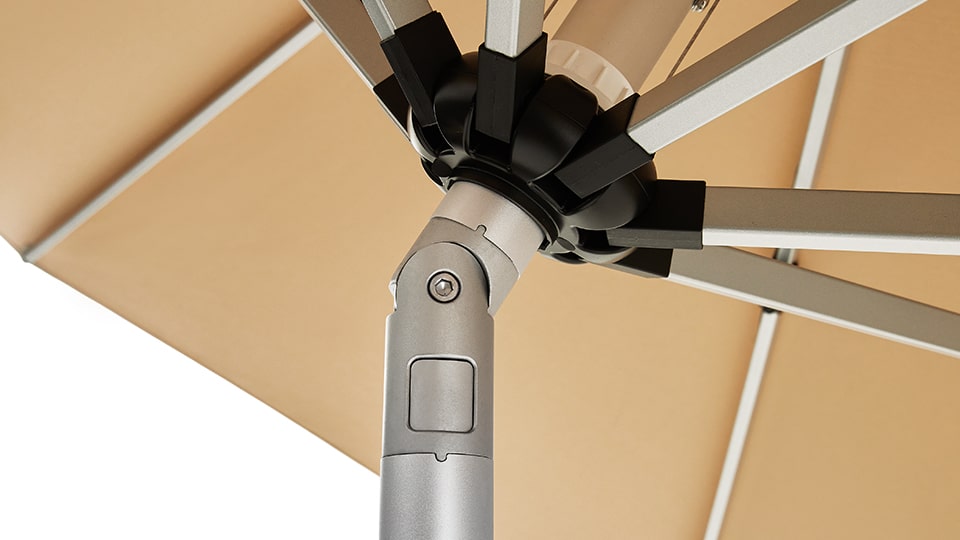 Unmatched corrosion resistance & style with our aluminum treatment
With its premium aluminum frame and center pole, this umbrella offers unbeatable durability, portability and exceptional resistance to corrosion. Besides, with its gorgeous matte anodized surface treatment, it's the perfect way to elevate any outdoor space to the next level.
Tailor Your Shading with a 3-Level Tilt Function
Enjoy complete control of your shade experience with our upgraded swivel structure and easy-to-use double-sided buttons. Our adjustable umbrella allows you to effortlessly customize your shade angle so you can enjoy the perfect amount of sun protection, no matter the time of day or location. Take your shade experience to the next level with our upgraded and user-centric umbrella.
Canopy Material:
Outtra canopy, 280gsm
ATY|UPF50+|99.9% UV protection
AATCC 186 Grade 4 or above
Frame Material:
Matte anodized aluminum material
Maximum Battery Endurance:
Battery Pack Input:
Charging through Type-C port. Charging power: USB-C 5V/3A 9V/3A 12V/2.5A 15V/2A 20V/1.5A (PD 30W).
PD and QC protocols are integrated together, so that all devices that support PD also support QC
0 - 100 Battery Charging Time:
Battery Pack Output:
"USB-C: 5V/3A 9V/3A 12V/2.5A 15V/2A 20V/1.5A (PD 30W).
PD and QC protocols are integrated together, so that all devices that support PD also support QC.
USB-A: 5V/3A 9V/2A 12V/1.5A (18W).
This product is rated 4.8 of 5.0 stars.
It has received 29 reviews.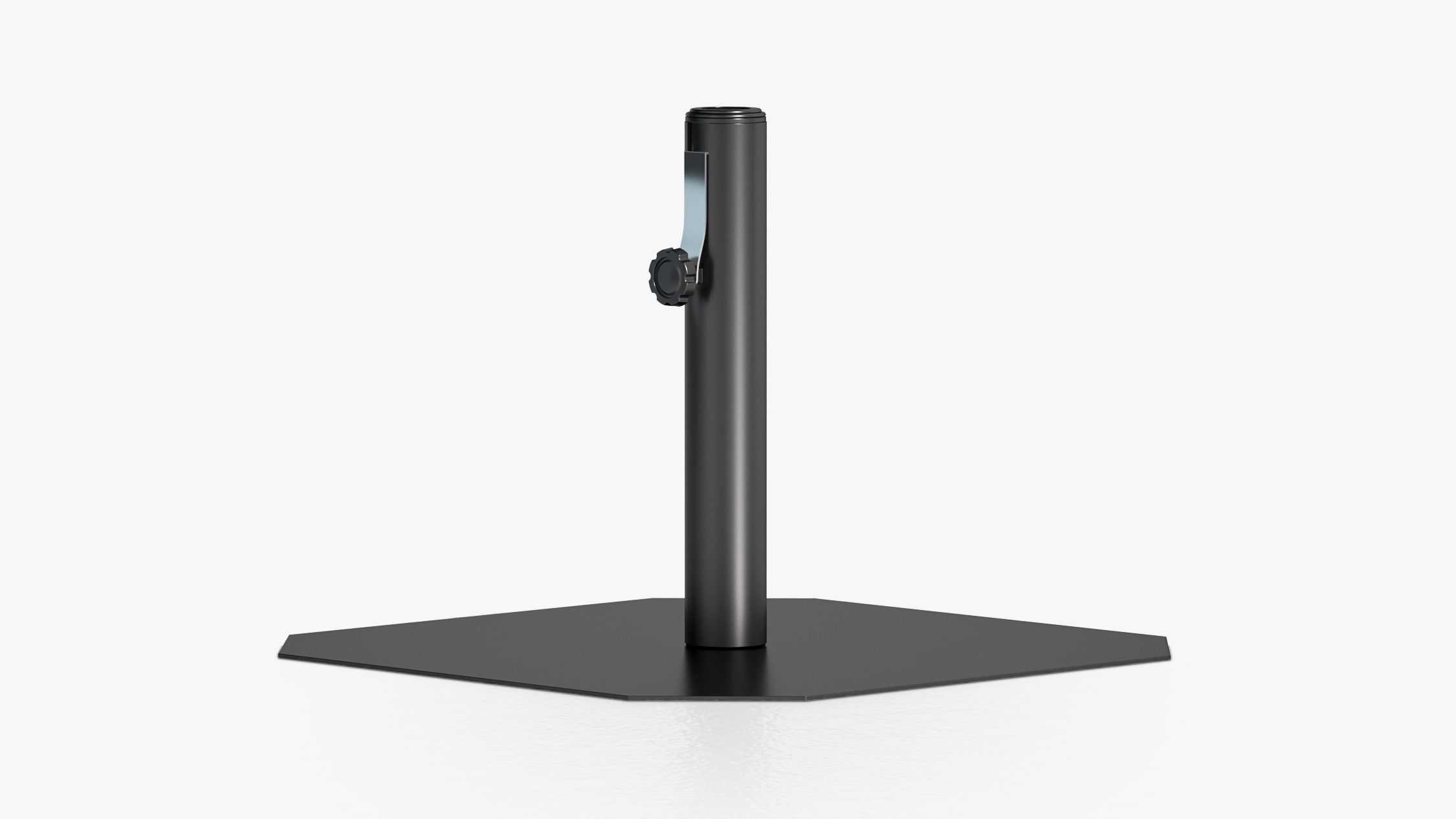 Patio Umbrella Accessories
Bluu umbrella bases match different patio umbrella series correspondingly. They are designed to add sufficient weight and to be durable.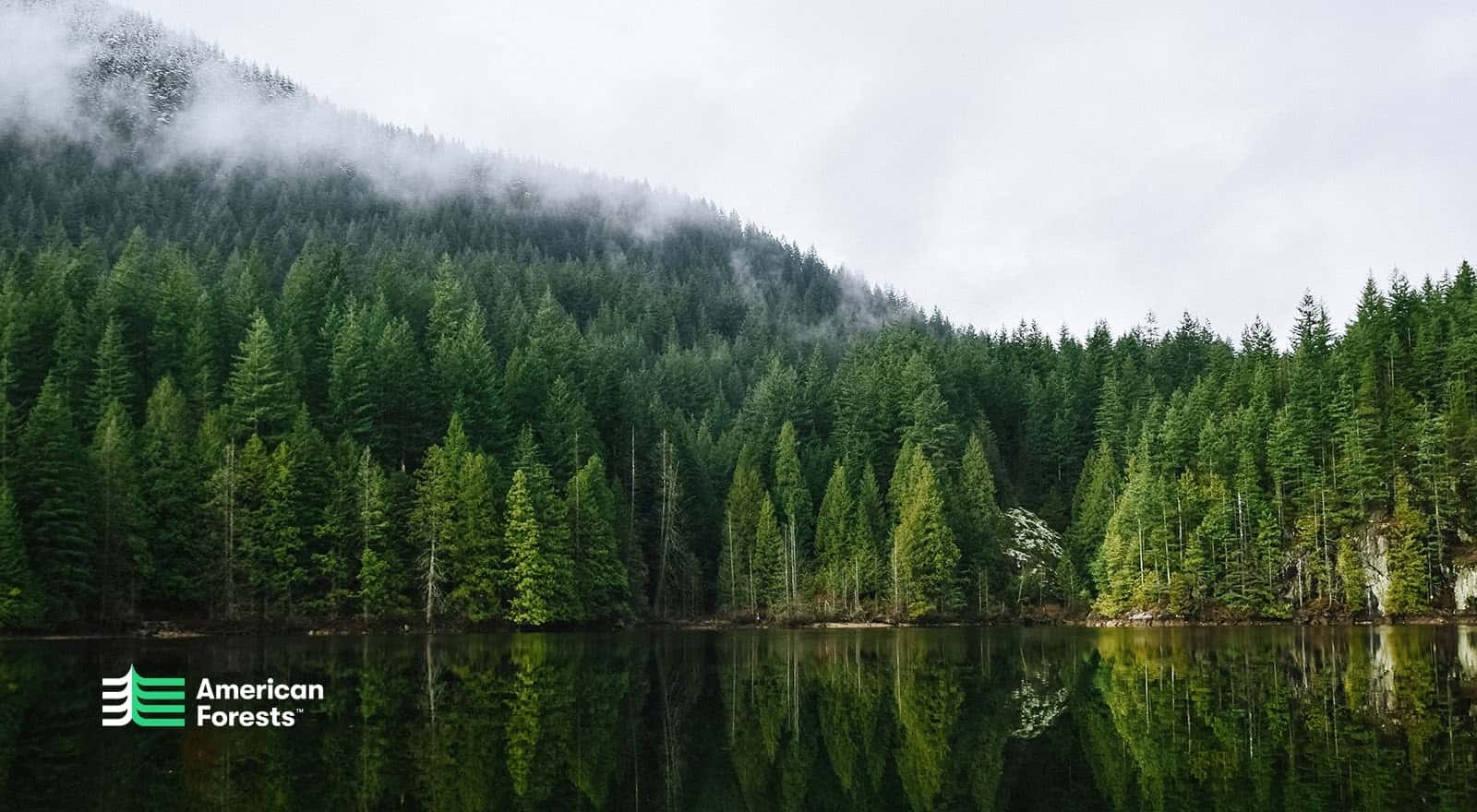 One Umbrella, One Tree
Through a partnership with American Forests, Bluu always keeps reforestation in mind. We're the only outdoor living brand that plants one tree for every umbrella sold. One tree at a time.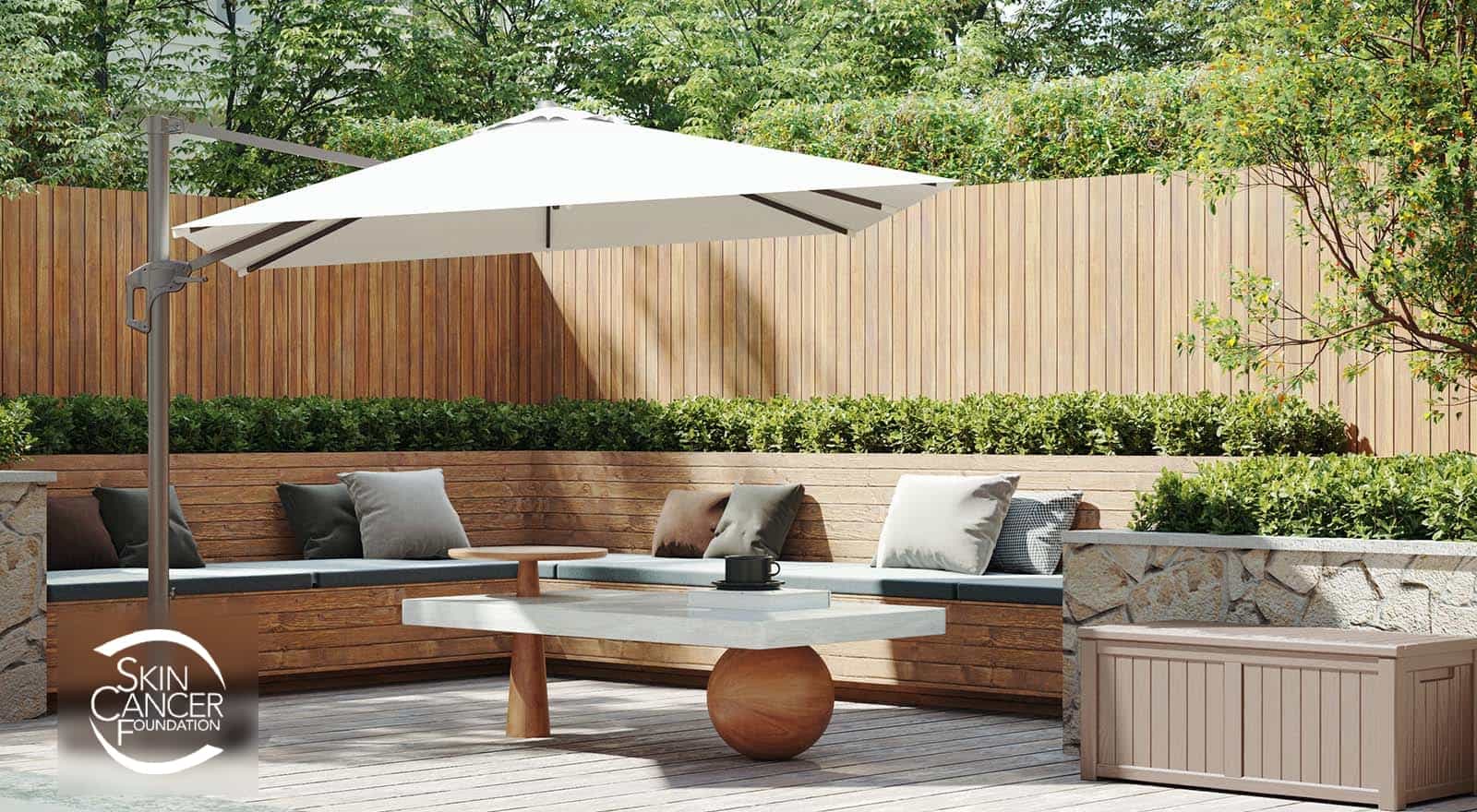 Protect Your Skin From the Sun
As a proud member of The Skin Cancer Foundation's Corporate Council, Bluu shares the Foundation's commitment to saving and improving lives. Bluu supports the Foundation's work of empowering people to take a proactive approach to daily sun protection and the early detection and treatment of skin cancer.