Designed by Outtra, this patented high-tech fabric reaches up to 99.85% UV resistance and with a complimentary 5 years warranty.
Stay sun-safe on your patio with Bluu umbrellas.
Shop Now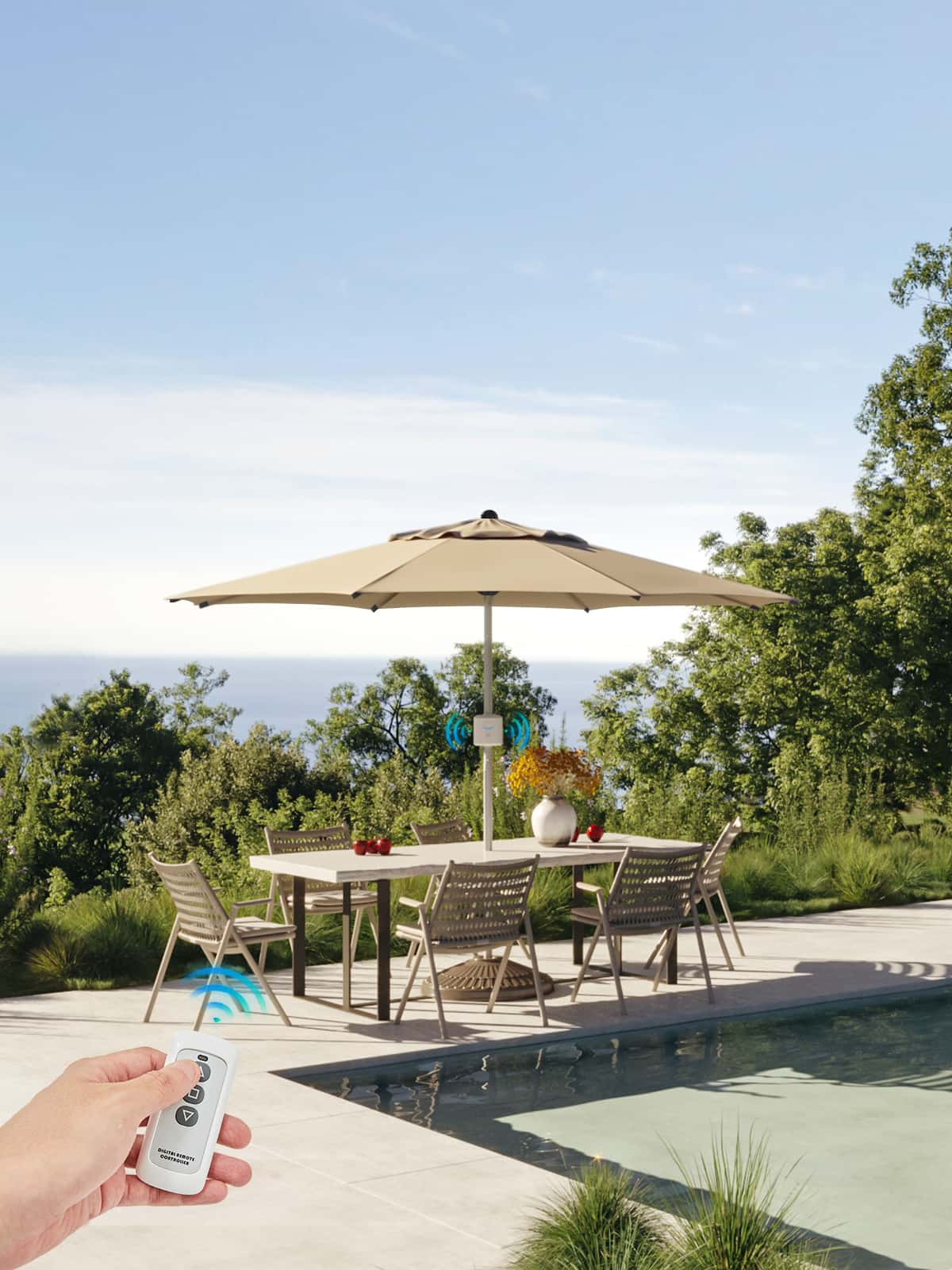 Join us at our Product Launch Event and Enjoy an Exclusive Discount on Our Game-Changing Umbrella Technologies.
Our Revolutionary New Umbrella Designs!
20% Off Code " SUMMER20 "
One-click experience unbeatable sun protection with your family.
The ultimate outdoor companion! With easy-to-use controls, including a convenient remote, this umbrella offers diverse usage options for all ages.
Shop Now
Elevate your outdoor shade with Outtra™ Fabric.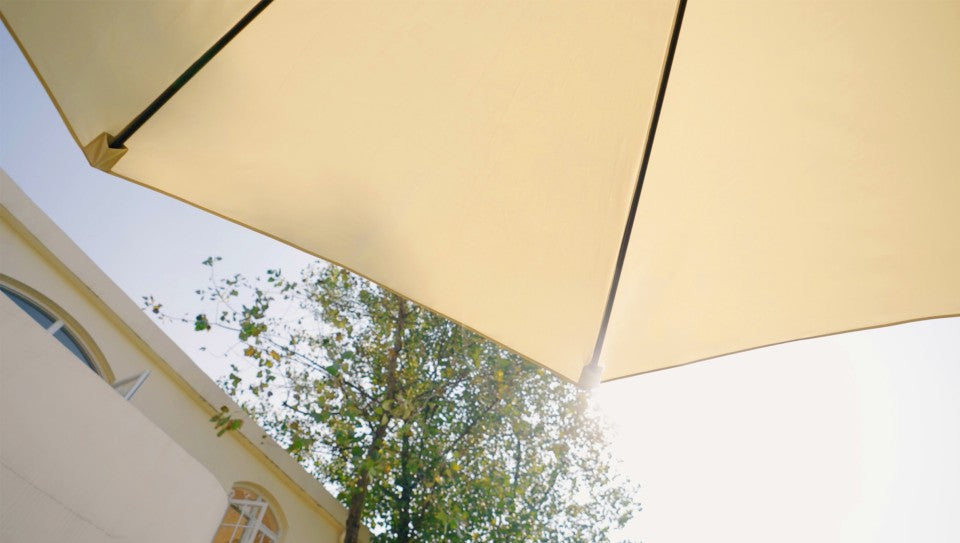 UV Protection for Healthy, Skin
Stay safe in the sun with our extra thick and durable Outtra™ Fabric, made with soft air-textured yarn and designed to block over 99.9% of UV rays. Clink here to make a compare between Outtra, Sunbrella and Olefin.
Live a Sustainable Lifestyle
Outtra™ Fabric is made of at least 95% recycled polyester textiles. All of our fabrics and products can return to the production, consumption, and renewal cycle. The entire supply chain commits to building a sustainable future.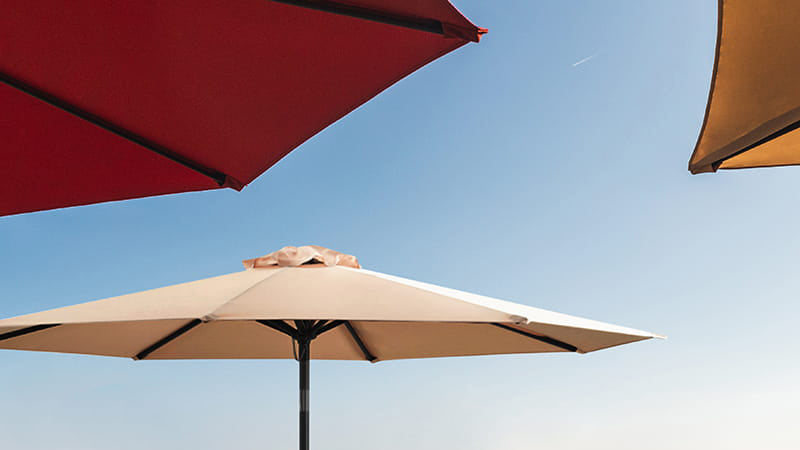 Pioneering in fade-resistance
Outtra applied industry-lead tech to ensure the level of fade resistance, featured by US Standard AATCC16 and Grade 5 colorfastness, and with a 5-year fade-resistant warranty. Bluu delivers stylish and comfortable outdoor solutions without losing functionality.
Supreme shade.
Find the perfect shelter for your outdoor oasis.
Recreation ready.
We make it easy to find versatile pieces you need, get fast free shipping, a 30 day Money Back Guarantee and do it all sustainably. From innovating with exclusive, carbon-neutral materials – to crafting every product with care – to the trees we help plant – to delivery to your door. We simplify the entire process of creating the backyard of your dreams. People inspired. Planet protected.
Let customers speak for us
Customer care
I bought an umbrella from a friend that was missing parts. Customer care was very helpful in finding and shipping me the parts quickly. Thanks.
Ms Gloria N
Good products.
If you want a good quality and reliable products this brand is the one to select
Medium size fit just fine
Previously i had purchased the "large" size and decided to fill with clean damp bagged sand, for maximum weight. My need arose for a smaller space unit and the medium unit (also filled with damp bagged sand) fit the need perfectly. Come winter time i will be able to leave the sand filled stands where they are, ready for the spring.
Bluu Sequoia Pro Cantilever Umbrella Rectangular 1-Tier
worth the money if you want good quality products
Good products,worth the money
Design flaw.
I ordered the pro cantilever 12 foot umbrella. First it was delivered missing two critical parts . It took 10 days to get the main part . The more minor one they told me to order from Amazon . And gave me a $30 credit . My big complaint- every time you wind the umbrella out the ribs come detached from the canvas . You have to manually reattach each time . It's a pain!! They say nothing can be done . I read no other reviews about this issue and challenged them on my fabric being stretched out. It's brand new . They said "oh no others have complained about this too". Really?? Frankly I think I received a repurposed umbrella. Box was all broken when it arrived and looked like it had been retaped , parts missing . Overall a lot of money for not a perfectly functioning product .
Going Blue Umbrella
Customer service was very responsive. Initially I was disappointed as I couldn't call them, I found that they respond to email very well. I had a small problem with the color and damage to the unit, and they remediated it quickly and to my full satisfaction.
So convenient!
I love this umbrella! It's amazing on hot summer days, when I don't have to worry about cranking the lever, it opens with the push of a button and covers my deck perfectly!
Perfect Patio Umbrella
This umbrella is so convenient and is the perfect addition to our outdoor patio area. I love the smart remote feature and the size of the umbrella. It's very sturdy, was simple to setup and provides more than enough shade.
I wish I could!!!
Ordered the umbrella because we were hosting an event I ordered the umbrella weeks in advance. Upon delivery I opened the umbrella, and to my disappointment the wrong one was sent. Customer service was eager to resolve the issue and send the correct umbrella. Well, today was the party, and unfortunately I'm still waiting to see what the umbrella looks like … as it has yet to still arrive.
substitue base
This base seems to do the job. Not knowing what the BLUU base is like leaves me at a disadvantage and unable to do a comparable however, the base I was directed to seems to work just fine.
Perfect size for our lanai!
We love our 120 gallon deck box. It fits perfectly on our lanai. Great storage area and extra seating as needed. Well made and easy to put together.
The order was returned; We are awaiting refunds.
We liked the umbrella and base; however, the order was returned because the units were too large. We are awaiting refunds. When will we receive the refunds?
Love the umbrella
This is amazing quality and beautiful design umbrella love the color too !
Huge footprint but does the job
The base is easy to set up but it is a little challenging to find a space for it on a small patio. The umbrella feels like it's stable in our protected patio with just water. I think I would want sand too if it was in a more open area.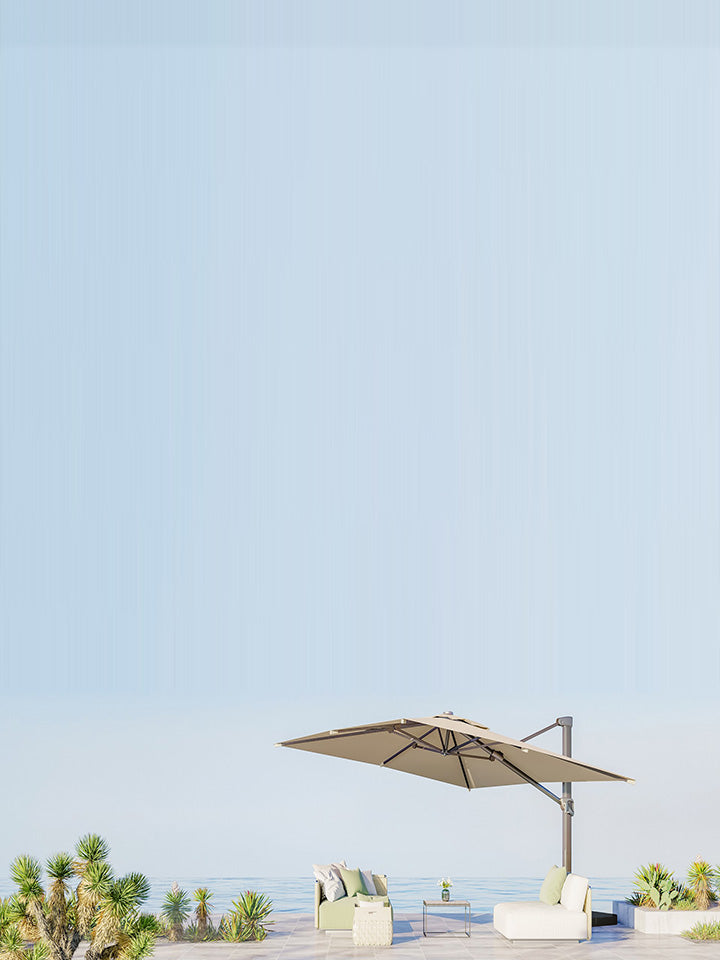 We're in the Business of Backyard Bliss
More than outdoor patio furniture, we believe backyard life should be lived in the shade lane. We believe affordable outdoor furniture doesn't have to mean unstylish or cheaply made. Each Bluu product is thoughtfully designed, versatile, weather-ready and intentionally priced-within-reach.
About Bluu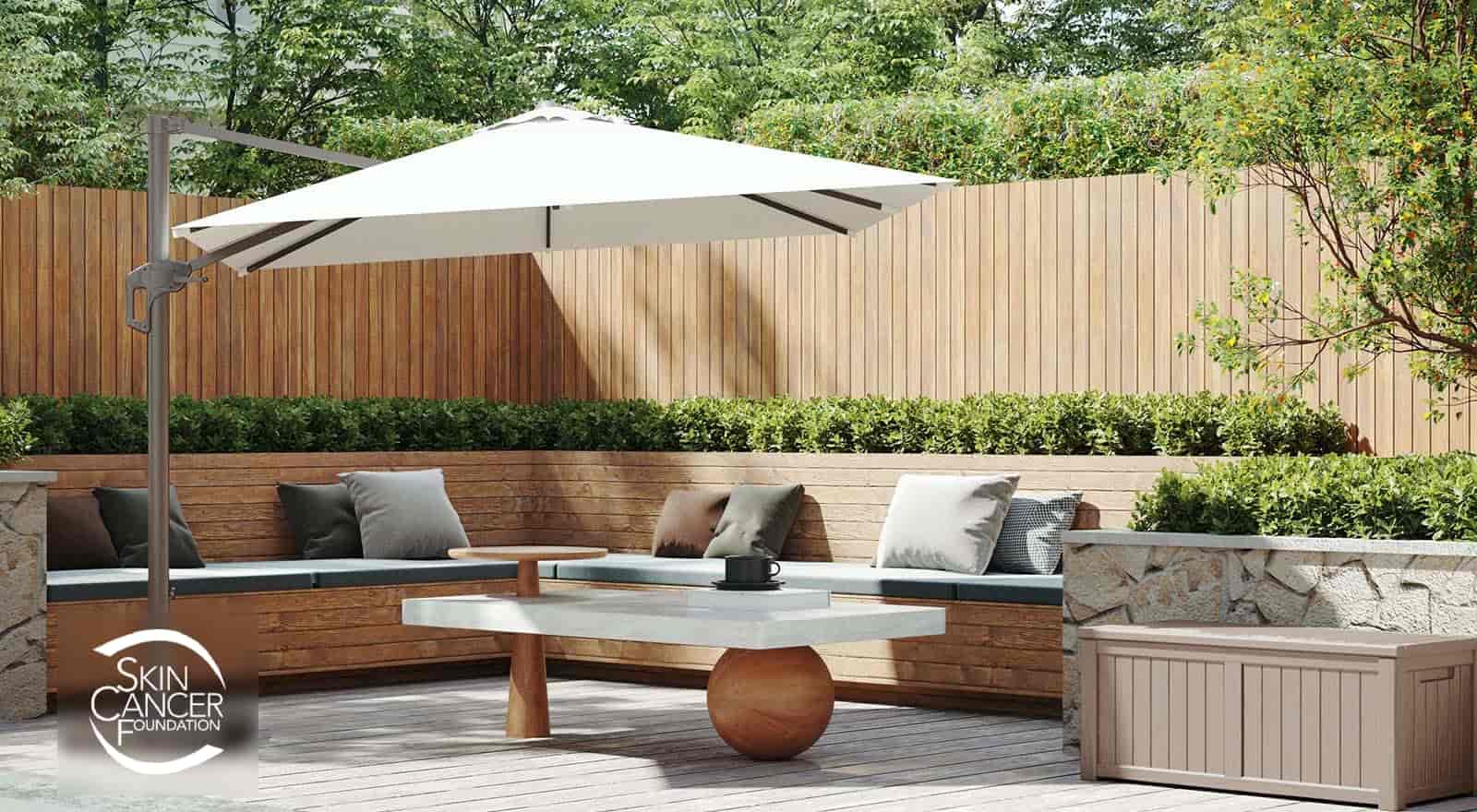 Protect Your Skin From the Sun
As a proud member of The Skin Cancer Foundation's Corporate Council, Bluu shares the Foundation's commitment to saving and improving lives. Bluu supports the Foundation's work of empowering people to take a proactive approach to daily sun protection and the early detection and treatment of skin cancer.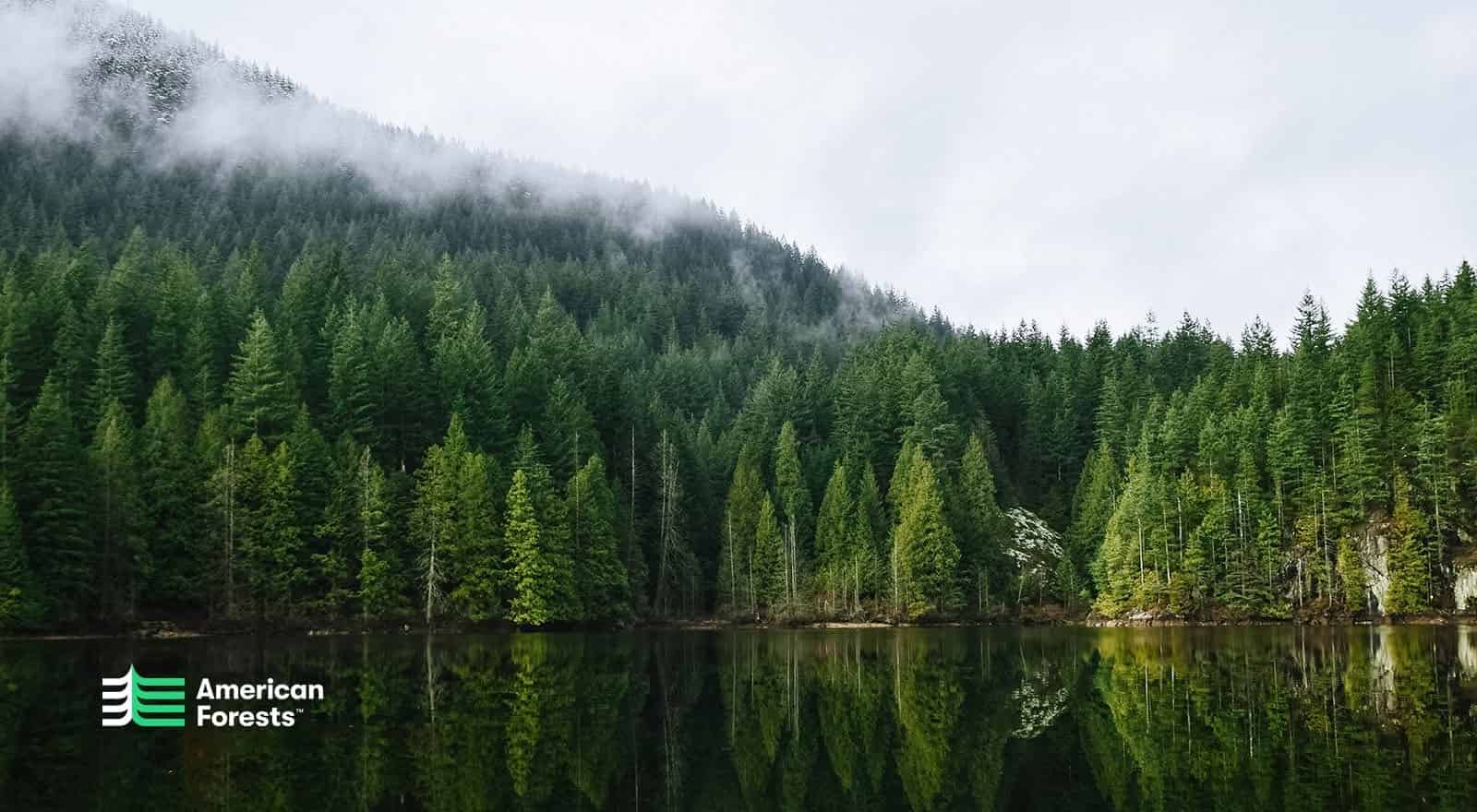 One Umbrella, One Tree
Through a partnership with American Forests, Bluu always keeps reforestation in mind. We're the only outdoor living brand that plants one tree for every umbrella sold. One tree at a time.