Want to throw a knockout party that your guests will talk about for months? The evening's atmosphere and the chemistry among friends are essential, but nothing trumps the food and drinks you serve and the time spent playing games. So why not check out our guide to organizing the best party games and celebrating your time in style?
Adult party games are a great way to get friends involved in any occasion and festivities on the cusp of a second childhood. From classic party games to more modern options, we've got all the creative inspiration you'll need for planning party games and activities this year!
Here we've got the following party occasions covered:
Housewarming
Birthday
Dinner
Cocktail
Outdoor
Halloween
Christmas
New Year's Eve
Be stress-free! Whether you want to keep it low-key or do something completely out-of-the-box, it's never been easier to find motivation for fun party game ideas! So, pick your party game, invite your friends, and have a blast!
But first, consider a few elements when you're selecting your party games, such as:
Number of friends attending your party
Age criteria of your friends' group
Your preference to play games inside or outside
How well do your friends know each other?
Adapting these options will give your party that successful beat. However, keep in mind that the major key to any game is to simply have fun and memorable times!
Indoor Housewarming Party Room Memory Game

source:https//media.tenor.com/
Moving into a new home is usually thrilling. Furthermore, what could be more enjoyable than a warm indoor Housewarming party to welcome friends, family, and neighbors? This occasion is the best way to get an introduction to those new neighbors you will be passing on the sidewalk. Although this night will be full of house tours, food, and conversation. If you have the time, this probably is a great chance for a room memory game night to know and celebrate with friends even more.
Since guests will be house touring on the go, plan some light activities to engage them. This game requires everyone to recall where they placed each item in a room, thus making it a deal-breaker that can crack through any casual communication, and help everyone warm up.
Where we love is home, home that our feet may leave, but not our hearts. ― Oliver Wendell Holmes Sr.
Outdoor Housewarming Party Neighborhood Scavenger Hunt Game
Source: https://media.tenor.com
This game is perfect if your new place has a view and scenery. Get trivia about your town or city, or landmarks in your neighborhood, create your scavenger hunt list with hints of creativity, or find printables online. Here's the list of ideas to get started:
'For Rent' sign
Brick house
Yellow front door
Old sofa in a front yard
Two-three cars in a driveway
Little Italian-style cafe
Lemon tree
With these DIY clues, be sure to drop some hints to encourage your friends to solve riddles and have some fun! The person or group that gets back to your house with all the clues checked off the list is the real winner.
Indoor Birthday Party Karaoke Roulette Game
Source: https://media.giphy.com
With the help of this indoor birthday party karaoke roulette game, you can discover your friends' secret talents. To play Karaoke Roulette, give choices to your guests and encourage them to go out of their comfort zones. Divide into teams or pair up, where one player sings while the other dances. After they are done dancing and singing together, they switch places and do it again. To make it more captivating, pick a random player on any team, and the selected pair have to make up any song together or sing a duet their hearts out!
Outdoor Birthday Party This or That Game
Source: https://i.gifer.com
Gather around the Bluu Maple Pro Market Umbrella and get your drinks from the Bluu Outdoor Cool Bar Table. This game begins when you give a selection of options. Everyone votes on it, and if the thing doesn't get voted on, it gets 'deleted' from your reality forever. For instance, if a guest says 'taco or coffee or tv show', meaning guests have to vote on whether they would rather live on a planet without tacos, or coffee, or a tv show. If anything gets voted out, it doesn't exist in your reality anymore. The game gets going until you have designed your own weird planet.
The more you praise and celebrate your life, the more there is in life to celebrate. ― Oprah Winfrey
Outdoor Dinner Party Bocce Ball Game
Source: https://media.giphy.com
Are you insecure about your deck space containing diverse surfaces? But hosting a fun outdoor dinner party game is on your bucket list for so long? Well, good news, Bocce Ball works best with it. To play, split up your guests into teams and dare them to perceive who can competitively score the best by rolling balls nearest to the pallina.
Indoor Dinner Party Chair Questionnaire Game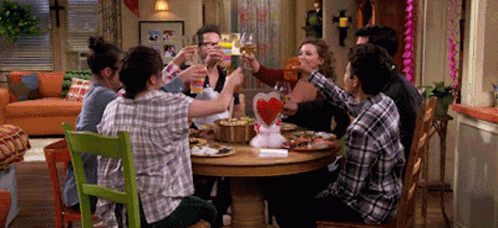 Source: https://media.tenor.com
This game requires your management and planning skills. You have to sort out fun questions, write them down on a piece of paper, and tape them to the bottom of the dinner table chairs where you planned your dinner. Each guest takes turns reaching down and searching their Q&As. You could shuffle chairs to spice up the party game more. Don't forget to add a reward option to special questions for more fun times.
Outdoor Cocktail Party Try Not to Laugh Dare Game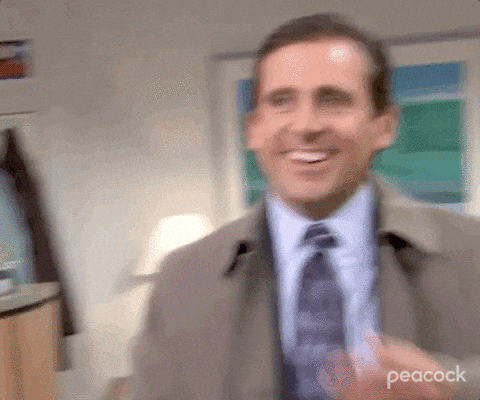 Source: https://giphy.com/
Twist some rules of the 'spin the bottle' game at your convenience. As usual, place the bottles in front of the participants. Take turns spinning the bottle, and whichever cocktail drink glass the bottleneck points to must be emptied by the guest behind it while other point side guests get a choice to ask about or act on anything related to their preferences. You can carry on this game for however long your guests wish to.
Outdoor Party Water Balloon Volleyball Game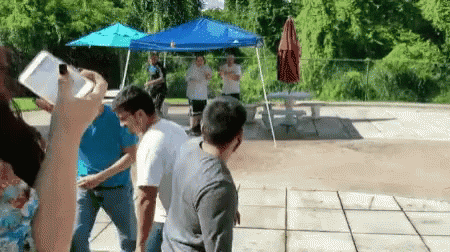 What's a better way to cool off on a hot day and have some laughs alongside an adult party pool and some water balloons? All you need are cheap sunglasses, plastic animals, and water balloons.
Team up guests into two teams and have them sit in the Bluu Outdoor Adirondack Chair at any end of the pool under the Bluu Maple Pro Market Umbrella to avoid sun exposure with a strong Iron Weight Base available with medium, large, compact, and mobile base options. Everyone takes turns tossing water balloons at rival team members. You're out if you get hit. The team that defeats all of the team's members wins.
Outdoor BBQ Party Backyard Bowling Game
Source: https://i.gifer.com/9g0h.mp4
Summer weather isn't over until you host a BBQ party with fun afternoon activities. Heating your food is easier with Gas Kitchen Torch. Backyard Bowling requires some setup time, but it is surely worthwhile! For this game, all you'll need is an outdoor bowling game set, which is easily available to purchase online. On one side of your garden, place the bowling pins. Begin the game by taking turns rolling the bowling ball and knocking the pins down. Keep the game score on paper to report the winner.
Barbecue may not be the road to world peace, but it's a start. ― Anthony Bourdain
Indoor Halloween Party Mystery Food Guess Game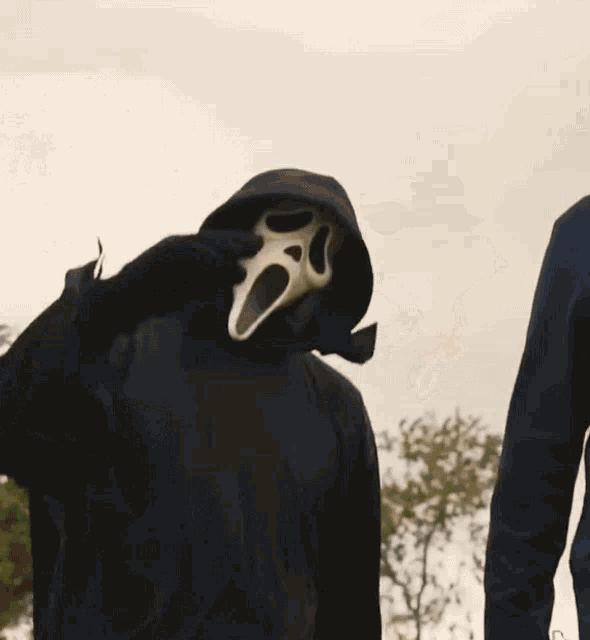 Source: https://i.giphy.com/media/3oEduTny9qJEtpGElG/giphy.gif
It's easy to forget about Halloween party games amid costumes, trick-or-treating, and a spooky party food saga. To play, prepare your mystery food items. Have creative freedom with a food list.
Here's a mystery food list you can serve:
Vanishing tomb rolls as Empty coffins
Cooked cauliflower with tomato sauce as Human brain
Peeled grapes as Eyeballs
Cooked apple sticks as Witches fingers
Uncooked baby carrots as Bones
Peeled, stewed whole tomatoes as Human heart
Cooked pumpkin seeds as Monster toenails
Jelly or Jell-O as Coagulated blood
The main object of this game is to guess what party food dishes are made of. Team up with your friends, then ask them to send one team to your table, where mystery food will be waiting for them. Whoever guesses the correct food item, wins a point.
Outdoor Halloween Party Villain Trivia Game
Source: https://gifdb.com/
If your friends are movie freaks, incorporate their interests into your Halloween party game and bring on the villain quizzes. Gather around the Bluu Outdoor Adirondack Chair, Bluu Chaise Lounge Chair under a Bluu Solar LED Maple Market Umbrella.
Split your friends into teams and ask them questions about popular villains from books, movies, news, and history. Make sure to keep it fun, and everyone involved has a chance to win some cool prizes at the end.
Indoor Christmas Party Never Have I Ever Game
Source: https://media2.giphy.com/media/rAFK7FqY21jSzSSgYw/giphy.gif
The heart of any Christmas party encourages guests to be truthful about past actions. Vulnerability helps to bridge emotional gaps in any relationship.
Incorporate a festive twist as you wish and start a game with guests holding up their fingers for all to see. As the game proceeds, each guest takes turns making any statement that begins with "never have I ever..." guests who have done the stated act lower one finger. The champion is the last guest who has their fingers held up. Don't forget to reward them!
Gifts of time and love are surely the basic ingredients of a truly merry Christmas. ― Peg Bracken
Outdoor Christmas Party Charades Game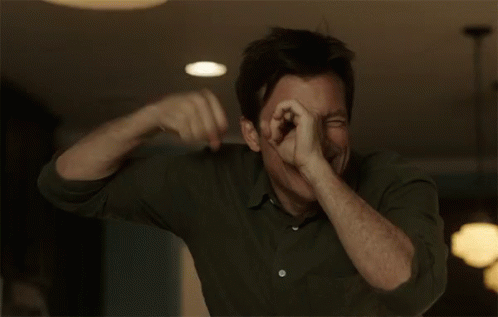 Source: https://media.tenor.com/
If you're planning to host Outdoor Christmas party game, better to winterize your backyard by investing in the right equipment that'll go a long way to keep your guests and family comfortable. Keep warm with Bluu Fire Pit Bowl Pro, blankets, and outdoor heaters. Place blankets on each seat of the Bluu Outdoor Adirondack Chair for guests, and set up your favorite lights on the Bluu Sequoia Pro Cantilever Umbrella Round to get in the Christmas vibes.
There's nothing better than playing charades by a freshly decorated outdoor christmas tree and having fun with friends on Christmas eve. To play, divide the guests into two teams. One leader from each team comes forward and pulls a clue out of a hat. The leader has to act out this clue in front of their team, if the correct clue has been guessed by the team, they get a point. Another team leader comes forward and follows similar rules, and the game continues! The teams can take turns carrying out different activities in a set amount of time.
Outdoor New Year's Eve Party Pop The Confetti Game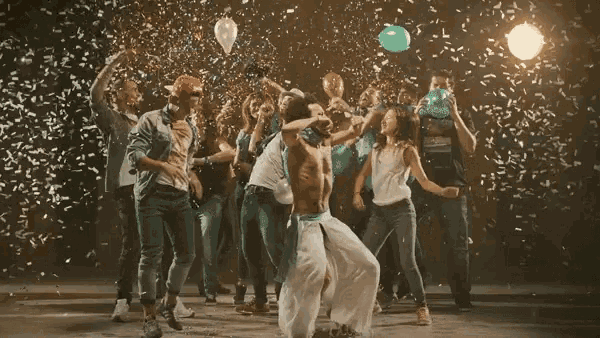 Source: https://media.tenor.com/
The perfect game for New Year's Eve to celebrate the past and welcome the future ahead of us with the blast!
To play it, it's a simple and fun drill in which guests must pop all five balloons in a limited time using just their hands while wearing heavy winter gloves with no assistance from anyone. For more entertainment, team up with your guests to cheer on fellow teammates and give friendly rewards to the winner.
Conclusion
Everything can be celebrated in your indoor or outdoor living space. With this list of fun and simple party games for adults, we hope that you will be able to plan fun moments with ease.
Don't forget to head over to our new collection to explore more creative setups, subscribe to our newsletter, and follow us on Facebook, Instagram, and YouTube for fun moments!
About the author
Written by
Sneha Rane
. She's an analytical and detail oriented Technical Writer, equipped with vast experience in rendering technical details into usable technical documentation in various industries.