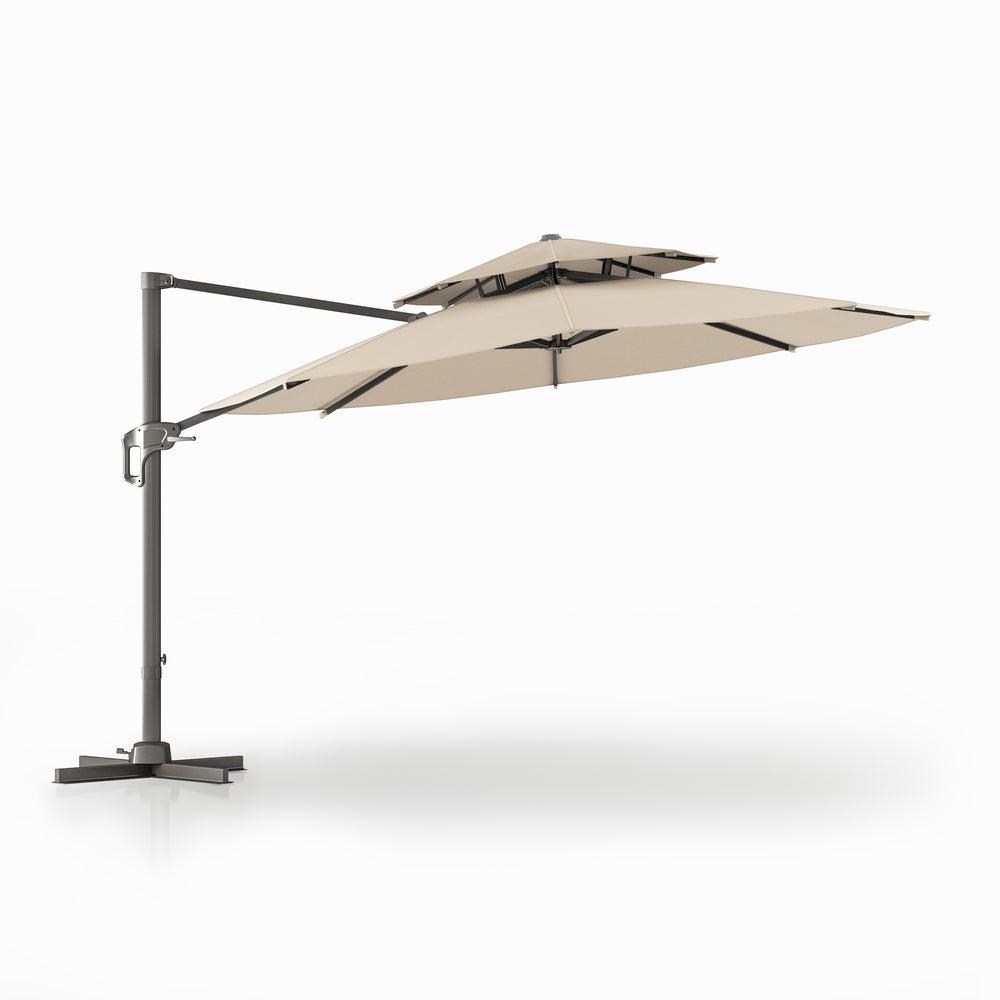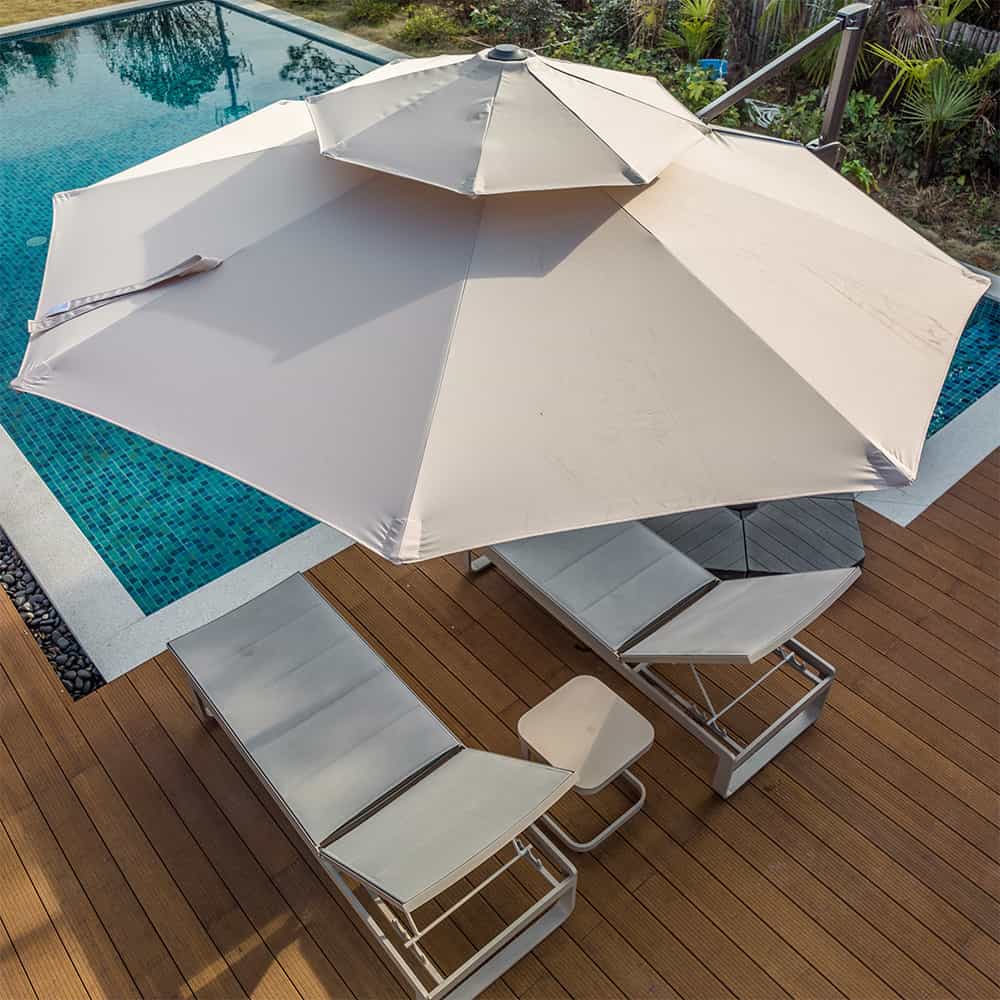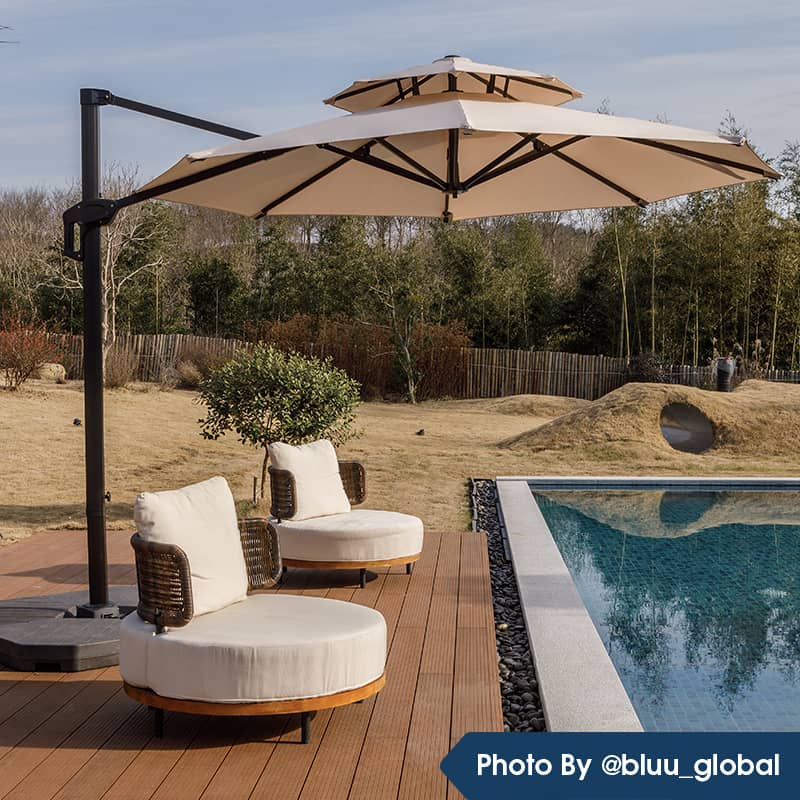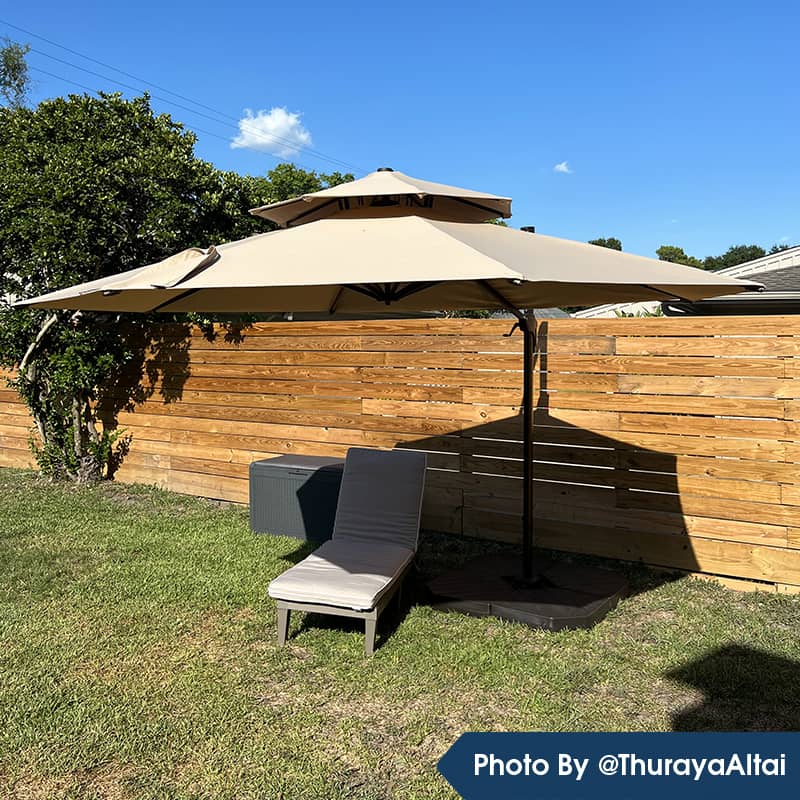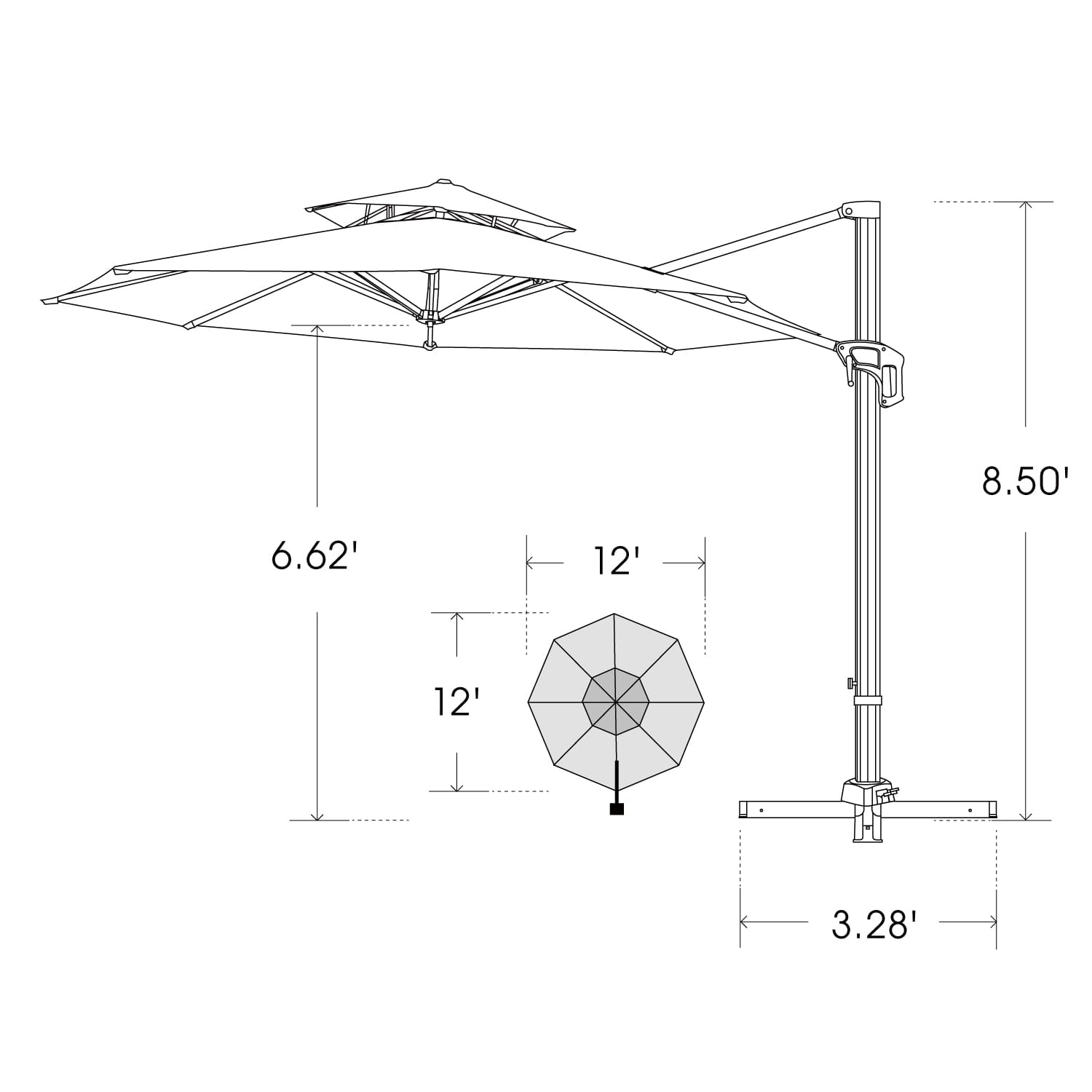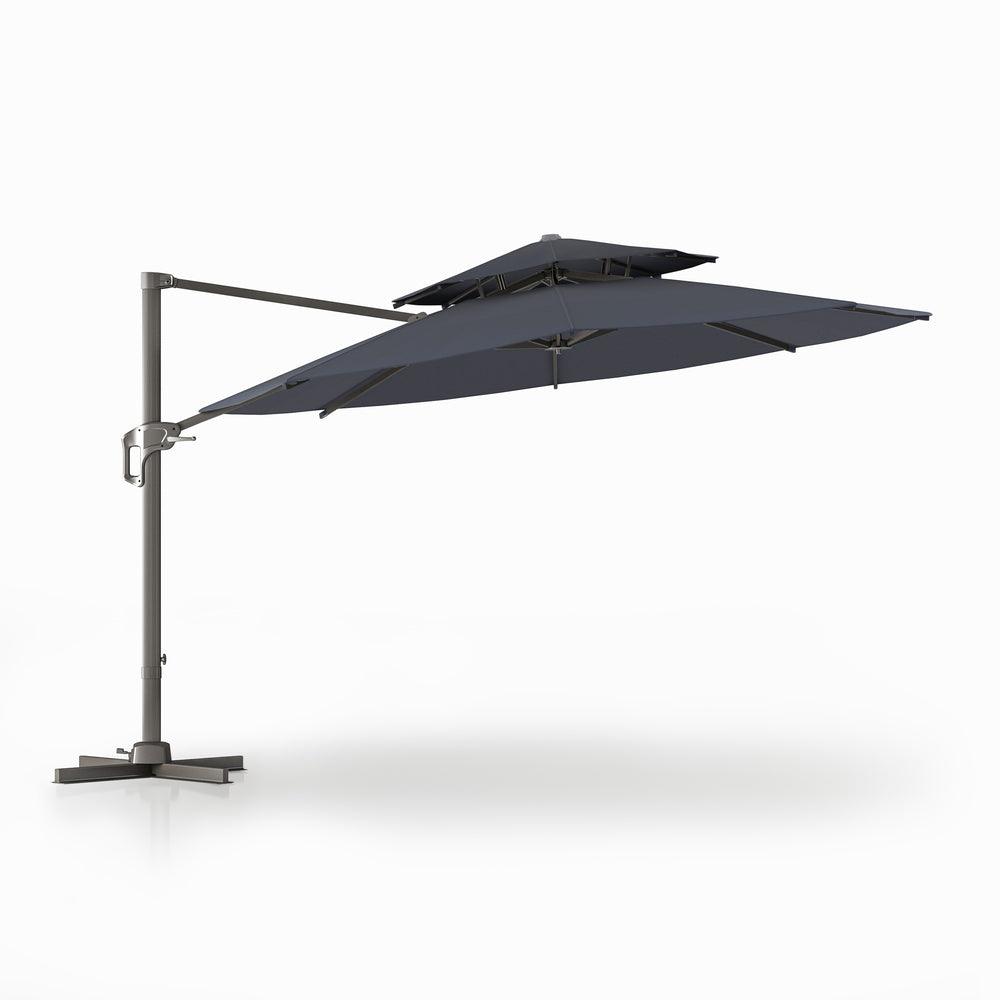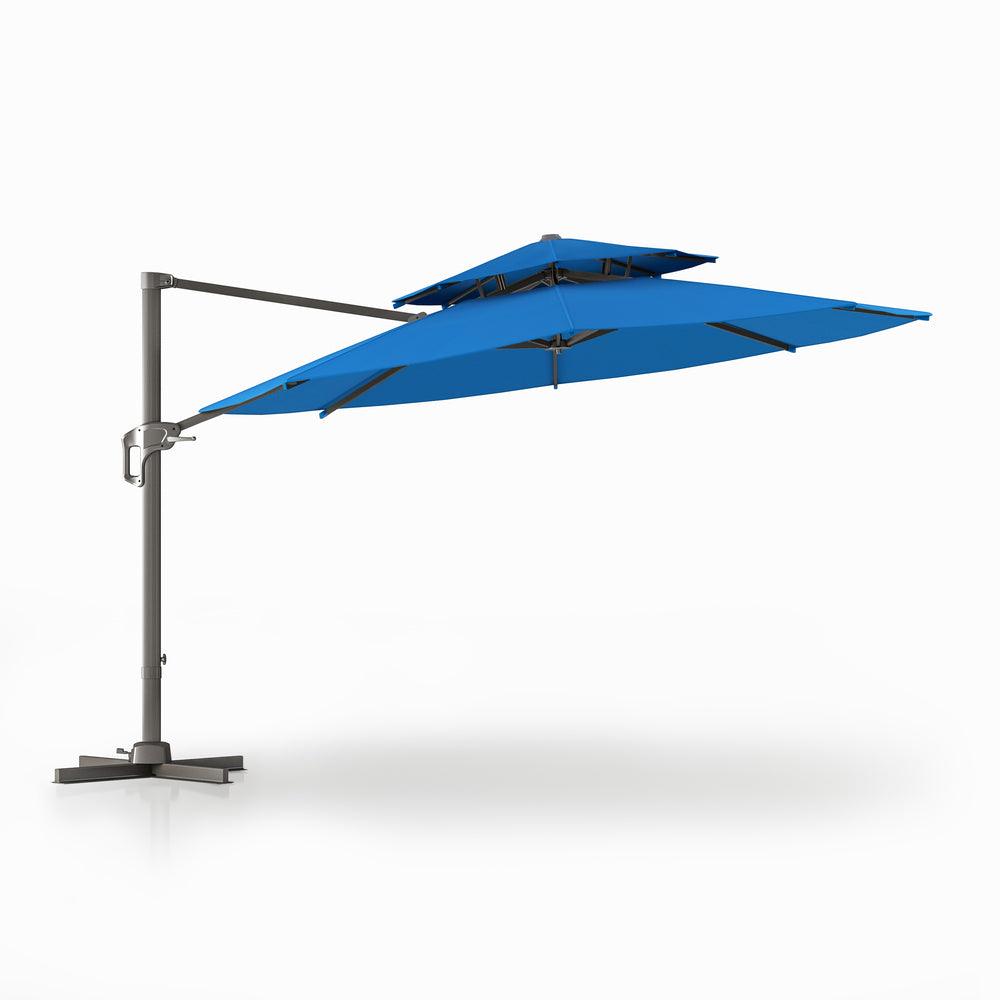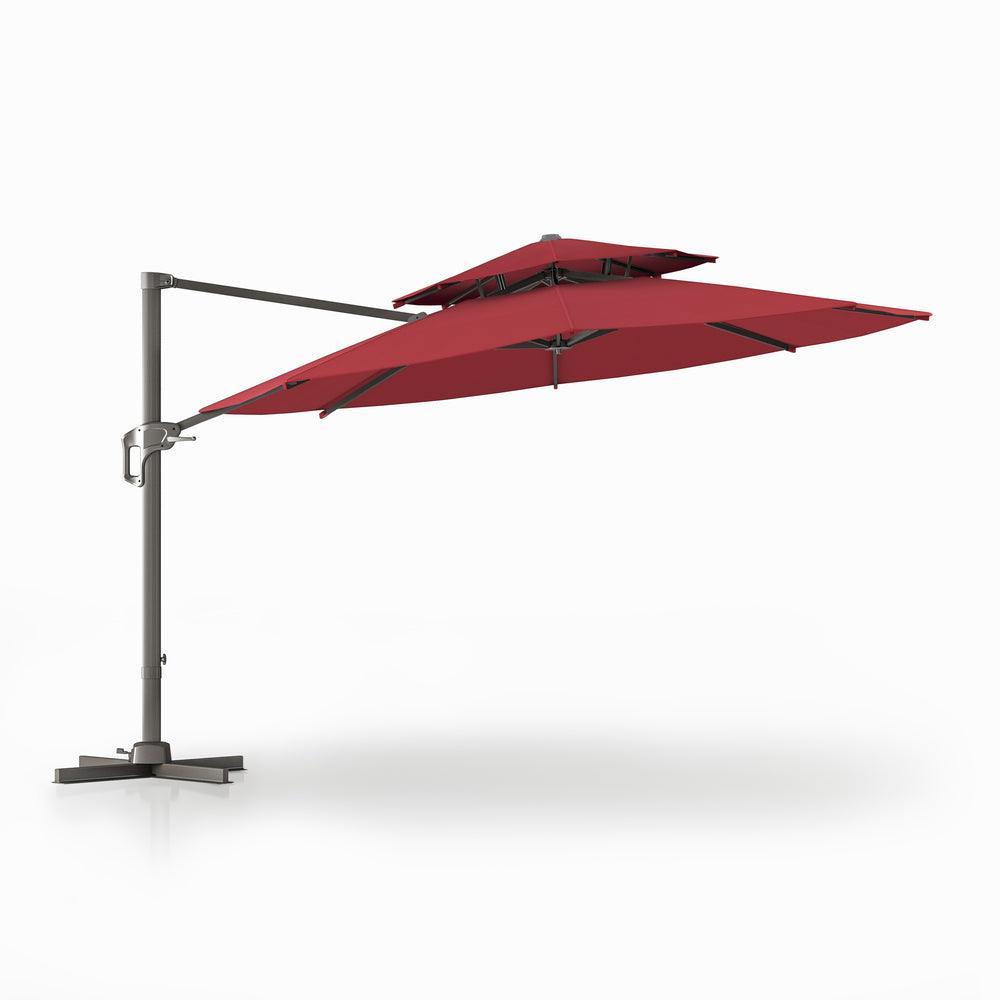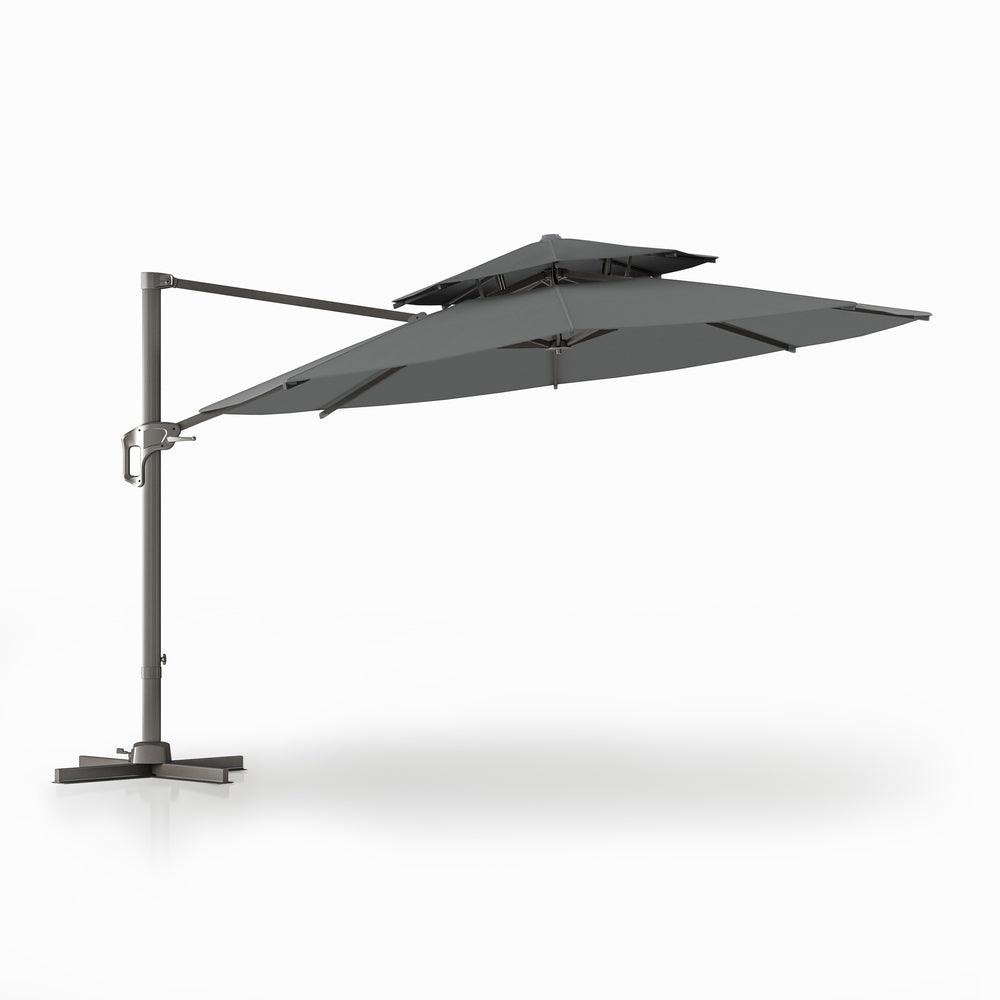 Bluu Sequoia Pro Cantilever Umbrella Round 2-Tier
Monthly payments with
.
Learn more
The Bluu Sequoia Cantilever Umbrella provides shade but also saves your patio space and adds beauty. It is designed to shade 8-10 people and also available in
square top
。 
*Umbrella Cover Included.
Canopy Size: 12.0'
Umbrella Height: 8.5'
Pole Diameter: 2.1" × 3.0" 
Pole&Ribs: Powder-coated aluminum
Fabric: UPF 50+ Outtra™
5-year limited warranty on the fabric
1-year limited warranty on the whole umbrella
30-Day Money Back
Free Shipping&Return
Delivery times takes between 2-6 bussiness days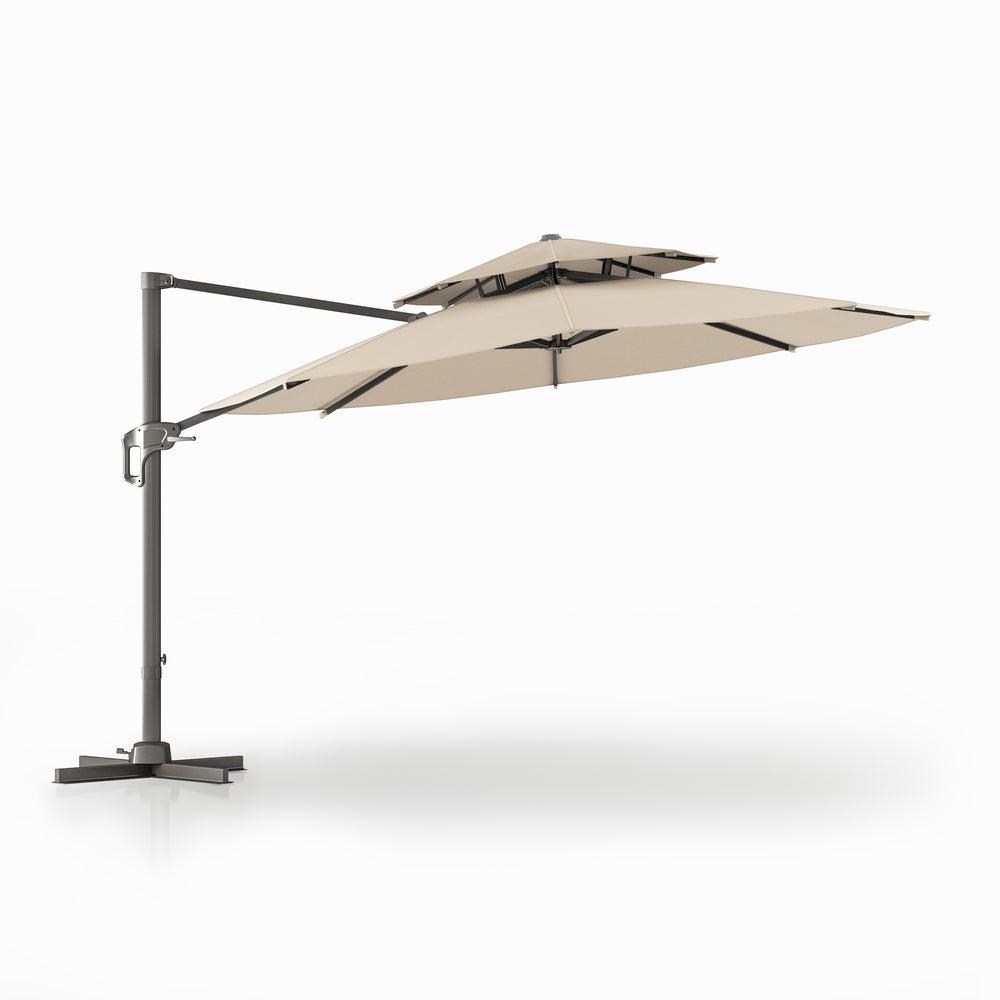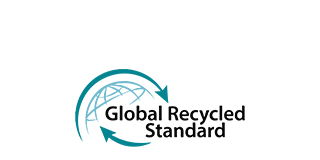 Recycled Certified
Our products use recycled post-consumer polyester. 
Colorfastness Certified
They feature US Standard AATCC16 Grade 5 colorfastness.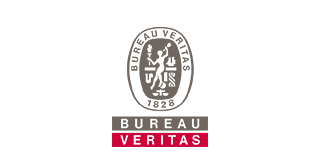 UV Resistance Certified
They are made to block at least 99.95% harmful UV rays.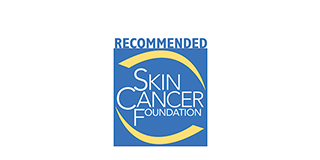 Sun-safe Certified
Recommended by SCF as effective UV protectant.
Build Your Dream Patio Effortlessly 
6-Level Tilt System Prepare For Opening The Canopy
We created an easy-to-use system that opens, closes and tilts the umbrella with ease.Simply pull the crank up and down to adjust the canopy to the desired angles for all-day shade. All operations can be done by one person in a simple, straight forward manner. The entire frame is powder-coated to resist corrosion and other signs of wear.
Simply Crank The Handle Clockwise To Open It
Our 2-in-1 crank mechanism is designed to raise or lower the canopy and makes sure that it's easy to open and close with a smooth turn of the user-friendly handle.The pole and rib are made of extra-thick aluminum, making them lighter, but with improved strength and durability. The angled aluminum cantilever connects the pole and canopy to form a stable triangular structure, making the umbrella more stable and wind-resistant.
360º Rotation System To Provide Shade At Every Moment
The 360° rotation system enables you to swivel the canopy with our Labor Saving Foot Pedal. And with the combined feature of our innovative infinite adjustment tilting system, the umbrella provides maximum coverage from the sun all day. No more fuss. Open, close, tilt, rotate with ease!
Hang Your Favorite Ornament For Special Occasion
The umbrella's unique design makes it perfect for day or night use. Velcro straps at the end of each rib allow you to hang decorations such as wind chimes, string lights, or any small items you want to display. 
Protection and Style with Outtra™ Recycled Fabric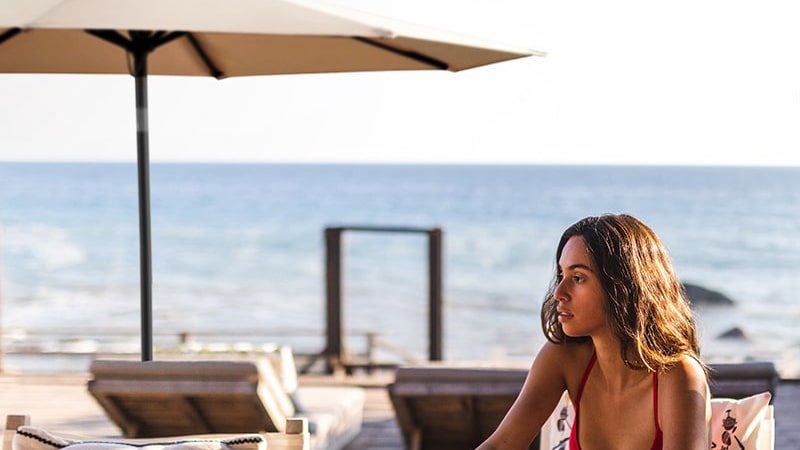 UV Protection for Healthy, Beautiful Skin
Made from soft air-textured yarn, the Outtra™ Fabric we use is extra thick and durable, thus has stronger ability for UV-Resistance. It delivers UPF50+ protection, blocking more than 99.9% of UV rays to keep you and your family safe and comfortable.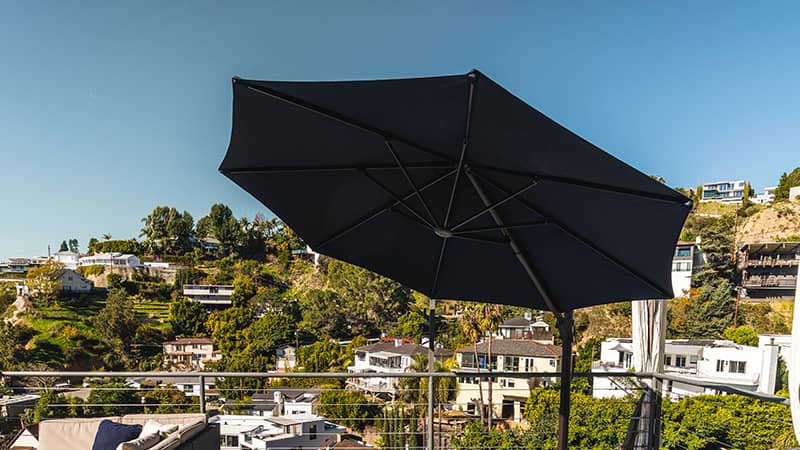 Live a Sustainable Lifestyle
Outtra™ Fabric is an environment friendly choice for your sustainable lifestyle, for it's made from recycled materials such as polyester textiles, PET packaging, PET films, etc. It's our responsibility to recycle waste to protect the Earth for future generations, as well as the creatures we share the planet with.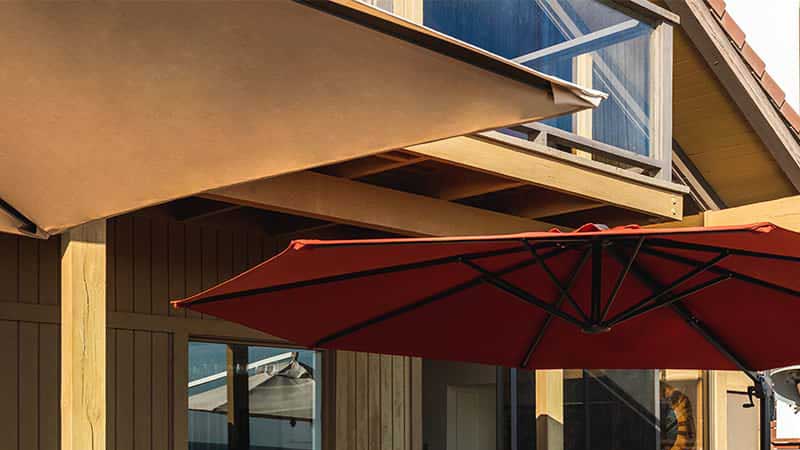 Vibrant Colors, Guaranteed
We manufacture our umbrellas in a wide array of colors to guarantee the perfect accents for any outdoor space. All our patio umbrellas feature US Standard AATCC16 Grade 5 colorfastness, which means it will remain bright and beautiful for years to come. Backed with our 5-year fade-resistant warranty, you don't have to worry any more.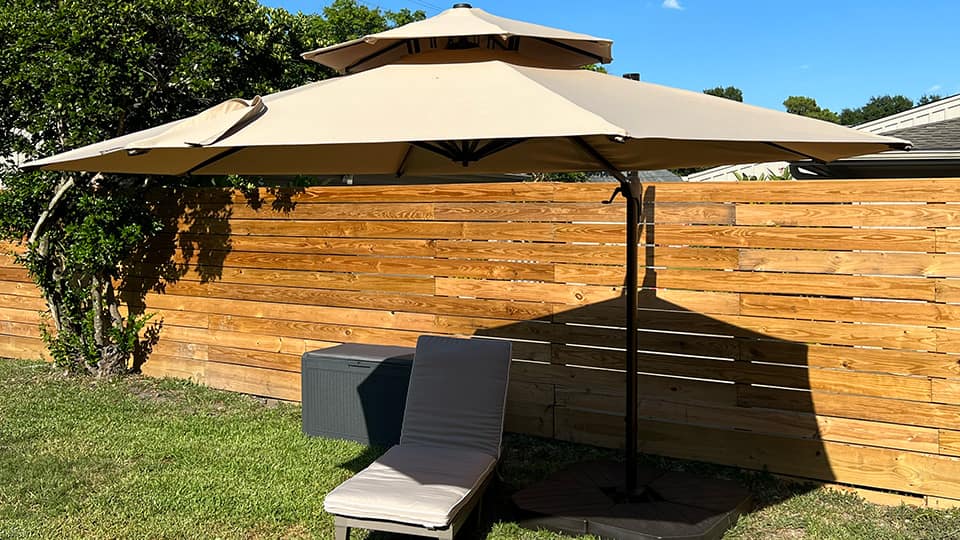 Product Specs
To ensure maximum stability and prevent the umbrella from tipping over, we recommend securing it with compatible weight bases . Additionally, during extreme weather conditions, we advise closing the umbrella to help preserve its quality and lifespan. These simple tips will help you get the most out of your patio umbrella for years to come.
User Guide
Color:
Navy Blue
Pantone 19-3938 TPX
Cream Beige
Pantone 12-0605 TPX
Burgundy
Pantone 19-1557 TPX
Royal Blue
Pantone 18-4252 TPX
Dark Grey
Pantone 18-4105 TPX
This product is rated 4.8 of 5.0 stars.
It has received 14 reviews.
Good umbrella - mixed feelings on the experience thus far
Ordered the umbrella a few weeks ago, it arrived in a heavily damaged box. When we opened it we found that most of the parts were missing and that the umbrella itself was dented, scratched, and damaged severely. I contacted customer support who made things right -- albeit in a complicated way -- and when the replacement arrived we got it set up, put together, and are happy with it, though it is also scratched and dented -- probably a FedEx problem more than a Bluu problem. We purchased a medium base to go along with the umbrella and they work well together. We had the umbrella out and open all day yesterday and it withstood everything well and only swayed slightly in the wind. I don't like the base cover for the umbrella, it looks very cheap, I am also concerned about rusting. Time will tell how this works in the future.
Great Product
Our Bluu Cantilever Sequoia Umbrella is everything we expected. Easy to assemble, excellent and easy to use 360 rotation feature, strong durable umbrella material with vent and great visual aesthetics. Highly recommended for the value.
Worth the cost, overall very nice for cost
ASSEMBLY: Childs play, took way more work with strengthening under my trex deck boards than it did to assemble it. 11 bolts total.
MOUNTING: I did not like the idea of the tripping hazard on my cowboy pool deck with the cross bars, so I found the nearest spot to center that was between joists and wife enough to fit the roughly 8" base. I used galvanized 5/16" carriage bolts on a strong back I tied between the open joists. This provides the strength to bolt through with the carriage bolts. Otherwise you have to get the weighted base sold separately or drill into your concrete slab or bury the provided base cross bars and secure them into soil somehow preferably with weight. I think that the direct mount to the deck is a very clean look.
Easy Assembly, Sturdy and Elegant
After a lot of research we settled in on the LE CONTE Grenoble 10 ft. Cantilever Umbrella with 360 Degree Rotation. We wanted 360 degree rotation to adjust for the track of the sun. This was so easy to assemble I didn't even bother to read the instructions. The most critical part was mounting to the deck. Be aware that it doesn't come with deck mounting hardware. A quick trip to Lowes to pick up a 8 foot pressure treated 2 x 4 and some 2 and 2.5 inch lag bolts. Because no two decks are alike the pre-drilled holes didn't hit but one support beam and I didn't want to rely solely upon the strength of 3/4 inch deck boards. I decided to drill additional holes in the mounting bracket so that I could hit several 2 x12 support beams. I was able to do so on both edges of the deck. I added two 1.5 feet 2 x 4 support boards underneath the deck for additional support of the mounting bracket. A combination of 2 inch and 2.5 inch 5/16 lags screws with stainless steel washers were utilized. In the pre-drilled mounting bracket holes that didn't hit a support I use #12 one inch long stainless screws that only screwed into the deck boards, mainly for ascetics as the lag screws are doing the support. Drilling the additional holes in the support bracket was easy. Simply center punch where you want your hole. First drill a hole using a smaller 1/8 diameter bit then drill your larger hole so the lag screw fits. Pre-drilled holes were made in the support beams as II didn't want them to possibly split when screwing in the lag screws.
The umbrella unfurled so easy my wife is now the umbrella queen and has no problems. When opening the umbrella raise it up about half way and unfurl the umbrella manually first before cranking it open as it will not open unless you do so. The velcro strap to hold the umbrella when closed probably won't hold in high winds. We ordered the cover as it goes over the umbrella and post. Storing for winter will require removing two bolts and lifting the umbrella off the mounting post, otherwise it stays out like boating season Memorial Day to Labor Day.
I have no complaints about the quality or ease of assembly
Going Blue Umbrella
Customer service was very responsive. Initially I was disappointed as I couldn't call them, I found that they respond to email very well. I had a small problem with the color and damage to the unit, and they remediated it quickly and to my full satisfaction.
Can I install cantilever umbrella on the ground?

Of course yes, but you need to purchase a third-party in-ground base to hold it. (The diagonal distance between the screws at the bottom of the umbrella pole is 160mm. The screws we used are M8*4).
Can I replace the umbrella canopy?

Yes, you can easily replace the canopy if needed. Bluu canopies are made with superior materials like Outtra and Sunbrella fabrics that are fade-resistant and are backed with long-term warranties.
Can I buy the umbrella canopy separately?

Sorry, we do not sell umbrella canopies separately.However, we are proud to offer you an extended canopy fabric warranty, which covers all fabrics we use.
As for Outtra fabric Bluu developed, we offer a 5-year limited warranty guarantee against color fading from normal exposure conditions. Please view ourBluu Care - Warranty & Returnfor more details.
What are the benefits of an umbrella cover?

We include a cream beige umbrella cover in each package of Sequoia Pro Cantilever Umbrella.
The cover is made of 600D heavy duty Oxford fabric with thick PVC coating and features strong waterproof capacity.
1. It can be used to protect your patio umbrella from damage caused by external factors.
2. The PVC waterproof umbrella cover can keep your patio umbrella clean and beautiful when it's not in use for a long time. In other words, it helps to extend the useful life of your umbrella.
* The rod is used for putting the cover over the umbrella and taking it off. Instead of using a stool or small ladder. 
How much wind can it take?

Bluu patio umbrellas are able to withstand strong winds of level 8 with our bases fulfilled according to lab data. However, we do recommend you close the umbrella when the wind speed reaches 10.8~18.5m/s in a real world, because the real-world environment is more complicated than in a lab.
Does this umbrella come with a weighted base?

Compatible weighted bases are sold separately. Weighted bases are necessary to provide stability and safety. We recommend purchasing a set of umbrella and base, and in this way you'll get a higher discount.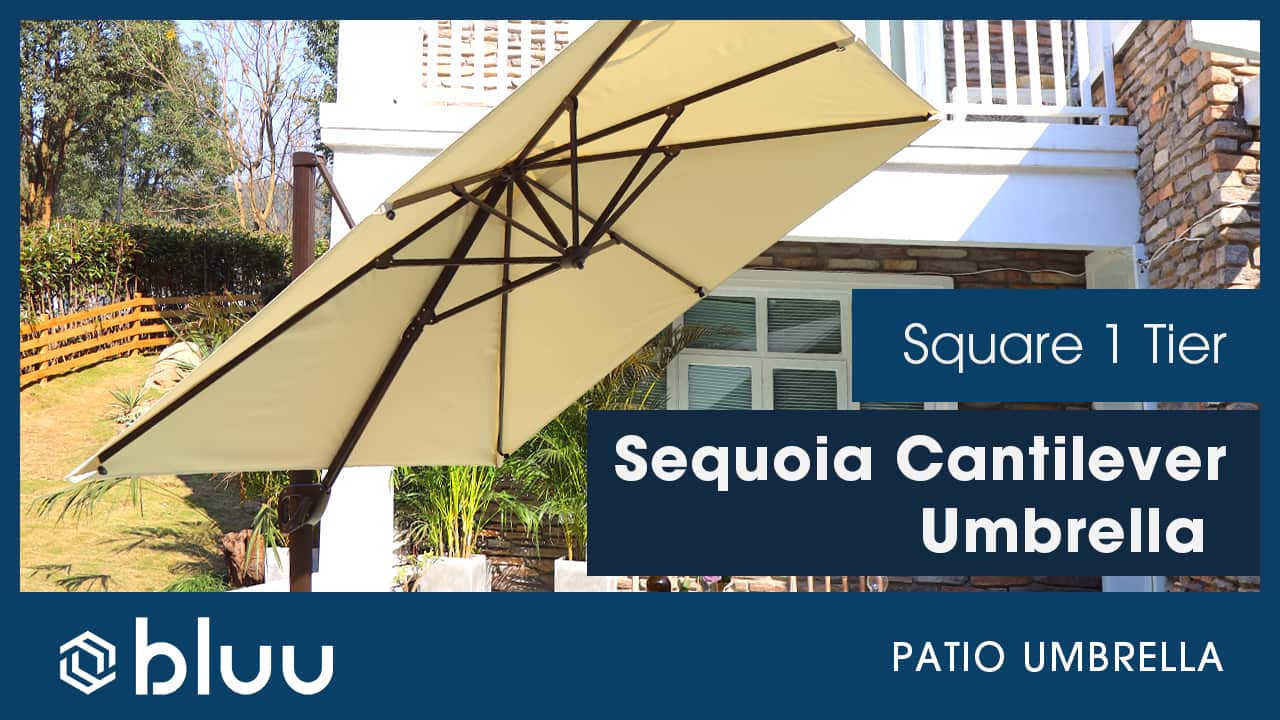 [Full Intro Video] Sequoia Pro Cantilever Umbrella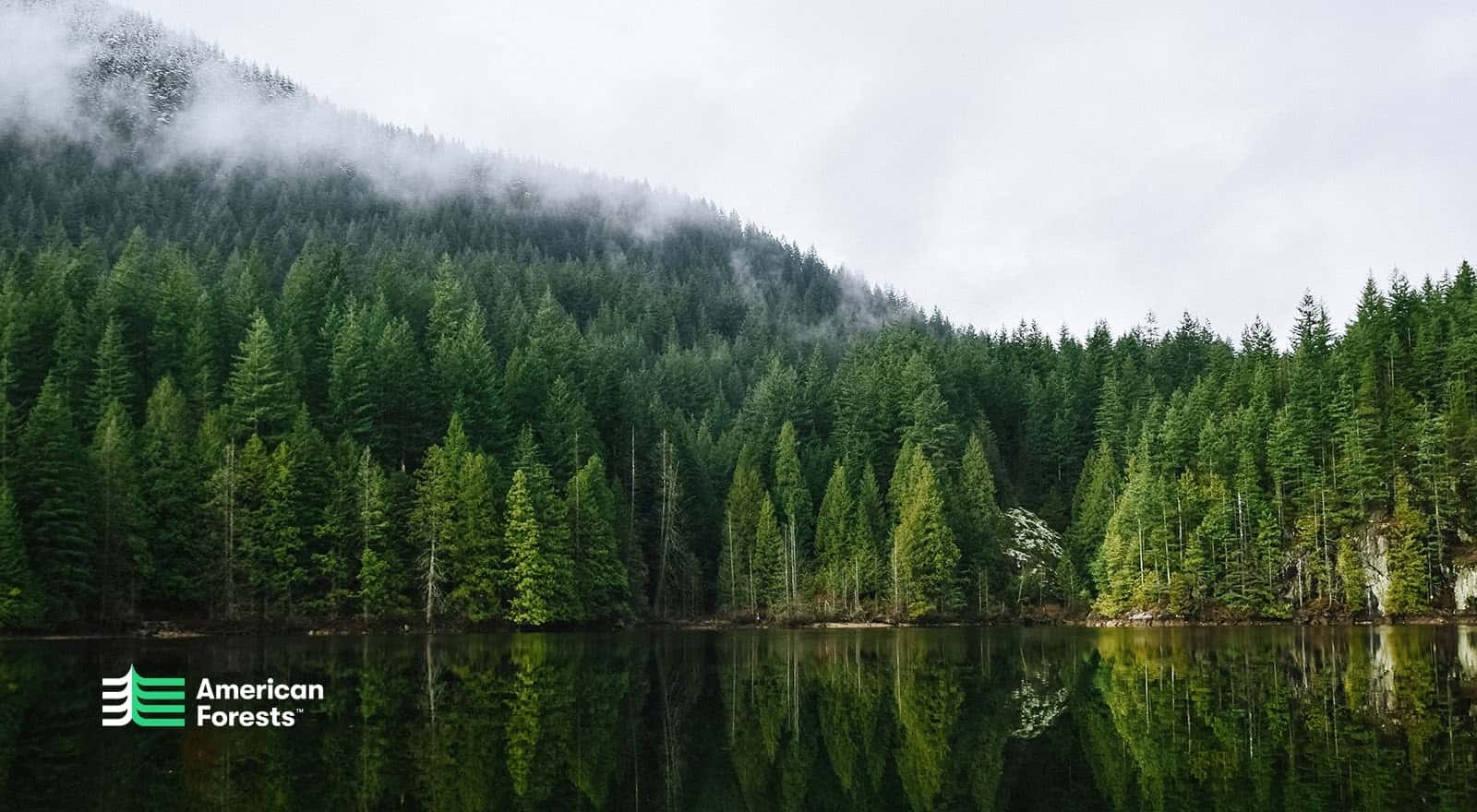 One Umbrella, One Tree
Through a partnership with American Forests, Bluu always keeps reforestation in mind. We're the only outdoor living brand that plants one tree for every umbrella sold. One tree at a time.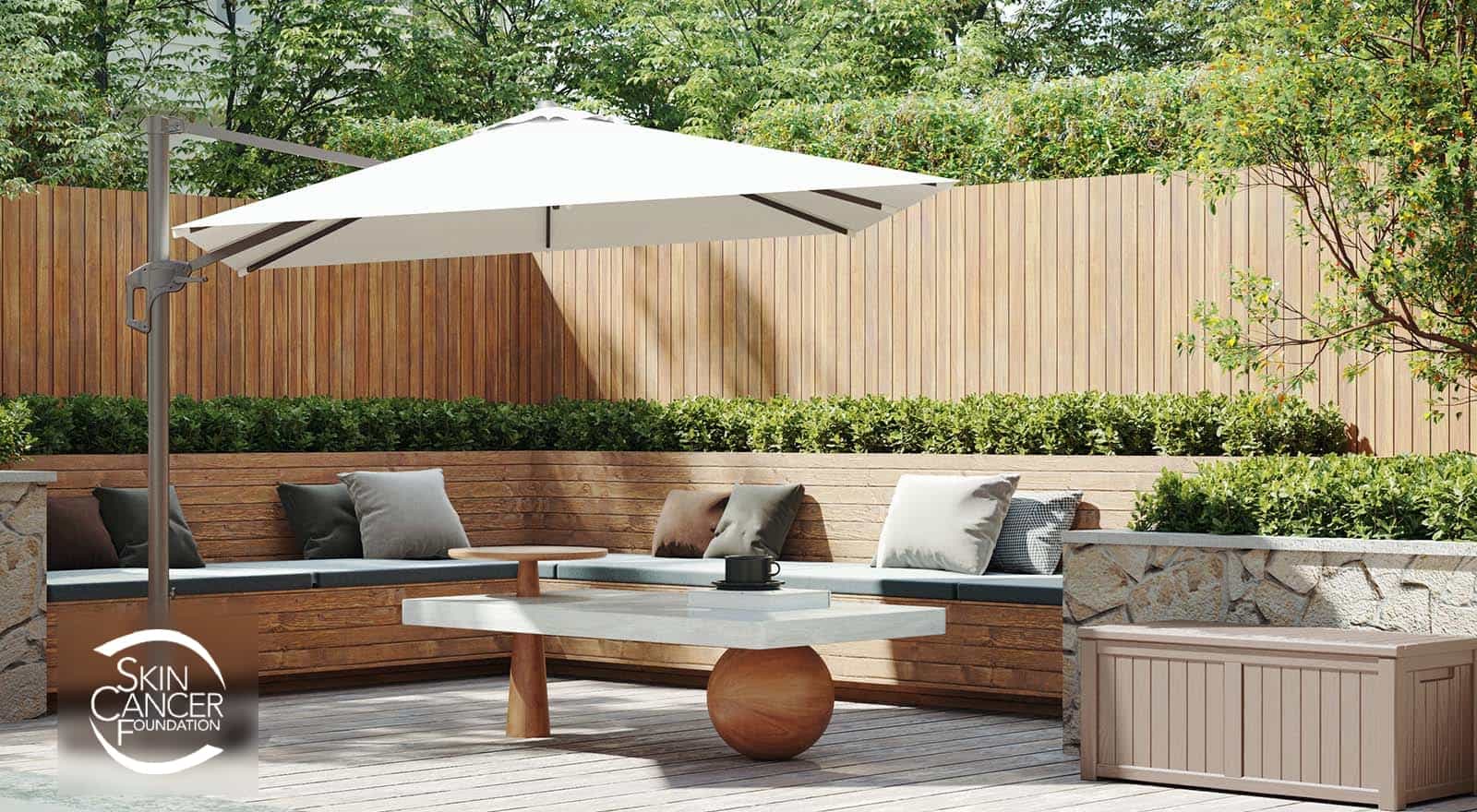 Protect Your Skin From the Sun
As a proud member of The Skin Cancer Foundation's Corporate Council, Bluu shares the Foundation's commitment to saving and improving lives. Bluu supports the Foundation's work of empowering people to take a proactive approach to daily sun protection and the early detection and treatment of skin cancer.
Finish Your Patio Perfectly