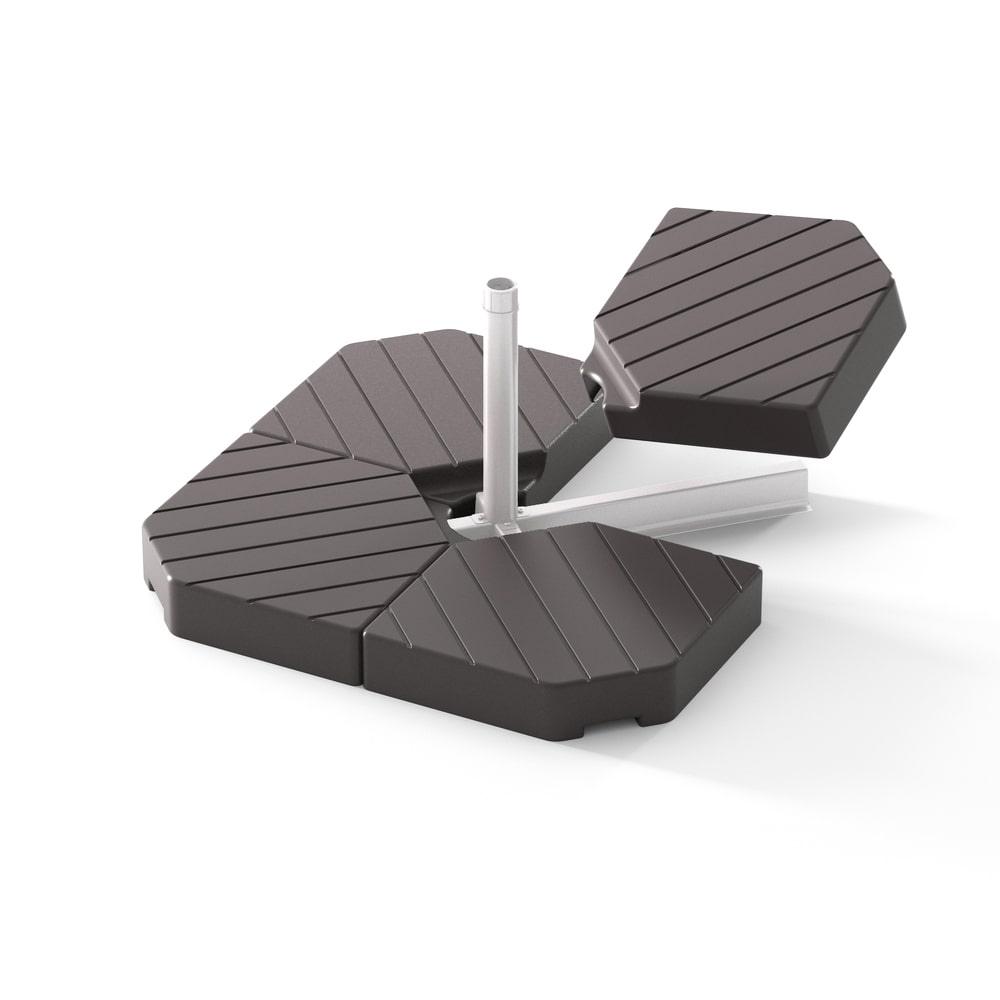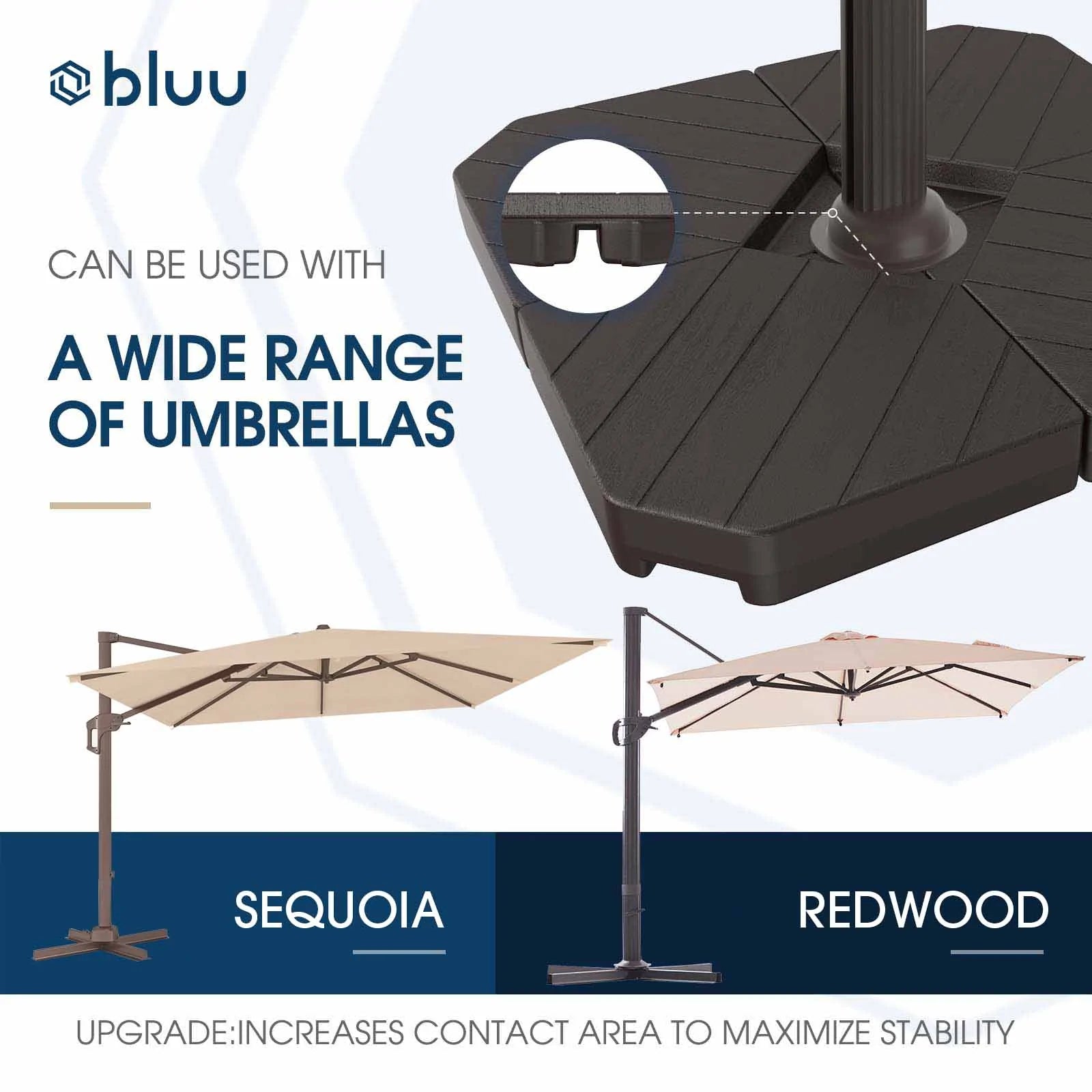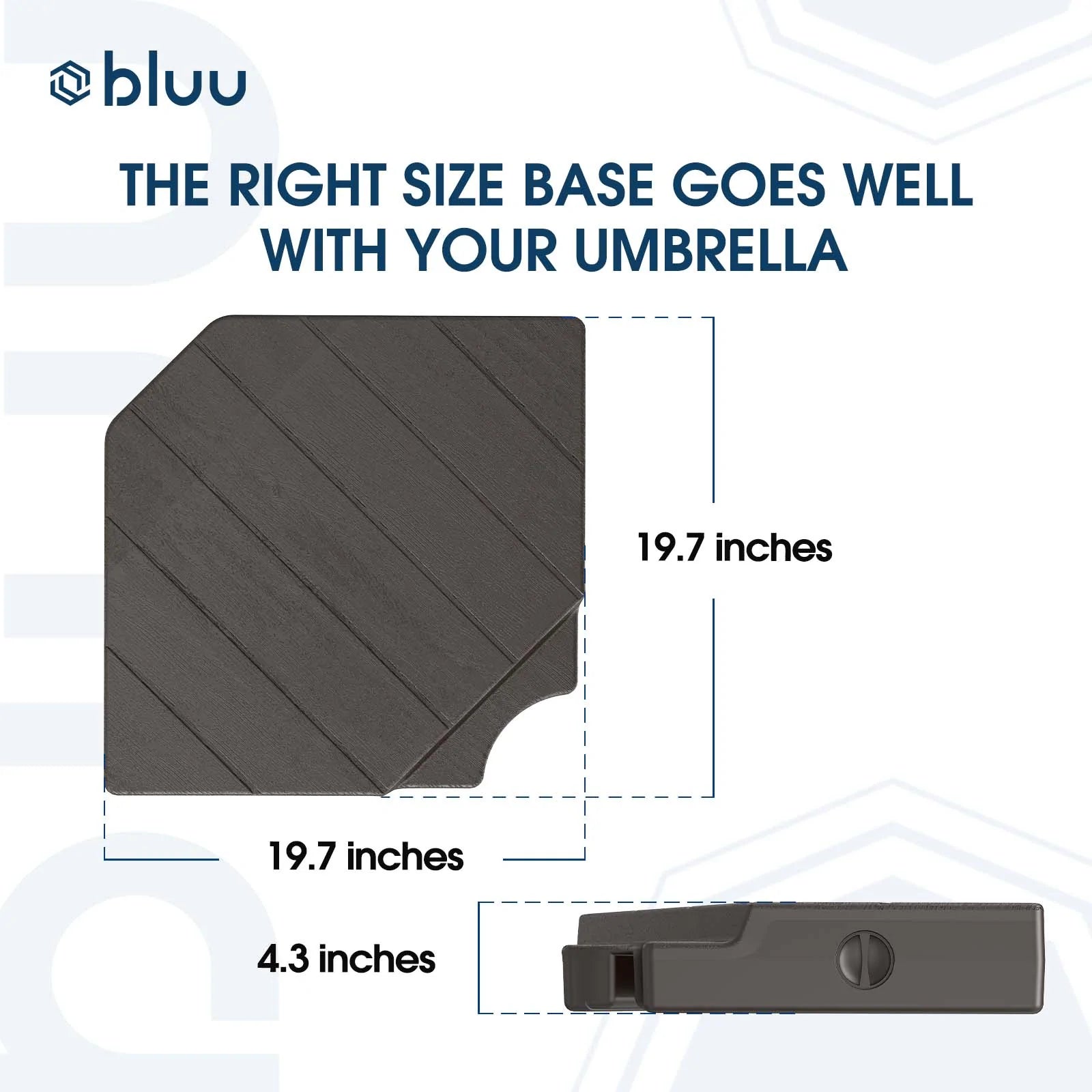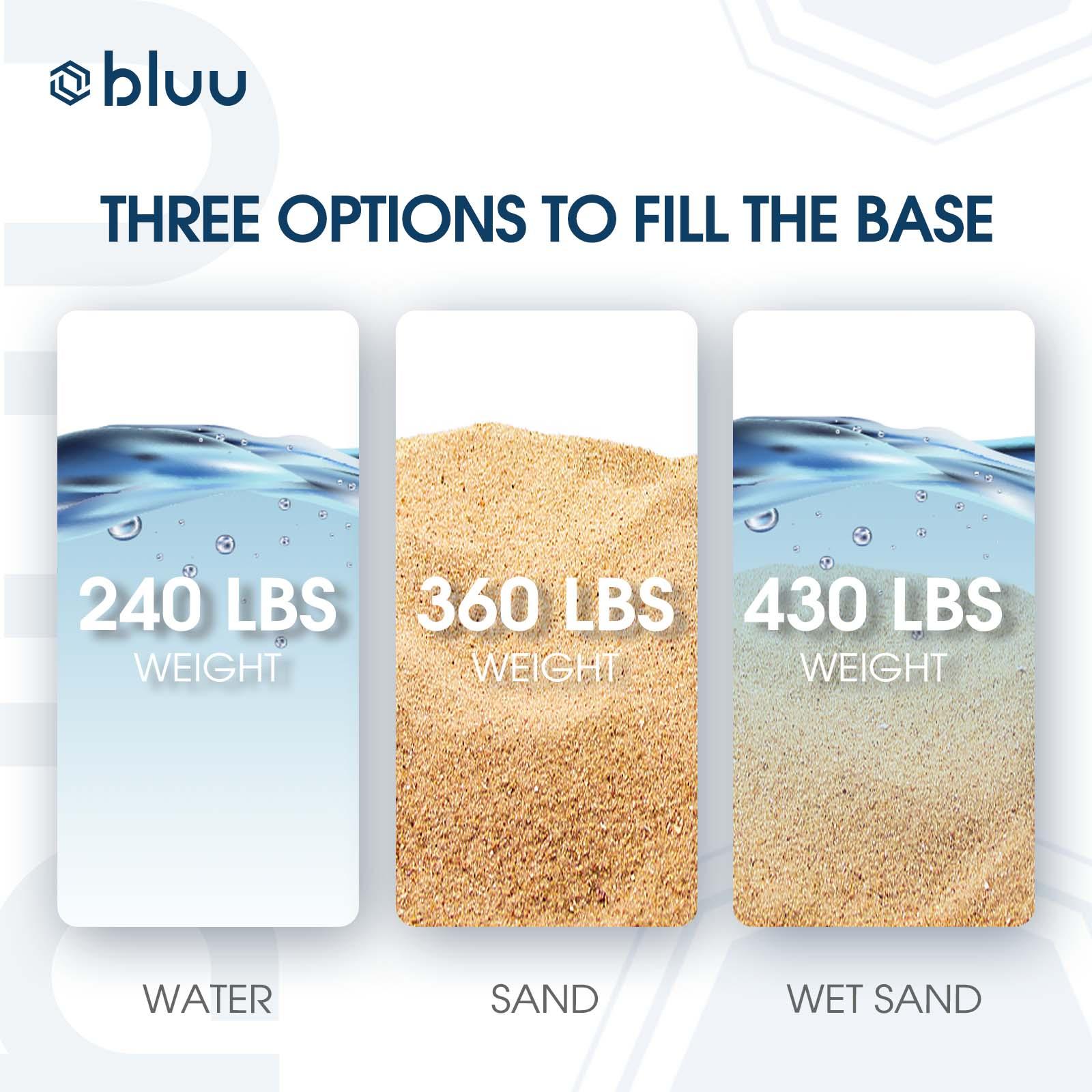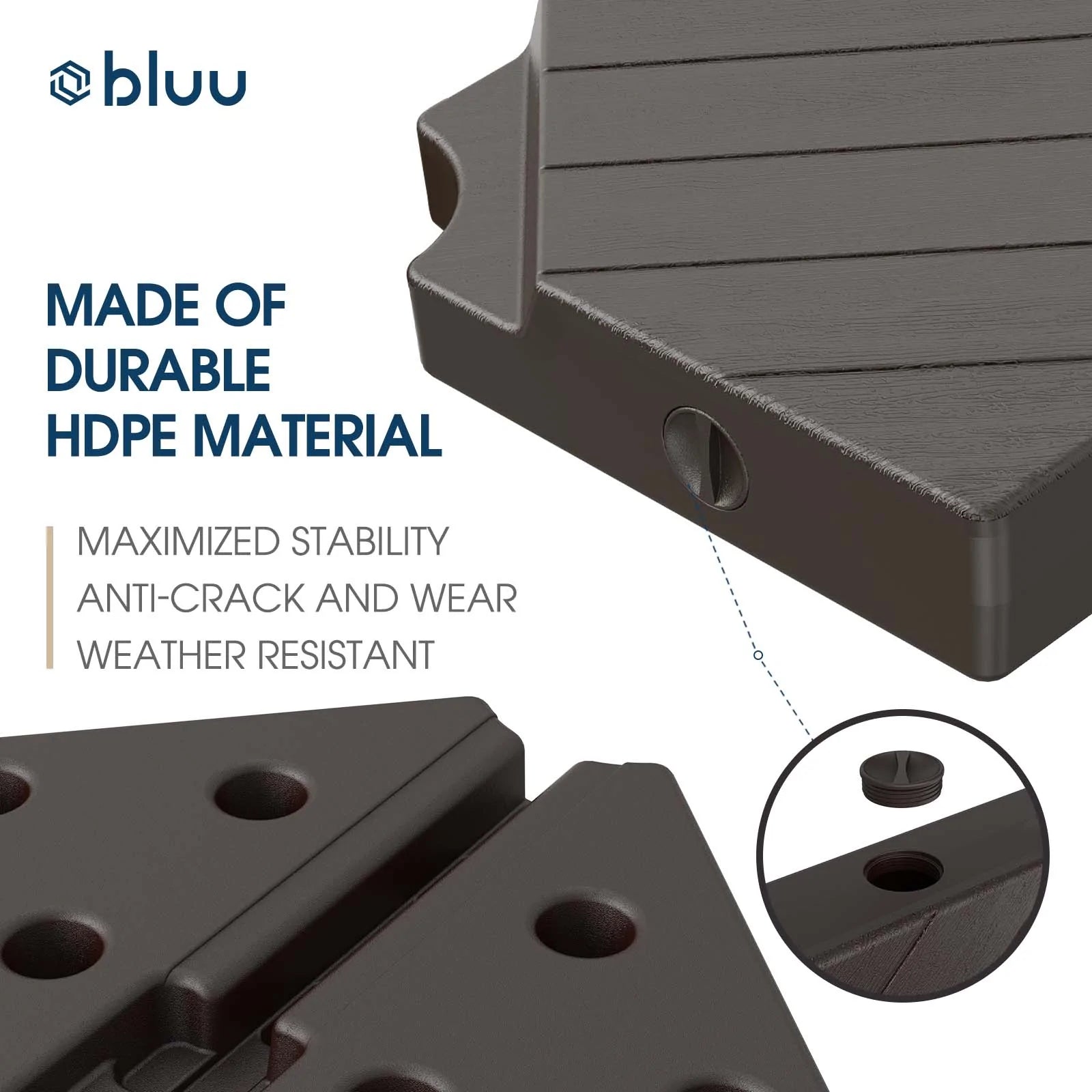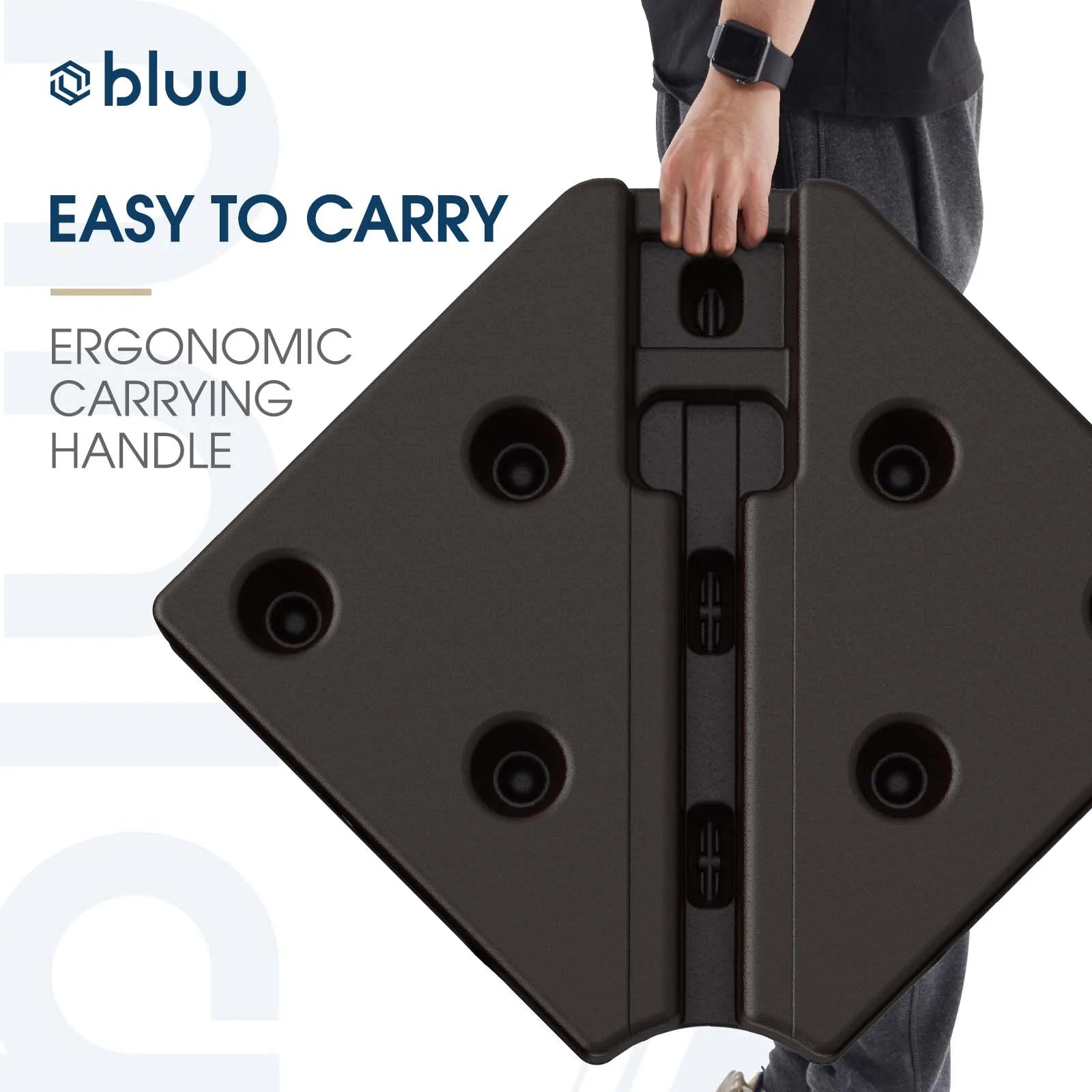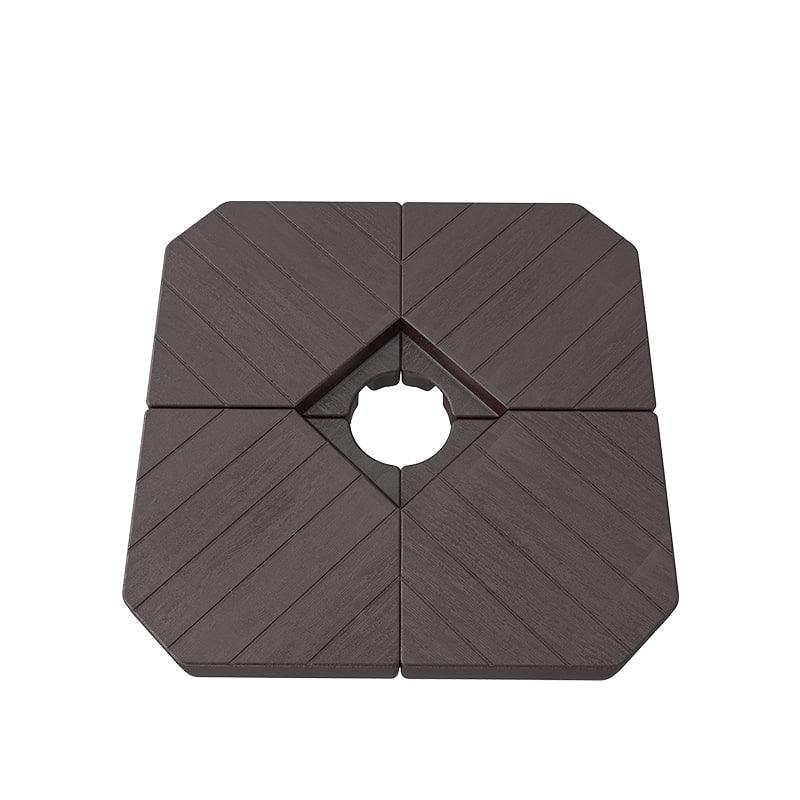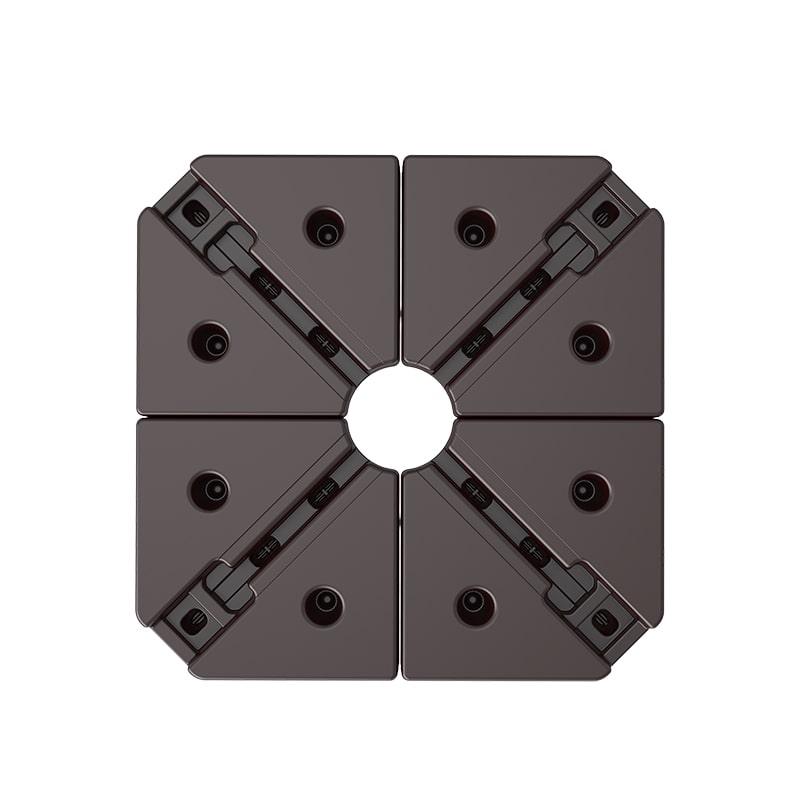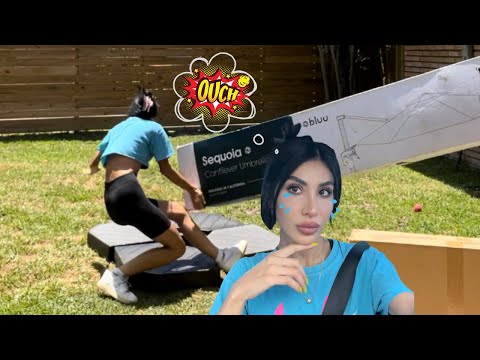 Bluu Large Base for Cantilever Umbrella
Monthly payments with
.
Learn more
1-year limited warranty
30-Day Money Back
Free Shipping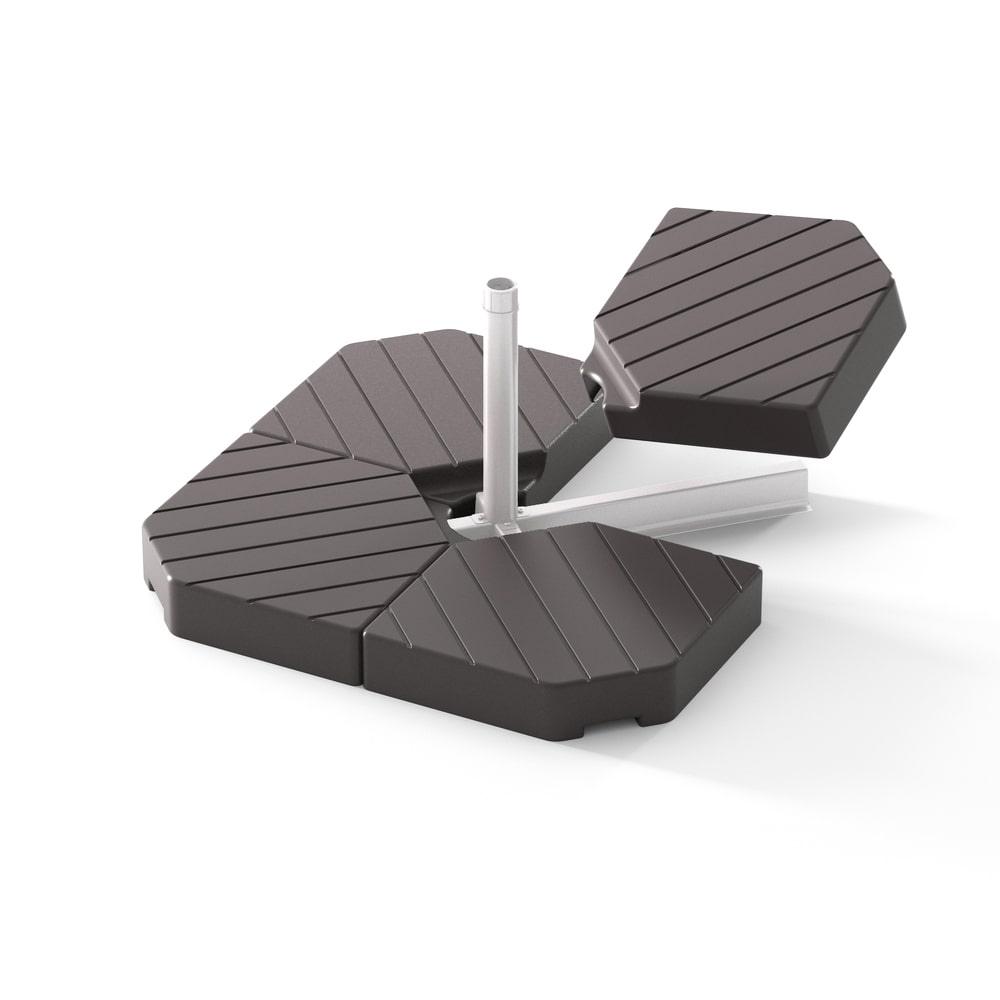 Enhance Your Outdoor Shade with the Heavy Umbrella Base
Explore the Heavy Umbrella Base for a secure and stylish solution to keep your outdoor umbrella in place. With a weight capacity of up to 430 lbs, a lower center of gravity for maximized stability, high-density construction, and weather resistance, this heavy-duty base ensures your umbrella stays grounded even in challenging weather conditions.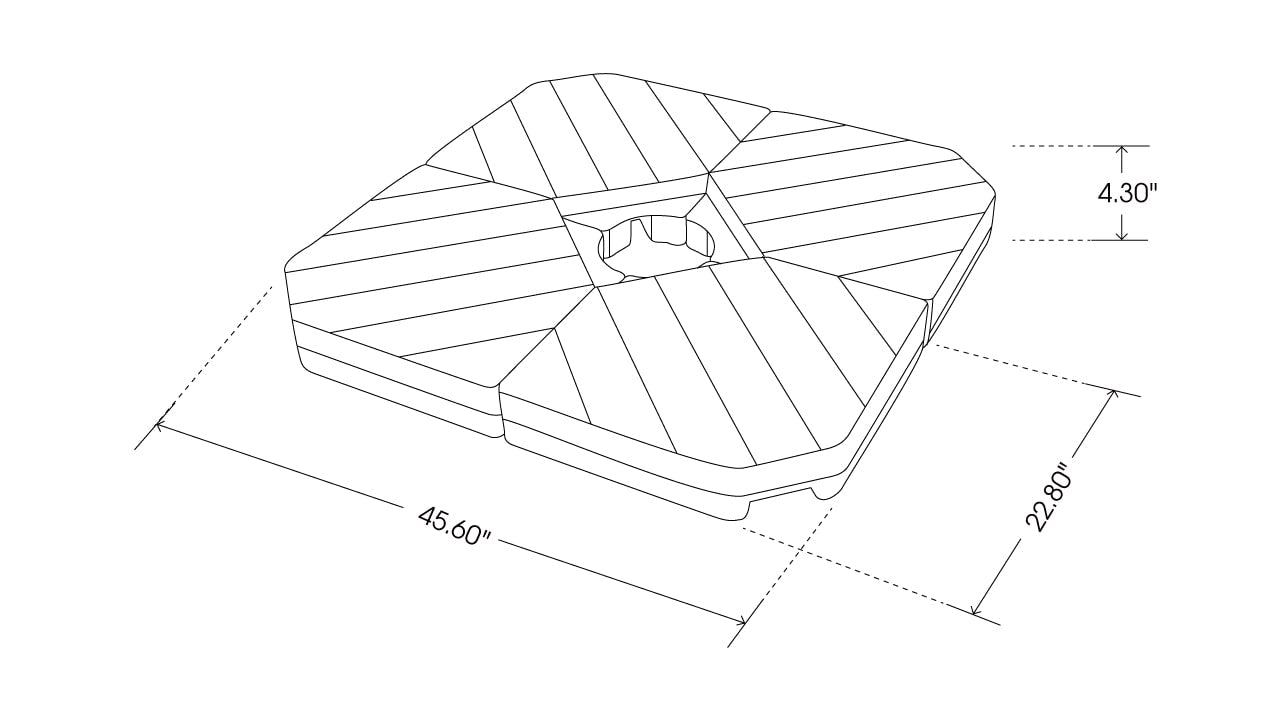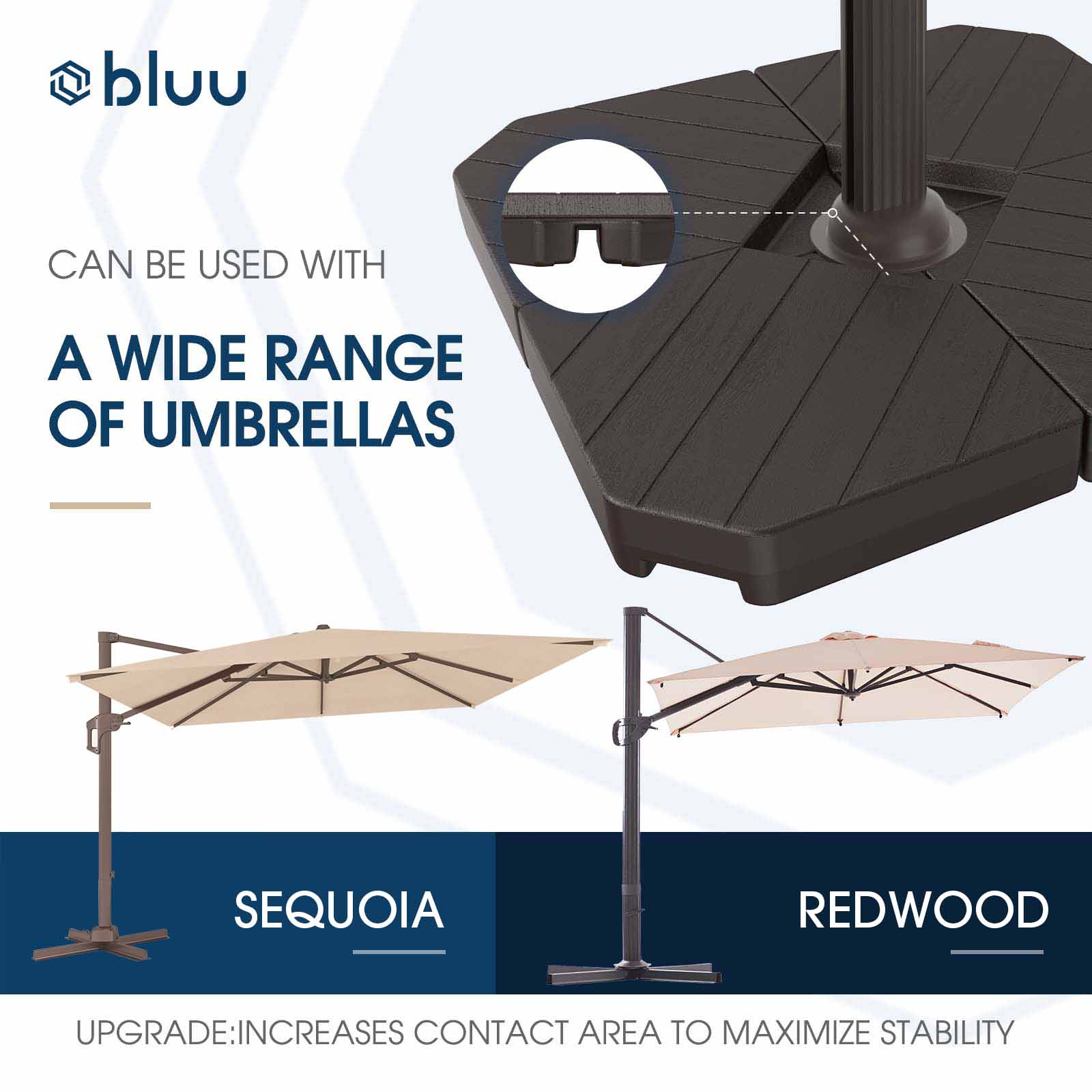 A Wide Range of Umbrellas
This base provides a solid anchor for any cantilever umbrella. Each plate is 22.8 in X 22.8 in X 4.3 in. It can hold up to 430 lbs depending on what you fill the plate with.
Compatible with patio umbrellas equipped with a cross base up to 47 inches long.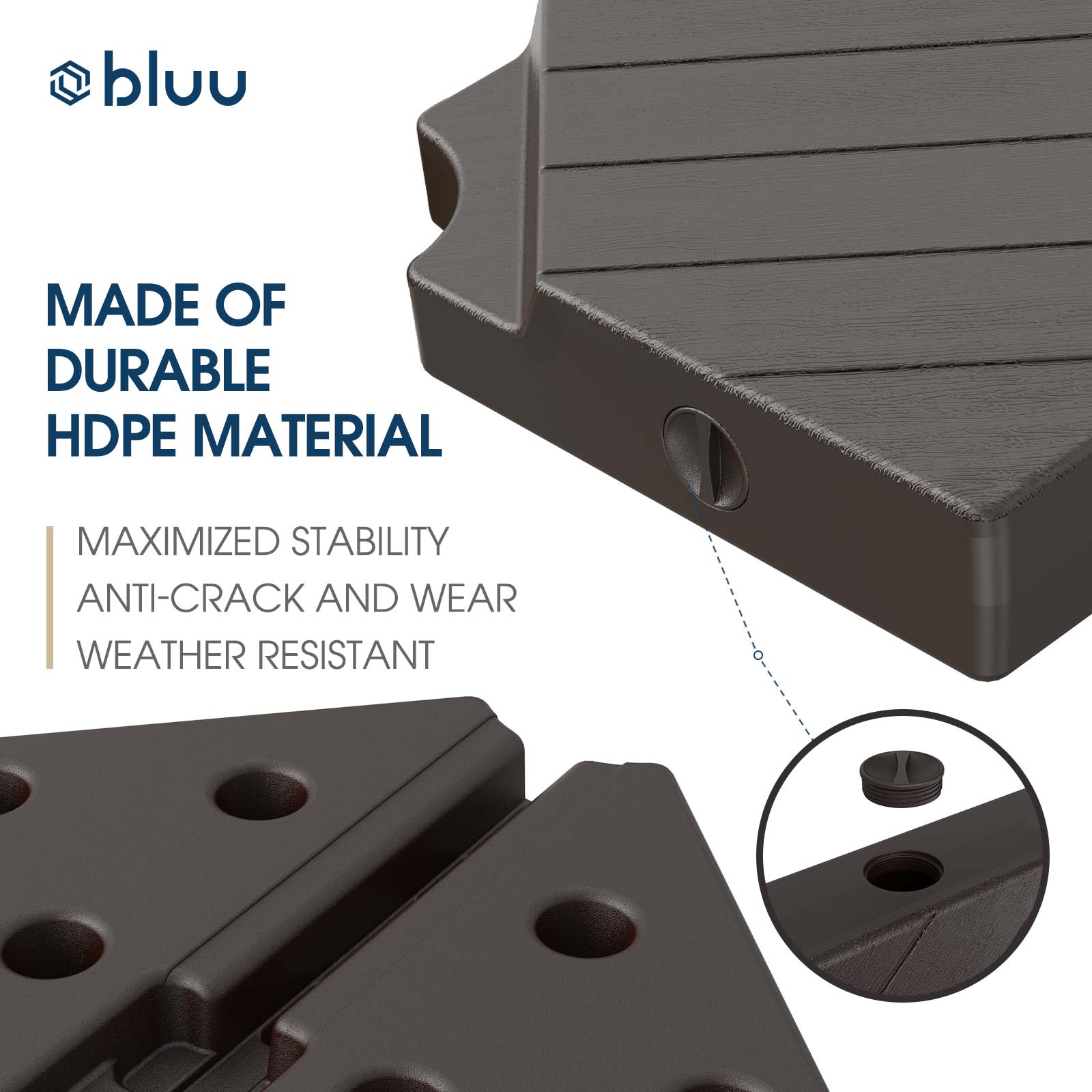 Made of Durable HDPE Material
The base is made of HDPE material which makes it very sturdy and recyclable. The base can bear a lot of weight and is strong enough to hold your umbrella. The base is built to withstand extreme temperatures and UV rays.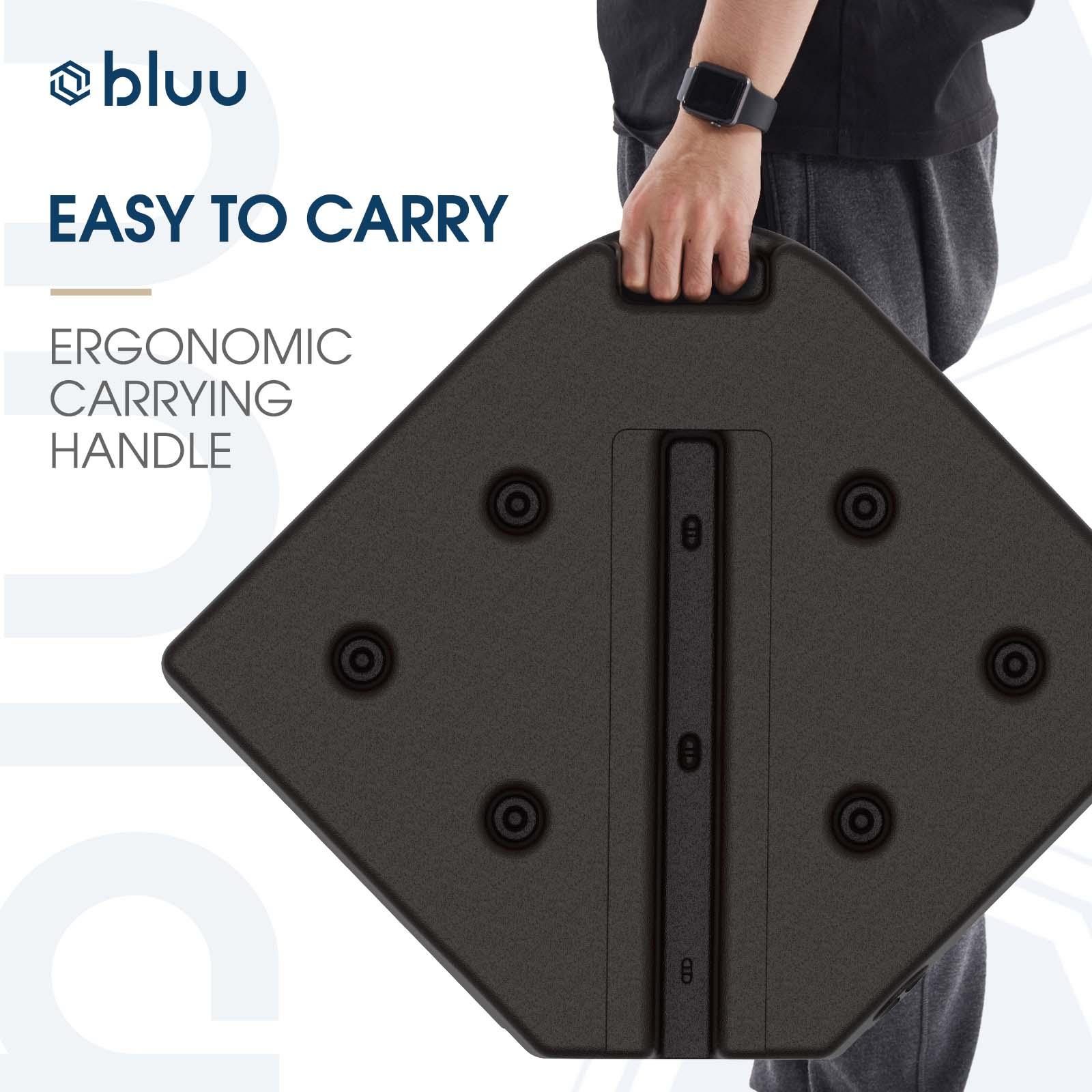 Easy to Carry
The installation is simple and easy, and no tools are required. When empty, the base is lightweight and easy to move - there are built in handles that allow you to be able to move the base easily.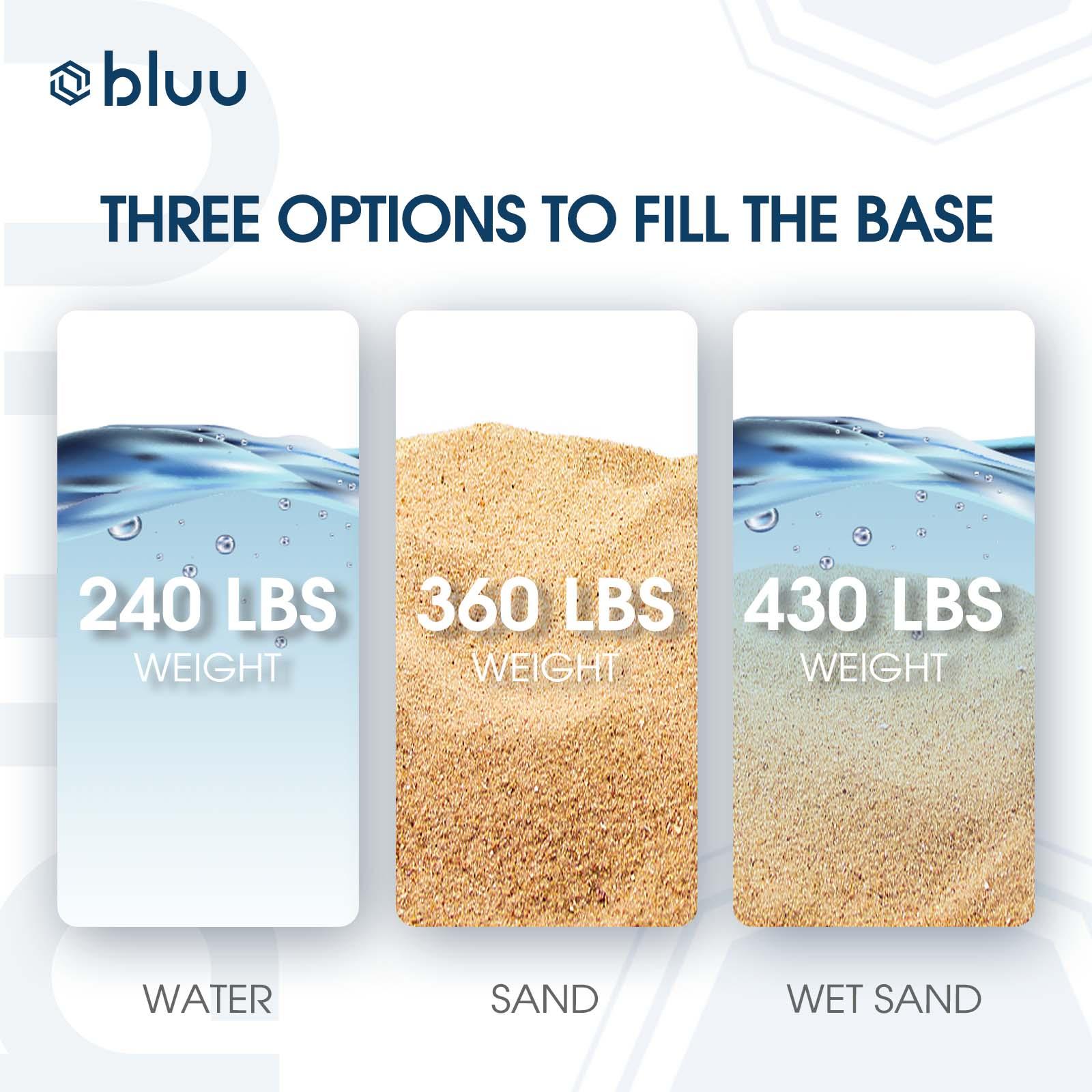 Three Options To Fill
Each plate is built with its own fill port and a twist cap to create a watertight seal. This allows for quick and easy access to refill the base or empty it for moving or storing of the base. It can hold 240 lbs water / 360 lbs sand / 430 lbs of the mixture. You can know your umbrella will stand firm all year long.
What is the percentage of sand and water used to fill the base?

First, you should fill the base with sand, which obviously has a higher density than water, until the base is almost fulfilled. Then we add as much water as possible to fill the tiny gaps between sand grains.
Does umbrella come with a weighted base?

Compatible weighted bases are sold separately. Weighted bases are necessary to provide stability and safety. We recommend purchasing a set of umbrella and base, and in this way you'll get a higher discount.
Which Bluu patio umbrella can match the compact base?

The Cantilever Umbrella is compatible with the Medium Base (max. 340 lbs), the Large Base (max. 430 lbs), and the Mobile Base (max. 420 lbs).

Medium Base can only be used with the Sequoia Pro Cantilever Umbrella, which provides the main downforce while meets the need of movement.

Large Base can be used with all Bluu Cantilever umbrellas to provide maximum weight. A heavier weight is better for steadying a larger umbrella in windy conditions.

The Mobile Base provides almost as much weight as the Large Base while it features a one-handed movement system that allows you to easily move your patio umbrella anywhere.
This product is rated 4.9 of 5.0 stars.
It has received 27 reviews.
So far so good
This is a beautiful umbrella—and much better design than some of the other umbrellas out there. The 360 rotation is a must, as the sun changes position in the sky throughout the day. We've only had it up for about two weeks, so I can't speak to the durability. In winds higher than 8 MPH, it seems too bendy, I feel something might snap, but I'm hoping that's not the case. So far so good. I like that it comes with a cover for the umbrella. We got the large base, and it's holding well with 2 bags of sand in each (no water). We live in a moderate climate, East Coast. Wouldn't recommend for a constantly windy climate.
Huge, but it should do the job
This arrived a day earlier than expected. I filled each of the 4 base units with 50# of sand. I followed directions I found on youtube and poured the sand into an open bucket, then cut the bottom off of a 1/2 gal jug of iced tea to use as a scoop. This worked very well. It took 30-40 minutes to fill them all. I am hoping it is strong enough without also adding water to the sand.
Updated Review
This is a really nice looking and sturdy umbrella base. We used a combination of sand and water and it seems very stable compared to other bases we have had in the past. Hoping it holds up during windy conditions. Very happy so far.
Bluu Large Base for Cantilever Umbrella
Pretty Awesome
Large umbrella, easy to setup, easy to operate, fairly tolerant of the wind. I am very happy with my purchase.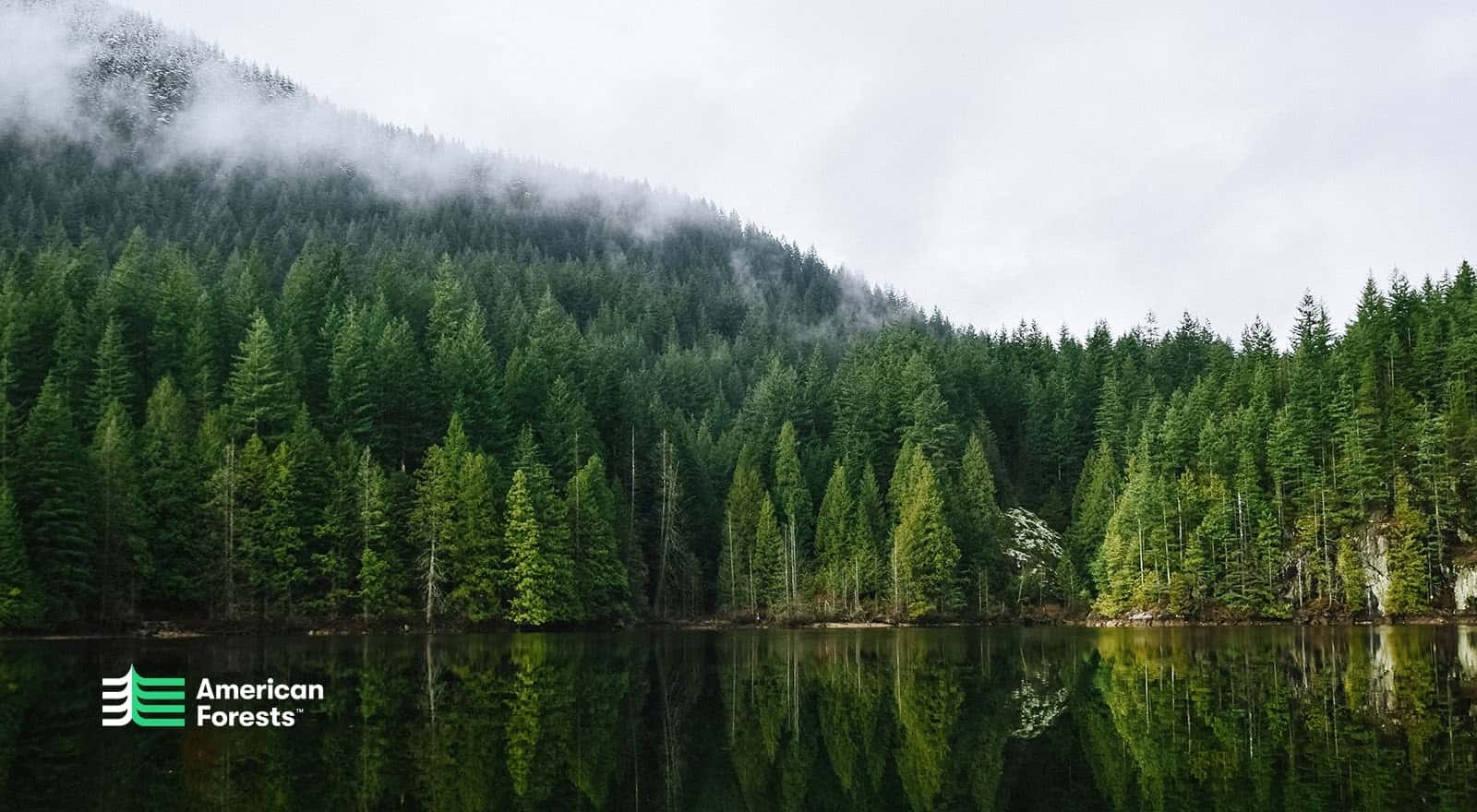 One Umbrella, One Tree
Through a partnership with American Forests, Bluu always keeps reforestation in mind. We're the only outdoor living brand that plants one tree for every umbrella sold. One tree at a time.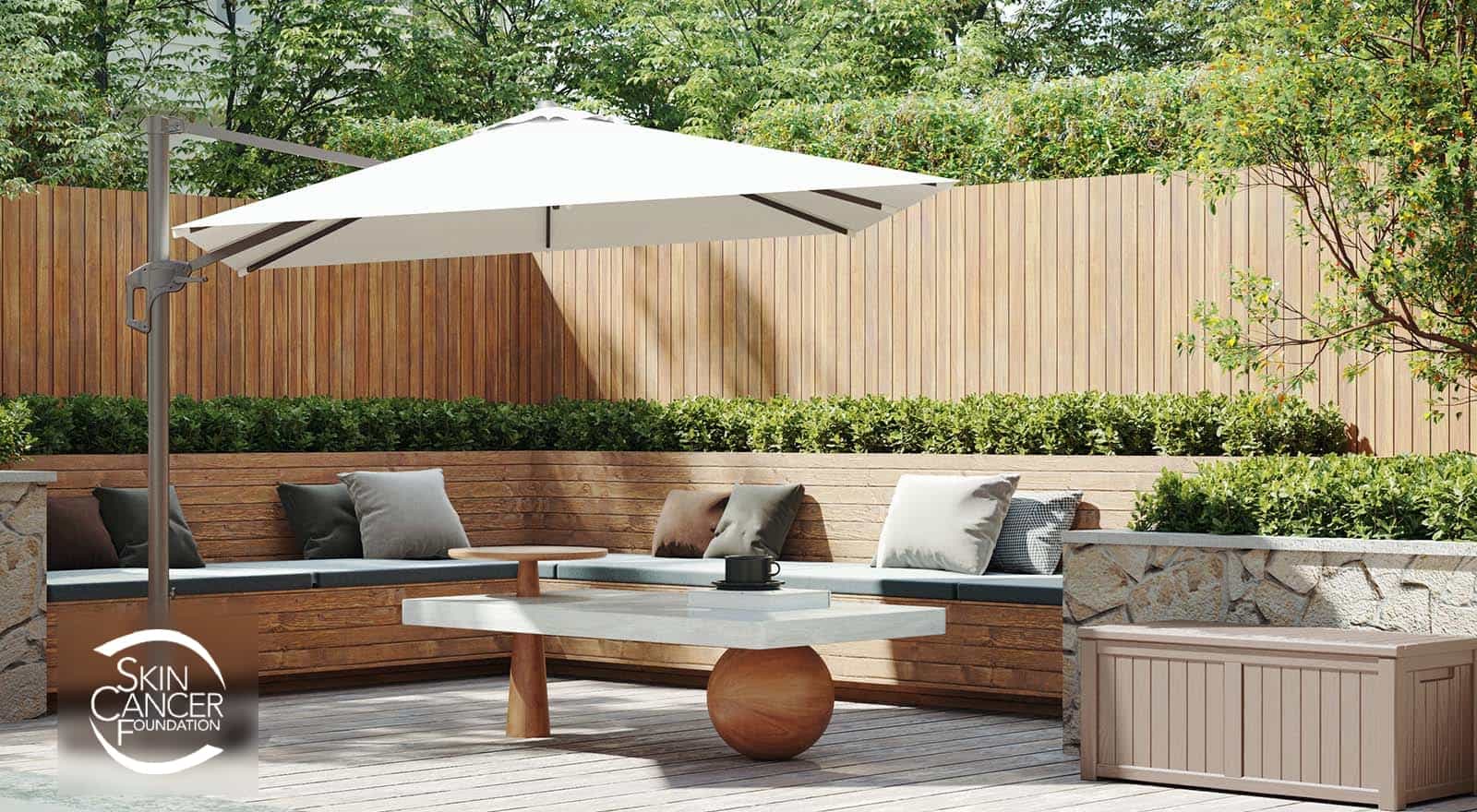 Protect Your Skin From the Sun
As a proud member of The Skin Cancer Foundation's Corporate Council, Bluu shares the Foundation's commitment to saving and improving lives. Bluu supports the Foundation's work of empowering people to take a proactive approach to daily sun protection and the early detection and treatment of skin cancer.