People continue to upgrade their homes and invest in new renovations to create a space that can feel comfortable, inviting, and a little like you're always on vacation. Just like the rooms in your home, your backyard patio could benefit from a little redesign or refresh. Just moving in? These ideas will work for you, too.
In the guide below, we'll look at several examples of patio design inspiration for all types of spaces, including those with pools and gardens. We'll also take a look at patio lighting and shade options to help you enjoy your patio around the clock. With these
outdoor patio ideas
, you'll be spending all your time outside this summer.
How to Choose Backyard Patio Ideas 
Before we get started, it's important to have an idea of how to choose the best design for your backyard patio. Although everyone's preferences will be different, there are some things that you can keep in mind. Important considerations include:
Your style and tastes
The space you have to work with
Your budget
Your goals or intended use of the space
Etc.
Take all your daydreams of that perfect outdoor patio and turn them into actionable ideas. Mind your budget and remember that you don't have to spend a fortune to get a great patio design. And finally, use the ideas below to help inspire your new
backyard patio ideas
.
Small Patio Ideas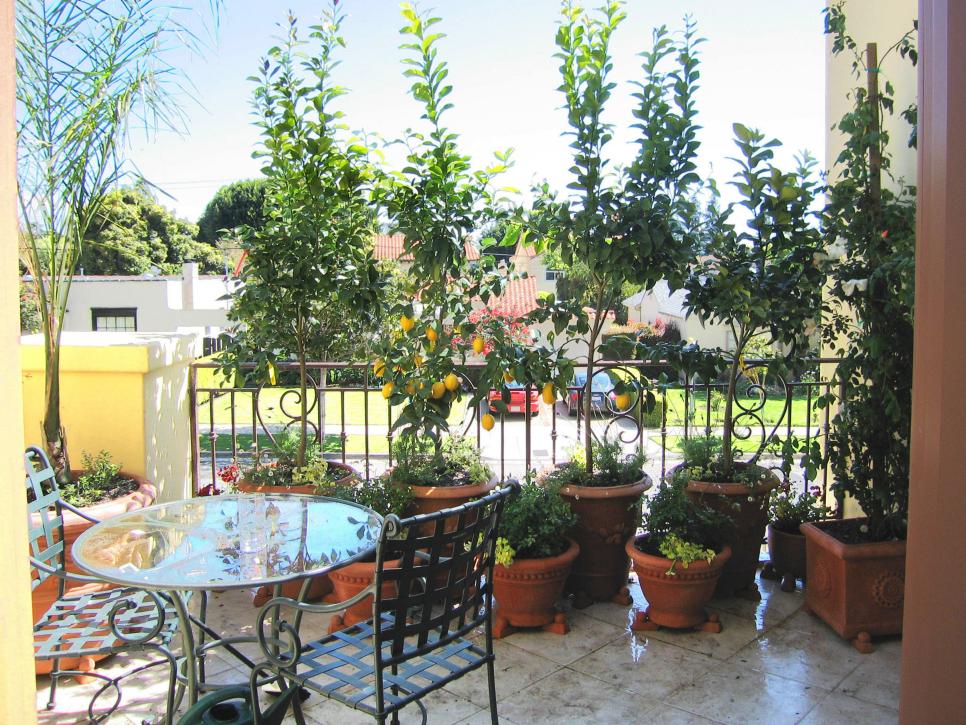 You don't need a huge space to make a big impression. Small patios do well with intentional design.
Try a bistro table and chairs for a modern design that's also compact and saves space.
Add some live plants to brighten up the space and make it feel welcoming.
Add a trellis for privacy or separation from neighbors and the rest of your yard.
A simple, decorative outdoor rug can enhance small patios, too.
Consider a patio umbrella for shade.
Concrete Patio Ideas
Whether you're looking for modern concrete concepts or just want to find
concrete patio ideas on a budget
, you've got a lot to choose from.
Choose a stamped concrete design for a simple upgrade that will always add depth to the space.
Worried about the heat of the concrete? Add an outdoor area rug for comfort and design.
Add fire feature(s). A table with a built-in fire pit or even a freestanding pit that you build yourself could be a great addition to your concrete patio.
Modern concrete patio ideas:
Choose outdoor sofas and chairs to create a comfortable living space.
Consider a raised concrete patio for a unique design.
Add greenery and plants to contrast the stark concrete.
Bonus: check out this cool barrel-inspired bar table for a unique addition.
Pool Patio Ideas
If you're fortunate enough to have a pool in your backyard, or you will be installing one, the patio usually becomes an extension of that. Choose non-slip materials or textured designs (like stamped concrete) to provide extra safety for wet feet. Other
pool patio ideas
include:
Install a pergola or a patio umbrella that can provide respite from the sun when people get out of the water.
Choose seating that's conducive to getting wet without damage or safety risks.
Create a walkway from the patio to the pool that includes plants and other design features.
Install ambient lighting around the pool to create a relaxing nighttime oasis.
If you want stylish pool storage, consider a deck box to keep all the pool toys and accessories organized.

Garden Patio Ideas
Gardens are beautiful spaces. They're filled with plants and flowers that can create a beautiful focal point in your backyard. They are also a great place to enjoy a patio, so long as building it won't cut into your planting space.
Install a round patio in the middle of your garden to create a unique design.
Use planter boxes to add accents and cultivate fresh herbs.
Add fairy lights or string lights for a cozy finish.
Choose décor colors that accentuate or contrast your plants and greenery.
Patio Shade Ideas
There are several ways that you can shade your patio, depending on its size and location. Those who have patios and porches attached to the house may also have an attached awning or roof for shade. If not, or if your patio is further from the house, consider:
Planting trees (nature's original shade!)
Installing a pergola
Building onto the house to add a roof/cover
Use umbrellas (freestanding or table umbrellas)
Try hanging plants around the patio edges or use a small greenhouse
Bonus: For less work and more enjoyment, consider an
automatic umbrella
. They look and function just like their manual brethren, but include a remote control so you can open and close it with the press of a button. No more cranking, getting caught under the umbrella, or any other hassles!
Patio Lighting Ideas
Patio lighting can set the mood for any outdoor space. There are endless options for ground lights, wall lights, and even decorative accent lighting. Plus, with many of the solar options today, you don't necessarily need power access.
Use string lights draped over railings or a pergola for cozy ambient lighting at night.
If you're building a garden patio, stake lights are a great accent to put around the edges or even on the path leading to it.
Choose an outdoor lantern or light that doubles as a Bluetooth speaker for ambiance and entertainment, such as the Bluu umbrella light.
Install more than one type of light so you can create different moods.
Patio Décor Ideas
There are several ways to decorate your new space. Depending on your tastes and design, popular
patio décor ideas
include:
If you really want a high-end or expensive patio item, wait until the end of the season and see if you can catch it on sale.
Make way for shade. Check out our umbrella light for ambiance and shade at once.
Add plants and greenery to concrete and stone patios. This creates warmth and contrasts with the stark, sterile look of stone.
Use pillows and other accents to further enhance your space or create unique eye-catching designs.
Stop thinking "outside." Imagine your patio as one of your indoor living spaces and decorate it accordingly (with weatherproof materials, of course).
Patio Design Tips
Stick with weatherproof furniture and materials, even if you live in a climate without a lot of actual "weather"—your pieces will last much longer.
Use sites like Pinterest and Houzz to explore other people's designs and get inspired for yourself.
Look at the space that you have and consider the features that are most important to you. Then, you can go from there to create your perfect patio design.
Consider hiring a designer to assist you with your new patio design.
Take advantage of functional pieces as design concepts when you can (color-coordinated umbrellas and chairs, etc.).
Make sure that your patio design doesn't clash with the curb appeal or exterior design of your home.
Your patio is an extension of your home. It offers a whole new living space to enjoy when the weather is right. If you use these tips and patio design ideas, you should have no trouble creating your perfect outdoor living space.
FAQs
Before we close, let's look at some common questions about backyard patio design. This will help you understand more about patio design and how to create your ideal backyard patio space.
I have a small patio. How can I maximize the space with design?
The best way to maximize a small patio space is to be intentional with your design. Choose pieces that are functional and stylish at the same time. Keep accents and accessories light—clutter can make a space feel small. Find simple ways to make a big statement, such as with outdoor rugs.
Is concrete better than pavers or other patio materials?
The material that you use for your patio will depend on your preferences. Most people have concrete patios, but there are some made of pavers, bricks, or other materials. Concrete is durable and affordable, which makes it an ideal choice. However, as you'll see when you're searching for inspiration, it's not the only one.
Can you install patio lights without hard-wiring them?
This is a big question for people who are upgrading the lighting in their new patio design. The short answer is yes, several types of patio lights do not have to be wired into your home's electricity:
Battery-operated accent lights
Solar lights and light stakes
String lights or fairy lights
Lamps
Granted, you will need an outlet for lamps and string lights that need to be plugged in, but you won't have to do any major electrical work.
What can I put on my patio?
Your new backyard patio oasis can include whatever you want. Most people opt for some comfortable chairs, perhaps a table for dining, and other simple details. Ultimately, as long as it's outdoor-approved, there's no limit to what you can include in your new patio.
How can I make my patio an extension of my home?
Consider carrying a design theme through in your patio that is part of the kitchen or dining area in your home. Sliding doors or French doors are also a great option to access the space and make it feel more connected. If you've got a bigger budget, you might consider an entire sliding wall of windows that truly lets you open up your home to the patio to create an indoor/outdoor space.
How much should I spend on patio design?
Everyone's budget and needs are different. Take the time to think about what you want from your patio space. Some designs will cost more than others. Set a budget while you're exploring design ideas so that you don't go overboard. Some people use savings or a home equity loan to make renovations. Others do small renovations that don't require a big budget.
Final Thoughts
As you can see, your patio can be a source of endless design inspiration, no matter what type of patio or yard space you're working with. Get started on creating your perfect outdoor space today and start enjoying it tomorrow!